Canary Islands, Lanzarote Bare-boat Yacht Charter from Lanzarote – June 2022
Lanzarote is a fantastic base to start your Canary Island bare-boat yacht sailing charter.  This may not be the immediate yacht charter destination that springs to mind for the average British 'Yachtie' but the Canary Islands give fantastic yacht charter cruising opportunities for those wanting all year round sailing in more challenging winds than the Mediterranean. It is within a 4 hr flight time of the UK, has great temperatures and sunshine factor – and is in the same time zone as the UK!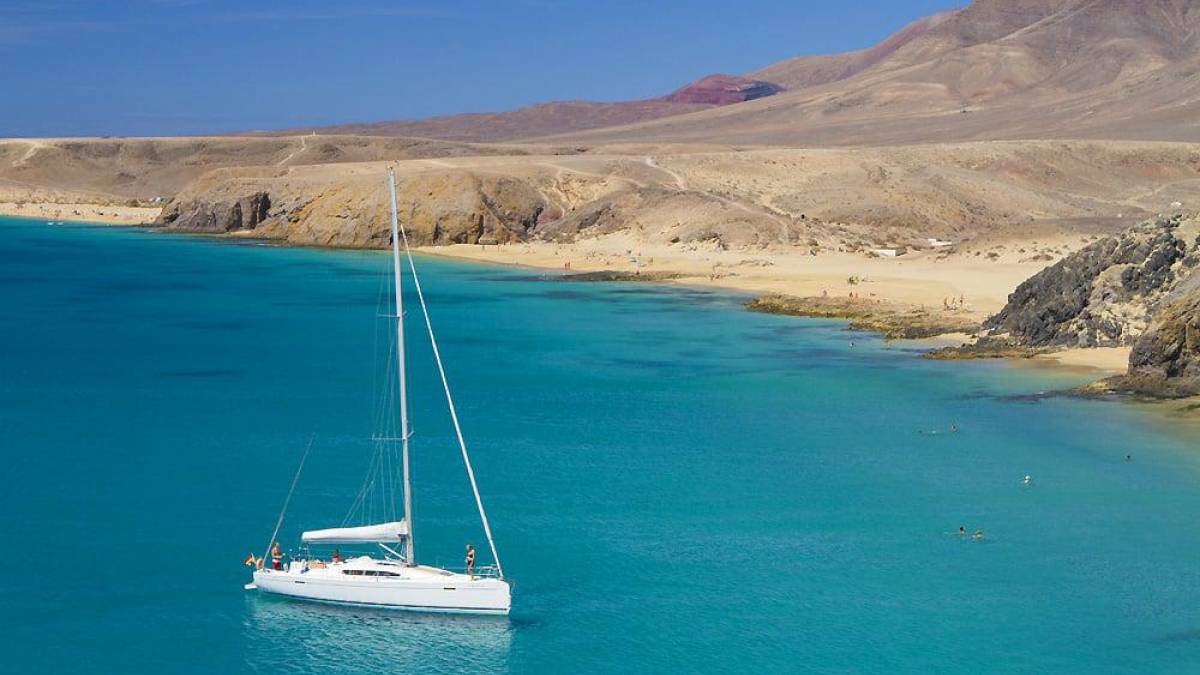 They also give those wanting a spot of warm winter sunshine cruising the opportunity of pleasant temperatures without the cost of getting to the Caribbean.
Low cost air carriers make cheap easy transport from most British airports and the 'tax free' and duty free status of the canaries means a low cost of living when you get there.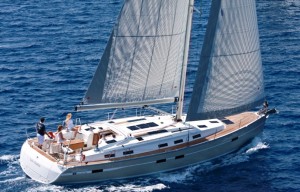 See below the bare-boat yacht charter prices of our highly recommended partners Lava Charter who operate from Marina Lanzarote in Arrecife – the marina base is less then 15 mins from the airport. When we first started our relationship with them we visited Lava Charter, met the team and inspected the majority of the fleet. We have use the boats ourselves for our 'group' winter charters and recommend them highly. A large proportion of our team have sailed on a variety of their yachts – we had 6 team members out during January 2022!
They may not be the cheapest in the Canaries but the price reflects the quality and professionalism – they have well cared for, well maintained, modern up to date yachts with excellent safety equipment and excellent service ethic.
Book Through Yachtforce with Confidence
Any Lanzarote Canary Island bare-boat charter booking made through Yachtforce will be the same price as you would pay by booking direct with Lava. We urge you to call us and discuss your requirement so that we can give advice. We have 1st hand knowledge of the boats, the location, the cruising ground, the staff team in resort and practical elements such as which supermarket / website that delivers to the boat on a Saturday and the ridiculously low cost and name of good gin! We would love to be able to share this knowledge with you.

If you do not feel confident in Skippering on a 'stand-alone' basis sailing in the Canaries and would like to join our 'Lead Boat' and sail in company then please see this page here.  We run some winter time yacht weeks for our clients and offer the opportunity for those wanting to progress to sail 'in company' with us (if you coincide with our scheduled Lanzarote sailing weeks). If you would like to have a Skipper aboard your yacht to help, aid and mentor you please just ask.
Lanzarote Charter Sailing Yachts – Marina Lanzarote
Marina Lanzarote yacht bare-boat charter base is 15 minutes from the airport. Excellent facilities and huge amounts of parking along with Cicar car hire office just 50m from the boats. Top tip is to hire a car at the airport and drop it at the marina – a day hire charge from Cicar just under £40 inc all damage insurances and no 'one-way' fee. Allows you to go shop at great supermarkets – and if you need something sporty Decathalon is just 12 minutes away!
Canary Island Yacht Sailing Charter Prices 2022 from Lanzarote
Note we have included the obligatory extra that is charged which includes all Mooring Fees, End-Cleaning, Gas, Berthing at Marinas includes electric and water, Dinghy or SUP, Outboard Engine plus Fuel, Baby/ Kids life jackets, Bed sheets & Duvet, Towel set (small + large) p.p
LANZAROTE Bare-Boat Charter Prices (From June 2022 – May 2023)
 Marina Lanzarote:

Yacht Make / Size


Cabins + (Heads)
Year
Up to May 2022 Charter  Cost
Deposit

Obligatory Charge

Inc. Cleaning/Bedding / Towel /Dinghy + Outboard (or SUP). All Mooring Fees inc. water / electric


BAVARIA 37
3  (+ 1) 2015
€3332
€1.500,-
inc
Dufour 382
3  (+ 2) 2015
€3563
€1.500,-
inc
Dufour 412
3 (+2)
2017
€4003
€1.500,-
inc
Dufour 412
4 (+ 3 2015)
€4003
€1.500,-
inc
BAVARIA 51
4/5 (+ 3) 2015
€5214
€2.000,-
inc
BAVARIA 56
5/6 +3 2015
€5715
€2.000,-
inc
Jeanneau 479
4 (+4) 2018
€4944
€2.000,-
inc
Jeanneau 519
5 (+3) 2018
€5665
€2.000,-
inc
 'Sailing in Company' Fee


 2 Cab

£

 3 Cab

£150

 4 Cab

£200

5 Cab

£250

 Skipper
 From €295 p/day
 Hostess
 €140 p/day
SUP
€99
Experience Level Required
Please be aware that winds specifically in Summer can be strong (F6) or above. We would suggest a minimum of  'Yachtmaster Coastal' qualification with several years experience and additional miles with understanding of strong wind sailing plus a suitably experienced First Mate. You are required to have a VHF licence and to have a ICC. There are wind acceleration zones plus off some of the Canary Islands cliffs there may be downdrafts. Please speak to a member of our team with regard sailing conditions. See here a useful itinerary a circumnavigation of Lanzarote.
Qualification Required.
Minimum ICC  'Yachtmaster Coastal' Skipper qualification plus VHF Radio Certificate.
Contact Us: Email us here   02380 016450
Canary Island Yacht Charter – 1 Week Sailing Itineraries
Lanzarote Charter Sailing Week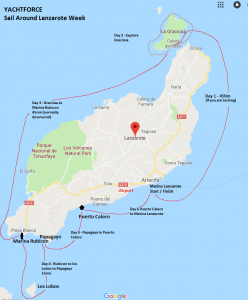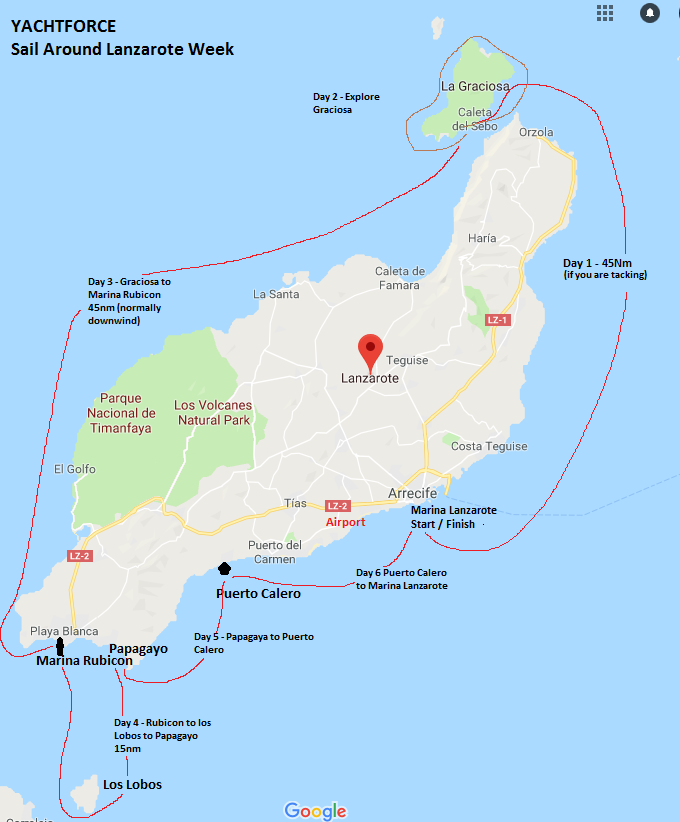 Lanzarote has a great 1 week circumnavigation route and with the right conditions is not too testing for those sailing the Canary Islands for the first time. Check out a route we do on a Skippered Charter for a relaxing week aboard here.
This itinerary allows for time ashore to sample the fantastic local culture and explore a few hidden gems. If conditions are not to your liking then stay in the protected lee side of the island.
Sailing to Tenerife, La Palma, La Gomera (possibly El Hierro wind dependent) is all possible. Sailing from Lanzarote gives plenty of scope for longer distance cruises for the more adventurous sailor. Much is dictated upon by the prevailing wind (from the NW – NE) and weather, how that affects your sailing angles / performance / speed / comfort, availability of marinas and possibly more importantly, the crew condition, capabilities and desires.
Be aware of the wind acceleration zones between the islands. It is not unusual to have F7 or F8 in these 'acceleration zones' if there is a reasonable strength prevailing wind. We would suggest those wanting calmer conditions stay in the lee of the land and do not venture into the 'acceleration zone' but you will, of course, need to have an understanding of where they would be. NB. If you have any concerns regarding your experience and the route that you are intending please do ask for advice. We would definitely suggest you err on the side of caution and do not overstretch yourself or the crew.
In the Canary Islands there are fantastic places to visit. The Islands are mountainous, lush and all very different.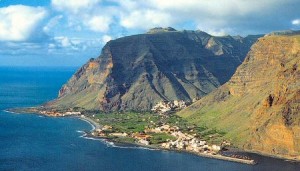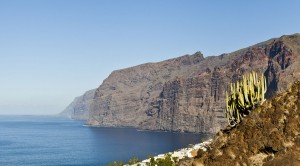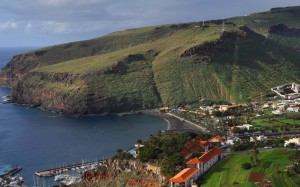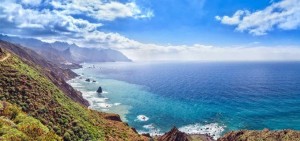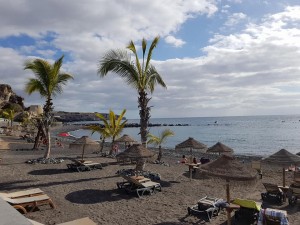 For more information or to reserve your boat please call 02380 016450   Or email: info@yachtforce.co.uk