Latest Solent  Skippered Yacht Charter Offers
Skippered Charter: (read more here)
Single Day Price Offers for 37 feet Jeanneau (9 berth – 3 Cabin) Yacht, including Skipper, up to 6 persons (mid-week from £695 mid season / £795 high season per day) – Take multiple days for added discount… Skippers do not count in the Covid 'number of households
Covid Rule – from March 29  – Day Skipper Charters – up to 6 Individuals (Rule of 6 outdoors)
Covid Rule – from April 12  – Overnight – 1 Household
May 8/9 (Weekend) £1455 £1390
May 10/11/12/13/14 £695 £585- 1 day
May 15/16 £1455 £1390
Covid Rule – from May 17  – Overnight – 2 Households (max 6)
Bank Hol May 29,30,31 (3 days)  £2150 £1950
June  1/2  (£795 £725- 1 day)   (£1345- 2 days)  Half Term
June 9/10/11 (1 day- £795  £625)  (3 days – £1785)
June  12/13 (weekend) £1650 £1595
June 14 or 17 (1 day) £795  £625
June 14/15/16 & 17 (2 days- £1295)  (3 days – £1785) (4 day- £2250)
June  19/20 (weekend) £1650 £1595
Covid Rule – from 21 June  – No Restrictions
June 28/29/30 (1 day- £795)  (2 days- £1490)  (3 days- £1985)
July 1n (1 day – £795)
August 2/3/4 (1 day- £795)  (2 days- £1490)   (3 days- £1985)
August 31 (1 day- £795)
Sept 3 (1 day- £795)
Sept 15, 16 or 17 (1 day- £595)  (2 days- £1095)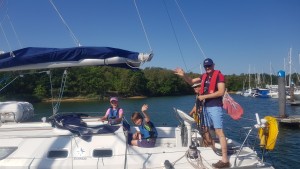 Extras: Fuel £15 per day for Solent use, (for overnight charters a Covid sanitisation fee of £75 – ) & any non home berth mooring fees pay direct for lunch stops / overnights.
Optional extras see here: Wet weather gear, spinnaker, Mate, clean down fees, outboard, crew shore-side accommodation for overnights.
Bare-Boat Yacht Charter Weekend & Mid-Week Offers  (read more here)   Jeanneau 37 (9 berth)  – This Boat
'Buy A Berth' – Inclusive Sailing Weekends in the Solent (wine with 4 course meals and sun-downer G&T's) – Friday's 1830 – 1600 hrs Sunday's  See Here
From our Solent base at Mercury Yacht Harbour, Hamble SO31 4HQ. For more details, for latest availability on latest deals and skippered or bare boat yacht charter offers at Hamble, Solent or Brighton, South Coast UK.
For special offers we take payment by debit card or transfer.
To make a booking Call: 02380 016450 or Email: info@yachtforce.co.uk