SAILGP Race Viewing – The Fastest Boats On The Water – From the Water!  Friday 14th August

SAILGP  Viewing – 50 foot supercharged wing-sailed foiling catamarans racing in close-quarters at speeds potentially exceeding 50 knots, just off Cowes.  6 Nations, Racing just off Cowes – Friday 14th August. We start and return to Hamble.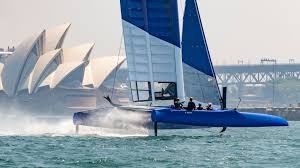 See these incredible F50 SailGP boats from right on the race course! Last year they exceeded 50 Knots!
Having seen these boats out on the water racing in testing winds last year – we are just in awe! Grab this opportunity to have a great day on the water and to watch the SAILGP F50 Multi-hulls from the water NOW!
This day is a fantastic  opportunity for getting on the water and doing some sailing.  We go out and watch action on the water of the Cowes Week Regatta and then later in the afternoon on Friday there is the most unbelievable 'Fastest Sailing Boats in the World'  6 Nations SAILGP Teams competing against each other just off Cowes on a specially designed course. You get to view this from the water (people on the land have to pay just to step into a distant viewing area situated on Cowes Green!) A day afloat with us (from Hamble) all for £1000 for up to 8 persons
When & Where:  From MDL Mercury Yacht Harbour, Hamble that has excellent facilities with 24 hr staffing, restaurant / bar, chandlery and ample free on site parking
We normally head out of the Friday morning, leaving for a short sail / trip to the start lines to watch the iconic fleets race on the last Friday of the week long regatta. Friday afternoon we make sure that we will be just west of Cowes for the F50    SAILGP competition and to view from the water. During the day we will watch the fleet action with interest, potentially explore rivers and creeks and moor up or drop anchor for lunch.  We sail returning to the Hamble for late afternoon leaving the boat at about 1600 hrs.
 Friday
9am Briefing
Sail to Regatta Start Line
Cowes Week Regatta Fleet Viewing
Lunch on Board
 After 3pm F50 SAILGP Viewing
4pm Return to Hamble
 What is Included:
Yacht – 37 ft
Professional Skipper & First Mate
Deli Bag Lunch on Board
Fuel
Safety Equipment
Wet Weather Gear
VAT (at appropriate rate)
To Book: Please contact us to check availability and confirm that you wish to proceed. We can fill in or send you an event booking form.  The bank details for transfers are on the booking form. Transfer the monies and email us confirmation of the payment. Scan and send the completed booking form / photograph it / post it to us etc. We will send you a confirmation letter with equipment list.
 The Boats We Use: – These Boats
Testimonials – See what our clients say
Price:  £1,000 (8 spaces max)
Any questions – give us a ring on 02380 016450 and speak to Paul / Buster or email info@yachtforce.co.uk