Well… more like the pre-Christmas staff shakedown detox… mainly because you can't over imbibe onboard if you are moving everyday… changing ports, bouncing up and down and have places to go.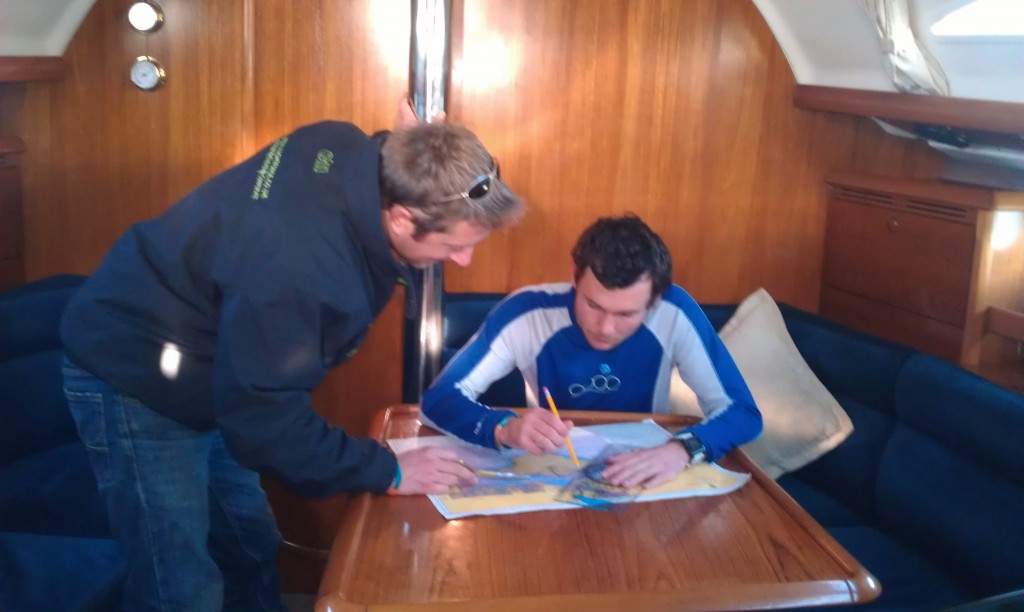 We had all good intentions… Paul, James, Alex (the new boy but extremely nice lad) and Buster were aboard. Rich (of the cast iron stomach brigade) bailed at the last moment citing some feeble excuse due to ladies problems… said that he was gutted not to accompany us… and due to his ability to knock up an amazing array of grub down below in any weather, I was a tad concerned who would fill his sea boots in this all important role. Dougal had just moved into a new house so was tied up in boxes.
We initially thought that we'd have a quick jaunt across the Channel and nip to Cherbourg and St Vaast and were eagerly looking at the forecast and checking if there was a window available as it had been howling for a few days previously. We were using our Jeanneau 37 Sun Odyssey – well kitted out with heater and all the electrics you can throw a stick at. We even had our party (cockpit) tent aboard! James was going to use it as an exercise to get some passages in and he was left to plan it overseen by Paul but was continuously given an array of different unpleasant (well more not the pleasant'ist) jobs to do frittering his time away.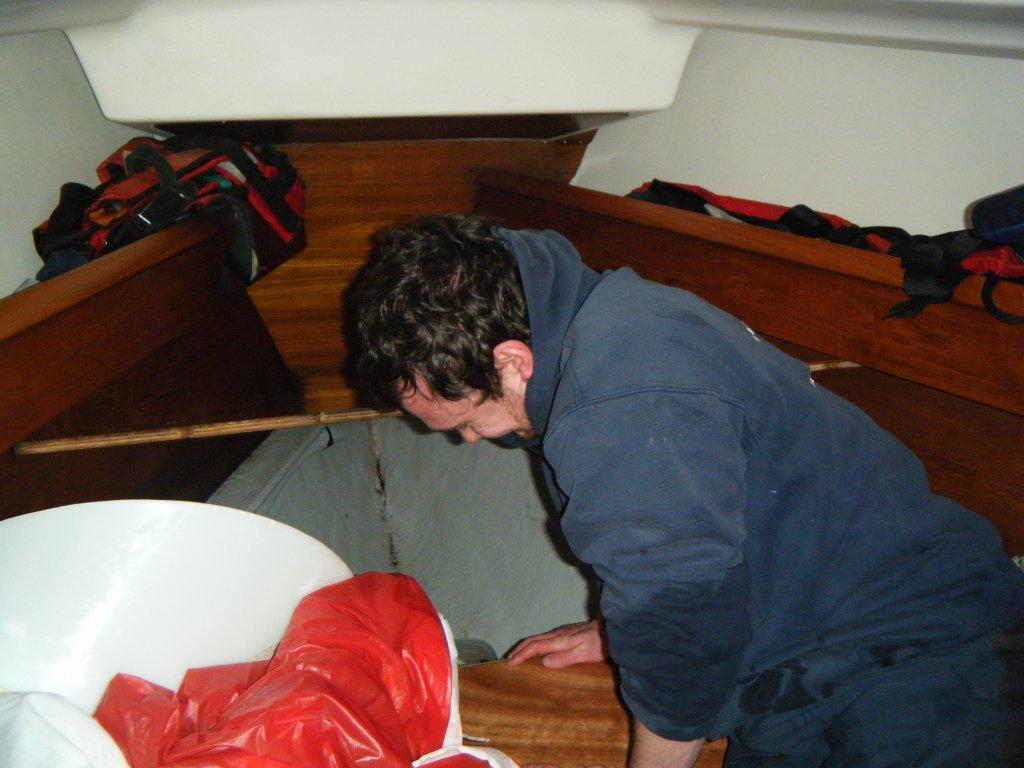 After the usual small shop in the Tesco superstore and dallying in the spirits aisle for the correct choice of malt to accompany us on our travels we kitted up and left our snug and warm shore powered berth at Mercury on the Hamble and took the tide up to Hurst beating against the fresh W'ly wind against tide. We had to hide a couple of times behind the dodgers and the spray hood laughing at anyone who got caught out if we slammed a wave. The weather was glorious winter sunshine if slightly nippy but the diesel heater was blasting away down below so that you could wander around in boardies if you liked! It really was that hot!
The wind obliged and veered a tad for a while and we got a lift and we made cracking progress with 2 reefs in and we ended up and dropped the hook under Hurst point to have a quick bite ready to catch the last of the ebb around the Needles in the last light. Lamenting the fact that our usual Rich wasn't there to cook for us and missing our usual 4 course fare we reluctantly tucked into the soup and smorgasbord provided knowing that at least we would be able to move around the boat if necessary, sorted out the watches, prepped the flasks and sandwiches, sorted out the grab bag and extra kit and made haste… well… at least some good speed past the point and onto the Needles in fading light.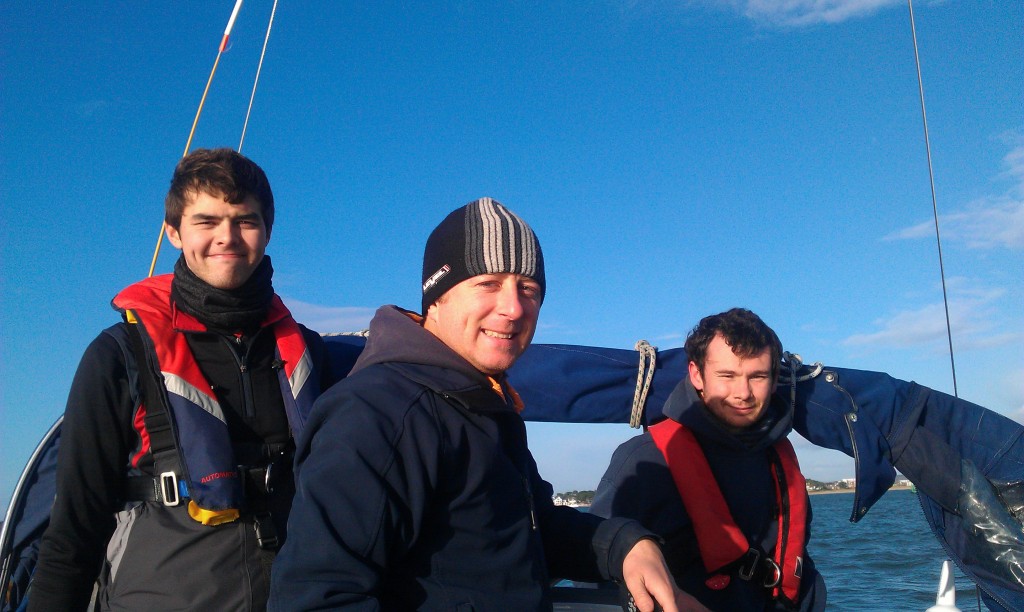 Past the Needles, dark now, the wind was still fresh and WSW so it was pretty hard on the wind and off we went. The swell had been kicked up by the previous gales but it was fairly regular but large. Alex and Buster took the first watch and Paul and James went to get some kip down below. All was quiet for a while, probably about an hour, and Buster and Alex passed the time talking about the meaning of life and the qualities of West Coast Island malts… and then it happened.
It was the unthinkable… quite unfathomable really… a fluke… a once in a lifetime experience… something not easily explained… nothing to be ashamed of… yes – you have it! Paul was humbled…
According to James it was not a pleasant sight! Paul's normally cast iron stomach had given out. There he was clutching wildly at the toilet bowl checking out the internal workings feeling extremely unwell! It was admittedly very bouncy down below and it was only the lure of some French seafood accompanied by a crisp dry white wine that was encouraging us all to make the trip… so we just gaily battled on heading for France knowing that Paul would be feeling like death … but for us it would be worth it as we would have moules, fruits de mer and a good wine for lunch the next day!
No we didn't… how could we be so cruel. It did cross our minds though… After a quick group capable persons conflab we decided that we would high tail it and run… well broad reach, rather… back to Yarmouth and take the next tide. We are so good and kind hearted people. Nothing to do with that Paul was due to be on watch next and Alex and Buster wanted their sleep so that they could really appreciate the culinary delicacies of the French cuisine next lunchtime rather than have that awful sleep deprived fuzzy headed feeling. So after establishing that Paul was indeed upon his knees and there was no possibility of any 'fall out' into the saloon area we tacked and headed Yarmouth bound. James joined us on deck simply begging to be removed from the company of the pathetic whining and moaning of the toilet hugging puke monster down below.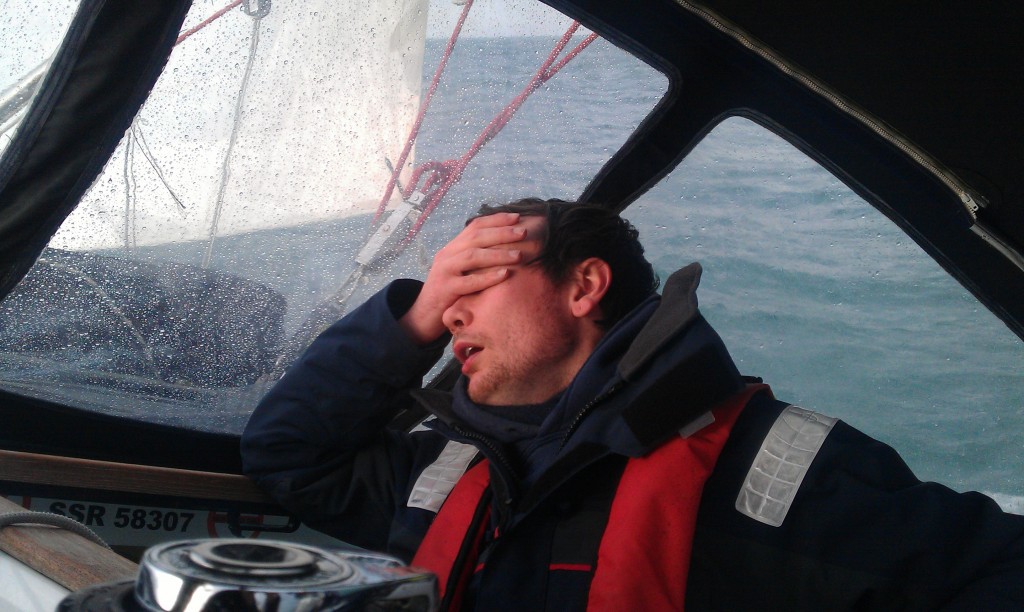 We made Yarmouth with good speed and readied for mooring up… Paul doing the usual, mysterious head popping up from down below as soon as the water went calm scene, as we entered Yarmouth harbour. He was feeling bright and breezy, chipper even, with a 'Sorry about that Chaps – must have been a bad prawn from last night' excuse – nothing to do with the black tie dinner and free bar the night before that we later heard about…
He made up for it though… cooked us dinner as a forfeit… and next morning 0530 – it was his watch! Alex and Buster got to sleep in!
Just goes to show that the dreaded sea sickness can strike those that have had a good run in the past and thought themselves immune. If you are not on par… heaven forbid – feeling slightly hungover, tired, cold – or a bit off colour health wise- then it can take you out. Very few people out there are immune from sea sickness… take the preventions and whatever works for you… and if in doubt about your crewing levels take the safe option out. Paul will never be allowed to forget he thwarted our comfortable well priced bistro moules marinieres lunch with a nice Sancerre…