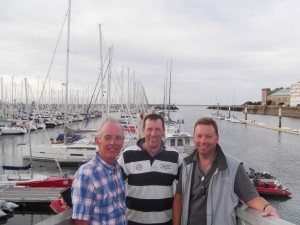 Tony McCaffrey rang me asking if he and a couple of guys could achieve a cross channel yacht cruise in a weekend. He and his crew had tried it previously but been thwarted by the weather…
I gave them a couple of options and suggested that a 'touch and go' – as we call it in the trade – is not the most relaxing way of getting the yacht mileage distance in – and more days available mean a bit more downtime and a greater appreciation of 'French cuisine'. However, time constraints meant that they needed to get it done in a weekend and couldn't go for the more relaxing 4 or 5 day Cross Channel Cruise option. After ascertaining that they were all capable sailors and that they appreciated the potential difficulties of achieving this crossing in just a weekend (the wind direction has to be spot on for easy and fast crossing to Cherbourg) we decided to give it a go.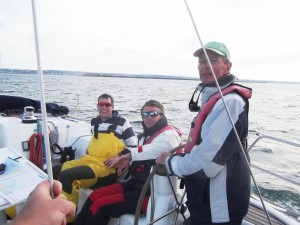 A Jeanneau 43  – 4 cabin boat – was chosen for the task and we threw in a spinnaker for good measure. We then got the right skipper for the job in the form of Graham S who I knew would get on well with Tony and crew.
The forecast was okay for the weekend and  even though we had  accelerated winds of F7 in the Solent and spent the whole time with 2 reefs in – the Channel was a lot less – even giving a bout of fog mid channel! Thank goodness for AIS…
The guys took themselves up to Newtown Creek from Gosport on the Friday and pushed on at sparrows early 5am on Saturday morning around the Needles with a course to Cherbourg arriving that night. After checking that Graham was enjoying his French restaurant steak and red wine later that evening I looked to see his departure on Sunday morning for the home bound leg. They arrived late on Sunday night. So a 'touch and go' is possible to France – but if I Skipper any cross-channels I prefer the 5 day option so that we have a greater weather window, more possibilities of other ports – and more French cuisine!
Here is what tony had to say about it…
Hi Buster,
Just to let you know that we really enjoyed the cruise to Cherbourg last weekend and I have attached some photos just to prove that we
did actually get there.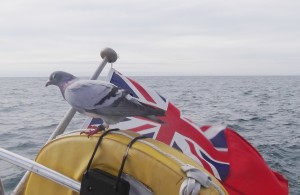 Eric the racing pigeon joined us about three hours from France and rested on the deck by the engine control. He actually
ventured into the cabin at one point! On arrival at Cherbourg Marina he took off for home.
We took longer than expected getting there at 2000 due mainly to the wind being more SSW then SW as forecast so a tack was necessary.
Coming back we had a few different weather conditions with the wind very much south rather than backing to the west as forecast, so it was not
easy to control. Then fog in the channel when AIS was extremely useful in the shipping lanes with one ship altering course for us, much to Grahams
surprise. Approaching the IOW we had very high following winds reaching force 9 to Bembridge and home to Gosport by 2030.
It was a great experience for us and I must say that Graham was really excellent and good company. He knows the balance to strike between being our friend and telling us what to do. There were fairly exciting moments which tested his leadership and he was not wanting.
I think we made a pretty good team but that is for him to say.
We are very pleased with your organisation and professionalism and would come back to you in the future.
Thank you very much,
Kind regards
Tony
If you'd like to do a cross channel cruise or distance sail then have a look at our page here. You do not have to charter a yacht to yourselves but can also join an existing cruise.