WELCOME TO YACHTFORCE YACHT SAILING

Hamble Base Meeting Point / What to Bring for your Charter, Course or Event:   
Please Note: If you made your booking over the phone we will have filled in your booking form for you and sent it to you with your receipt. Our booking terms & conditions are attached to the booking form. If you have any questions or queries, please contact us within 7 days. If we do not hear from you within 7 days we will assume you have read, understood, and agree with our booking terms and conditions. NB. Please ensure that you have relevant cancellation, curtailment and health insurance for this proposed event including 'Covid cover'. For foreign events please ensure that you have appropriate and necessary travel documentation / vaccination certs to allow you to travel to the countries on your trip. Participants should be aware that should prevailing conditions restrict the planned itinerary we will alter the itinerary to suit conditions.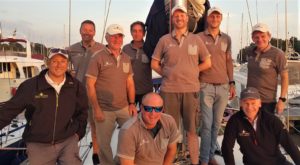 Charter / Event / Dates / Times: As per your receipt.

Meeting Venue / Location:
Mercury Yacht Harbour, Satchell Lane, Hamble, SO31 4HQ.
Please turn right through the large gates into the Mercury Yacht Harbour car park, head towards the water and A pontoon is the right hand one looking at the water. Car parking is ample, free and within the marina gates. There are free trolleys for marina luggage use (no coin deposit required). The parking is within 10 meters from some pontoon gates. There is a bar / restaurant on site. Please do not drink alcohol before going afloat.
Parking: There is plenty of free parking, 24hr marina office, toilets, showers, laundry, restaurant  bar available on site. (Tesco superstore just off the M27 – just a few minutes away by car that sells almost everything. Nearest Force 4 chandlers at Port Hamble Marina – 5 mins by car.)
The Pontoon Gate and the toilet block door are accessed by code and are available from the Marina office, your Skipper or Handover Agent. They do change and you can always ask in the marina office.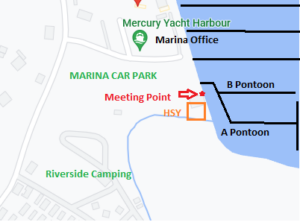 Meeting Point Look out for Hamble School of Yachting portacabin reception on right when facing water. The pontoon gate of A & B pontoon is the closest  pontoon gate to Hamble School of Yachting (HSY) portacabin. Meet in car park close to HSY portacabin close to gate of A&B pontoon.  If asked, please say you are with 'Yachtforce'.
If you arrive early you can grab a coffee at the on-site bar The Gaff Rigger or go and explore the delightful, historical waterside Hamble village –  just turn left out onto Satchell Lane and it is less than 5 minutes' drive. There are pubs, co-op, coffee shops, Indian take-away, estate agents a couple of other shops and half a mile further on a chip shop, another co-op, post office and chemist.
Your Skipper / Handover Agent: You will be informed of the Skipper / Handover Agent name and mobile telephone number by email closer to the time of the event. Text the skipper / handover agent to let them know you have arrived. If you are going to be late (even if only a few minutes please text your initial contact (Skipper / Handover agent) so he can understand your timings. Please do not come to the boats. The Skipper will come to you, explain any protocols that are in place and guide you to the boat from the car park. We staff the marina specifically for your handover and if you are more than 30 minutes late please note that we have to charge you additional staffing time at £35 per hr.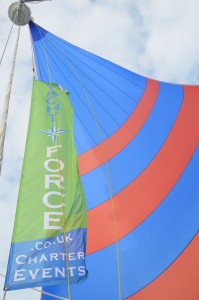 Getting to Mercury Yacht Harbour Marina – Hamble, SO31 4HQ
By Train from London: Waterloo – Southampton Airport Parkway train station. Trains takes 1hr 4 mins. (alight at the Airport Parkway for fastest transfer time) A taxi from the Airport Parkway station to the Marina is approx 14 mins without traffic and costs approx. £28.
A taxi from Southampton Central train station takes 25 minutes and costs approx. £30 as you have to pay the toll bridge.
By Train from Gatwick or Brighton direction – Swanwick Train Station is 1hr 40 from Gatwick Airport. A taxi from Swanwick takes about 14 mins from the marina and costs approx. £17.
NB: Hamble has a train station but taxis do not like to pick up there as the fare is too low and not worth the hassle. The walk is 25 minutes and there is a path that runs through rough common land but part of the walk is on Satchell Lane with NO lighting / No footpath with blind bends.
By Car: Use post code SO31 4HQ
(Approximately 7 minutes from M27 junction Junction 8.- no traffic)
Take A3024 towards Hamble (approx. 400m)
At major roundabout take Hamble Lane signed towards Hamble. 2nd exit. (Tesco superstore is on your left at mini roundabout)
Follow Hamble Lane. Straight over 'Tesco' mini roundabout.
Follow Hamble Lane. Straight over mini roundabout.
Straight on at traffic lights.
Past Fish & Chips on Left.
At roundabout take 1st exit towards Hamble. (only for 60m)
After 60m turn left onto Satchell Lane. Brown Signed 'Mercury Yacht Harbour'.
Follow Satchell lane for 0.9m.
Turn left signed Mercury Yacht Harbour.
Go past Holiday park on right. Watch out for sleeping policemen.
Turn right into blue gates of Marina. (do not go straight on) You will see 'Marina Office' on left when facing water.
Park up and find a trolley (no coin required) for your kit.
Toilet / shower facilities are just past Marina Office on ground level.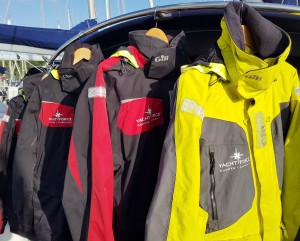 What to Bring:
Please – everything in a soft 'squash able' bag. No wheels or cases!
Sleeping bag / pillow / or duvet & bottom sheet if appropriate (please black bag to the boat in case it is damp weather)
Waterproofs (Adult Gill OS2 jacket and bib trousers available ) https://www.yachtforce.co.uk/gill-wet-weather-gear-supplied/
Non marking soft soled shoes, deck  boots (try rubbing them against a white fridge to see if they leave a mark) Spare shoes as deck shoes will probably get wet.
Layered clothing / shorts tees / swimming stuff etc but also fleece and warm layers
Hat for sun protection / for warmth / sailing gloves – to protect your hands from rope burn Sunglasses with lanyard (floating ones are good) / sun cream / lip salve
Seasickness remedy – if you suffer – Stugeron tablets are good
Towel / small wash kit / personal medication
Small head torch / pocket torch / (red light for night passages / cruises)
CD's – Music / Sense of humour
Own favourite tipple
Provisions on Non Catered Events
Money – Euros if going to France / Canaries / Greece

NB: Passport and travel documentation to allow entry into all countries that may be visited depending upon trip. This includes re-entry into UK if you are not a British passport holder. Any specific vaccination certificates that may apply for entry to any countries. For Cruises outside of UK waters you will need to supply your passport details in advance.
Please Note Jewellery – Please remove jewellery when sailing. 'Dangly' earrings, rings, piercings, necklaces could get caught and cause injury. Tie long hair up.
The Yacht: We are looking forward to sailing with you. We generally will be using a 9 berth Jeanneau 37 SO. http://www.yachtforce.co.uk/yacht-charter/the-boats/jeanneau-37/
The yacht has coded life jackets with crotch straps, lights and harness point attachments. If you wish to use your own please do bring it and speak to the Skipper as it will need to meet certain criteria and he will need to 'okay' this.
Further Information on Your Event:
Solent Sailing Weekends & Cruise Information Page
If you need more information, please visit our website at: www.yachtforce.co.uk or e-mail us at: info@yachtforce.co.uk   If you have any questions in advance of your event please call us on 02380 016450.
We look forward to seeing you soon.
Kind regards,
Yachtforce Team
Yachtforce Yacht  Charter & Events
Solent & Brighton
Website: www.yachtforce.co.uk
Email:       info@yachtforce.co.uk
Tel:            02380 016450