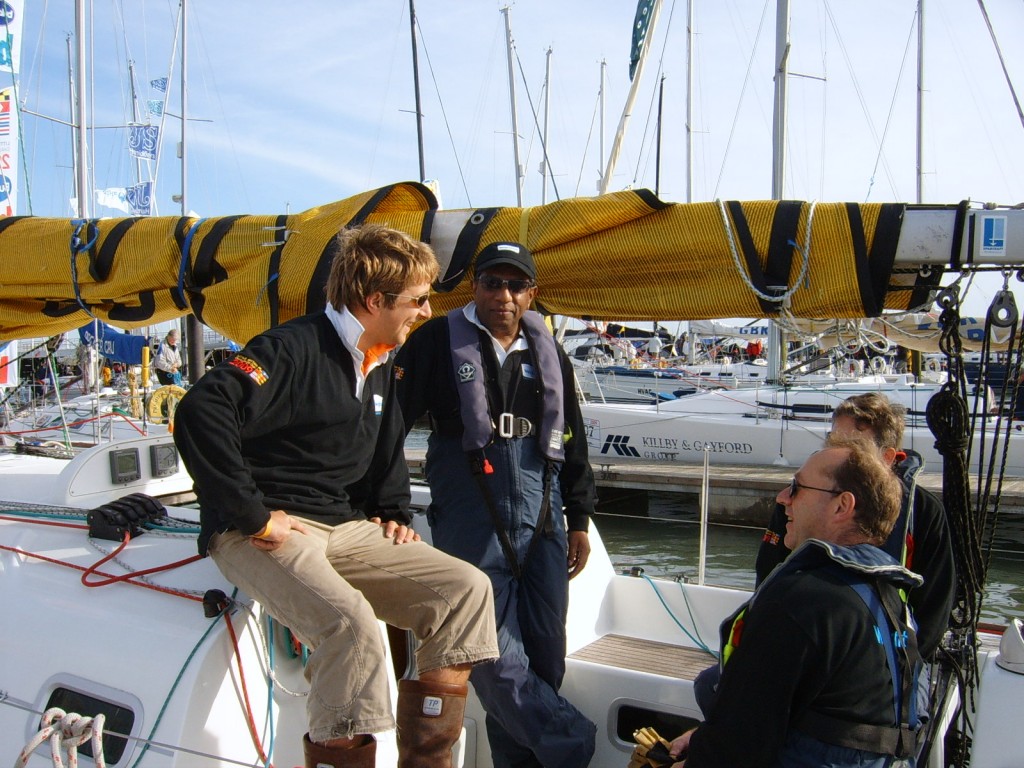 A corporate yacht sailing team building day or away day event is an unique team building sailing activity or event for companies. The effective bonding experience of learning to sail a yacht from our sailing event base on the UK South Coast  from either the river Hamble / Solent (close to Southampton) or from Brighton, will help develop team work and lasting bonds.
No previous sailing experience is required.
An effective team building activity improves your teams performance and communication, which is at the heart of every business. There is no better way to do this than to learn to yacht sail with us on a team building sailing away day. We can take personnel of all levels and give each member of your team an opportunity to experience every aspect required to make a sailing boat competitive. Once we have completed the initial training with your team we run a mini yacht regatta with other yachts in our fleet, or we can run timed runs around buoys, to put those skills and communication to the test. To succeed, your staff will have to co-operate and communicate.
The benefits from the team enhancing properties of bonding your work force in these team-building activities are enormous. Helped and aided with the sailing of the yacht by the professional Skipper long lasting bonds are forged in this sailing environment.
Yacht Team Building Sailing Event Services From South Coast UK
Making your team building sailing activity a success is an absolute priority. We ensure that we maintain close contact with your designated co-coordinator within your business and take the strain out of the organisation this team building yacht sailing event on your behalf. You may want to eat ashore or on the boat whether you want a small scale event and just one yacht or multiple sailing yachts, we offer all the below so that you can relax and concentrate on taking part in your event.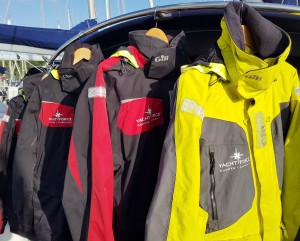 Pre Event Coordinator
Meet & Greet Service
Professional Skipper
Drinks and Snacks Aboard
Wet Weather Clothing
Fuel
Safety Equipment
Gas
Team Building Yacht Sailing Activity Days & Events from £890 + VAT ( example for 7 clients on a  8 berth yacht from Hamble (near Southampton)
Catering
Soft drinks, tea, coffee and snacks on board are included.
Please discuss catering options with your co-ordinator.
Many groups will eat ashore in Cowes on the Isle of Wight in a restaurant / pub / sailing club of their own choice and they book this direct to minimise the costs and communicate directly with the provider for any dietary requirements. If you do not wish to eat ashore we can help organise deli bags aboard (at extra cost) to be eaten on board and maximise your time afloat.
Mooring Daytime / Overnight
If you wish to eat ashore we generally moor at a marina for a 'short stay' at lunch-time.  If you wish to do multiple days we can arrange for your yachts to be moored overnight close together possibly in Cowes on the Isle of Wight or in the Hamble. You can then choose to either sleep aboard or ashore in local shore-side accommodation at additional cost. Mooring is an additional cost – approximately £23.50 short stay / £50 per night per yacht.
Availability of Sailing Yacht Team Building Days
We regularly run '2 Boat Events' as these are relatively easy to facilitate. If you are thinking of something in the short term at present we have availability in both June, July and beyond. Please ask for dates!
To view an example itinerary for corporate team building events, please click below. This is just used as a guide, we can tailor each event to meet a companies individual needs and requirements.
Meet our staff at our designated 'meet and greet area' at MDL's Mercury Yacht Harbour where there is ample free parking and excellent marina facilities.
Meet the skippers and we issue wet weather clothing as required.
Any early arrivals can have breakfast or coffee locally or on site at the excellent 'Gaff Rigger' restaurant overlooking the marina and River Hamble with bar / restaurant / conservatory and balcony.
We then allocate yachts and give a comprehensive safety brief before slipping moorings and you can enjoy the beauty of the river Hamble slipping quickly into Southampton Water past Calshot Spit into the middle of the Solent opposite Cowes on the Isle of Wight.
There is a fantastic amount and array of interesting sights to see in addition to the task of learning to sail.
We then teach you to sail, giving all on board the chance to take a full and active role in all aspects of sailing the yacht including helming, sail trimming and navigation. We may stop for lunch in a picturesque bay, river or harbour depending upon your catering requirements.
The day culminates with a mini regatta or some boat on boat competition. For individual boats we used timed runs around the buoys and certain timed tasks to provide that competitive edge. We will keep you 'fed and watered' onboard with snacks and drinks throughout the day.
0900 – Meet & Greet 0910 – Issue Wet Weather Gear
0950 – Slip Moorings
1020 – Sail Training Team Building Activity
1100 – Beverages / Snacks Aboard
1245 – Lunch Afloat / Ashore
1400 – Sail Training Team Building Practice
1500 – Yacht Sailing Team Building Event Races
1700 – Moor Up / Guests Depart
Client Testimonial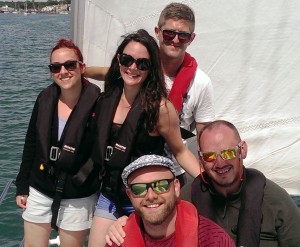 Surefoot Solutions Company Sailing Team Building 3 Day Event Amy Palmer said, "We sailed with Yachtforce as part of our annual team building trip and had a fantastic time. The trip gave us a good mix of tuition and relaxing, with our Skipper & First Mate incredibly flexible and willing to tweak the trip to suit our group. 6 of us stayed aboard. We learned a lot, and laughed an awful lot. Would definitely recommend to anyone who is looking to bring a team together, or some fun as part of a group. I am sure we will be back again! Read here for more testimonials…
Giles Barfield, Sumco EU had this to say about a 4 boat race day from Brighton Marina, 'Hello Buster, Just wanted to thank you, Steve and the team of Skippers for arrange such a great sailing experience.   The feedback from my colleagues was clearly evident with the huge Cheshire Cat grins they were all wearing.  Tonight's dinner conversation was peppered with lots of "our skipper said. . ." comments. For a group of people that were very concerned about going on water, I think we have quite a few converts.  (I myself am very keen to go sailing again at the earliest opportunity!) Please let me know if you would like a company recommendation or review for your company.  Once again thanks for everything, and pass on my thanks to Steve and the other skippers'.     Best Regards, Giles

Thanks very much for a superb day yesterday, there's been a load of positive feedback about the event, both of you guys and your organisation of the day – and also sailing generally. Richard T – Jorgensen Turner