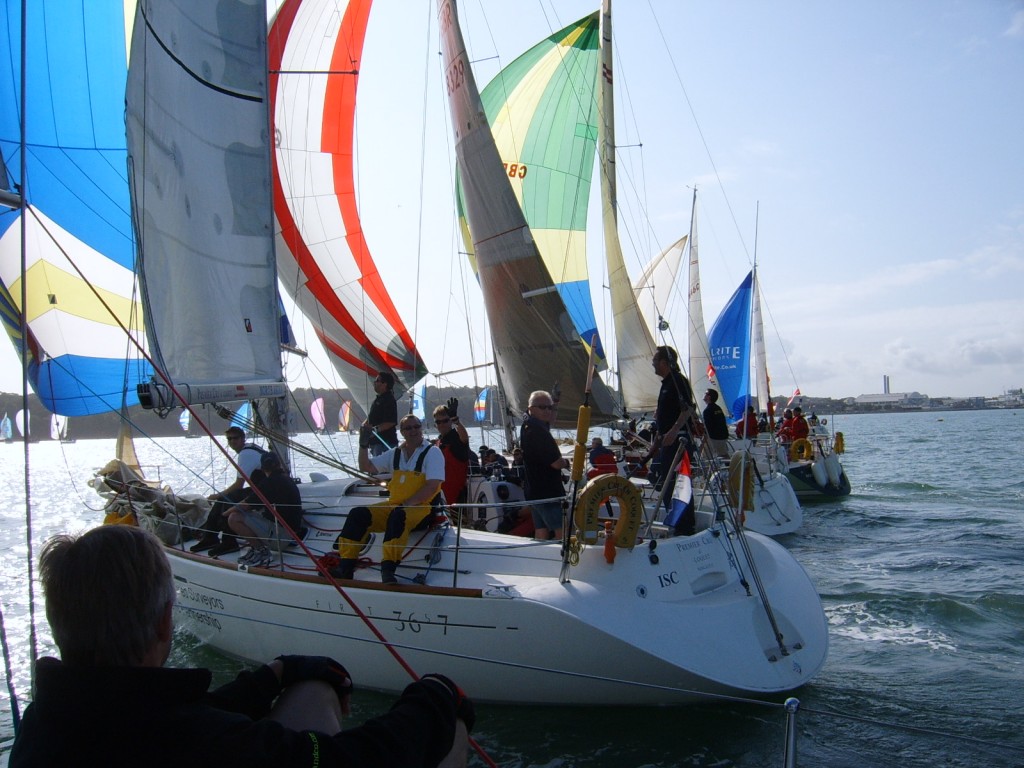 Join us for the Round the Island Yacht Race 2022.
3 Day Event: 0930 Friday 24th June – 1500 hrs Sunday 26th June 2022. Sorry – Fully Booked
Race Day: Saturday 25th June 2022
The Round the Isle of Wight Yacht Race (RTI) was first sailed in 1931, and today, between 1400 to 1700 yachts of every conceivable size take part. It is quite something to be right in among huge maxi-yachts through to the smallest offshore categories taking part. Super fast multi–hulls and traditional, sedate old-timers all compete together but in different classes.
This event is the biggest fleet in the world. Super slick race crews compete alongside families having fun in their own cruisers  – you take part in your own fleet with similar handicap but you are in and among the many other yachts. It is simply stunning!
Enjoy this exceptional experience of taking part in this spectacular event. Join us for skippered yacht spectating or some corporate yacht racing. We can provide either a fantastic spectator ⁄ sailing event – or you can get involved with the racing directly. You can enter in either a racing class with spinnaker (for the more experienced crews) or without spinnaker under the Island Sailing Club rating. We can take care of all your requirements and ensure that your yacht race runs as smoothly as possible. We offer full corporate branding packages for your yacht and the crew as required. We also take the Skipper and First Mate off the boat overnight leaving more space for you and your guests.
Round the Island Yacht Race  – 3 Day Event: 0930 Friday 24th June – 1500 hrs Sunday 26th June 2022.
The all important practice day on the Friday followed by racing early on Saturday morning. Starts off the line at Cowes going west finishing at Cowes after the circumnavigation of the Isle of Wight. You will pass close to the famous Needles lighthouse, around St Catherine's Point, Bembridge Ledge and No Mans Land Fort. There are a lot of sights to take in!
The Sunday will be spent leisurely cruising the Solent with a relaxing lunch, or fine-tuning your sailing skills.
Also available 3 – day option, buy an 'individual berth' from £599 per person – see here  (Friday Practice / Saturday Race / Sunday Chill-Out Sail)
RTI 2022 Example Includes:
Professional Skipper & First Mate
Accommodation Aboard
Food & Drink Aboard (excludes meals ashore)
Mooring Fees & Fuel
Safety Equipment
Race Entry Fees
Wet Weather Gear
3 – Day Option:
Friday Practice / Saturday Race / Sunday Chill-Out Sail
8 Persons – from £5,525
10 Persons – from £6,995
Booked
Elan 380 – Fast Cruiser / Racer with Spinnaker  – up to 7 clients (6 berths aboard)
Lovely sporty yacht available for a Skippered Boat with 1st Mate included with full sail inventory. 6 berths available on board in 2 x double cabins plus single berths either side in the saloon. We will take the Skipper / Mate off at night to fee up boat. Package price £TBC
Contact us here  for more information:
Email: info@yachtforce.co.uk   Telephone us: 02380 016450
(Updates 16/5/22)