Canary Islands Yacht Sailing Flotilla – Tuition Holiday Around Lanzarote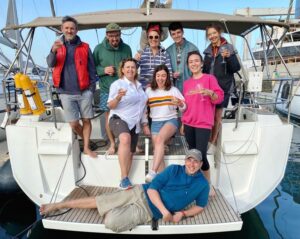 Come with us yacht sailing to the Canary Islands and circumnavigate the fantastic island of Lanzarote in 1 week on our mini sailing flotilla, tuition style skippered charter week holiday. 'Buy a Berth' or charter your own yacht. Flights are under £45 return Easyjet Luton and £78 from Gatwick (Jan 2022)!
Develop your sailing skills and confidence in the Canary Islands with warm winds and sunny skies from Marina Lanzarote – or just relax and have a holiday! Either 'buy a berth' or charter and skipper your own yacht but 'sail with us in company' for that additional comfort factor… all on large,  well presented boats.  Temperatures last year were around 25'C and good breezes make for superb sailing conditions. More info, pictures of previous trips and Itinerary can be found here
We also do a week sailing cruise in the Mediterranean around the Greek Islands and the Peloponnese in May and September (Greek Islands Saronic & Argolic Gulf Yacht Cruise)
'Sail Round Lanzarote' in the Canaries – on a  Modern 51ft Sailing Yacht
Shared Cabin £1095pp / Single Occupancy Cabin £1599   (flights not inc) on modern 52ft Bavaria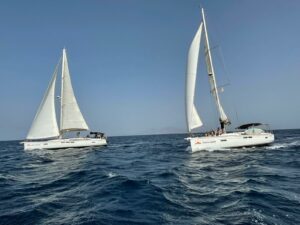 DATES:
November 12-19 2022 – 3 Spaces
January 21st – 28th 2023 – 6 Spaces
January 28th – 4th February 2023 – 6 Spaces
Enquire for 'Book a Berth' spaces!
Complete Boat (including Skipper) Prices from:
(Approximate cost of 10 berth  51 ft yacht including Skipper – from £7220)
Booking: Email us here– we will send more info (approximate itinerary) and a booking form. Deposits £500 pp for buy a berth deposits with balance 8 weeks prior to event. Skippered charter 50% deposit with balance 8 weeks prior.
Assisted Bare Boat Available – Check the link for Lava Charter availability (however you must book through us – at the same price they offer on the web – for assisted charter or accompanied sailing)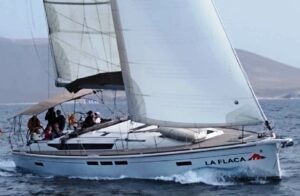 'Buy A Berth' Take a cabin or berth aboard our fantastic modern 52 ft  yacht with Skipper. These large modern yachts have 5 cabins, (3 toilets / showers) and give great space aboard for fast comfortable cruising in warm sunny climes. These are cracking boats and if you haven't sailed a big boat before you'll be amazed at the space – the deck height head clearance and big cabins. (Limited availability for own cabin option)
Excellent tuition is available all week in a relaxed style, practise your passage planning and a bit of navigation, act as 'skipper on-board' the boat but under guidance – or just kick back and join in the sailing elements when you want to. We take any experience level on this trip and we try to keep the saloon areas clear using just the cabins so that there is plenty of space aboard. Numbers wise we normally aim to have 6 clients aboard a 46 foot yacht and 7 on board a 50 footer.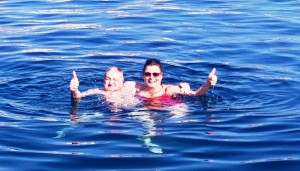 With 5 cabins and 3 heads / toilets / showers there is a lot of space. On the 'buy a berth' yachts everyone mucks in and helps out with the sailing and any galley chores but if you want a more exclusive trip with your own group, own Skipper and even your own hostess to look after the catering and serve the chilled G&T's – see below (at the bottom). You can even charter your own boat but join our group to 'sail in company' giving you that reassurance of having a helping hand available – See bottom of page.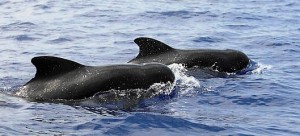 Canaries Wildlife. There is fantastic wildlife with dolphins and short finned pilot whales, abundant fish stocks and time to relax, swim and snorkel or just wind down with a bit of winter sunshine! We will sail most days but also have time to explore the surroundings and enjoy the Islands. As we take several boats we have our own 'ready-made' social scene and enjoy our shore-side 'cocktail parties' when all the boats have docked and we enjoy a sun-downer before we eat in the local restaurants.


Where are they? The Canary Islands are a group of islands belonging to Spain some 108 km off the northwest of Africa in the Atlantic Ocean off Morocco and the Western Sahara. Only 4 hrs flight time away from the UK and in the same time zone… They consist of seven different islands all of volcanic origin.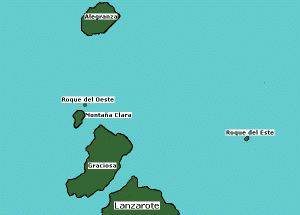 Where we sail in the Canary Islands Lanzarote Week

When you think of the Canaries – think about places that you just couldn't get to by car, probably places that you have never heard of. Discover 4 islands, La Graciosa, Los Lobos, Fuerteventura and Lanzarote are all within reach of a weeks charter. The small Chinijo Archipelago just north of Lanzarote – probably our first day's sailing will take us here after a shake down cruise. This is where we will be going. Islands with a culture of their own, fantastic seafood from the abundant Atlantic fish stocks, great scenery with towering cliffs and secluded bays, sunshine and warm waters.
The Chinijo Archipelago. This spectacular area / marine reserve is formed by the small islets of La Graciosa, Montaña Clara, Alegranza, the smaller outcrops of Roque del Este, Roque del Oeste and the amazing breathtaking cliffs of Famara.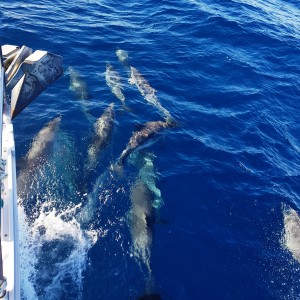 It is the largest marine reserve in Europe and one of the most diverse and rich ecological areas in the whole Canaries and we need a permit obtained in advance to anchor or berth there. Only one of those small islands called  La Graciosa is inhabited – just 700 people (and 1 policeman) – who earn a living by fishing or tourism. Just sand tracks for roads and cars are seriously controlled with only a small number of vehicles having a permit to operate – most people use a bike. The other islands are protected reserves and we could sail around them all on the 2nd day or explore further inland.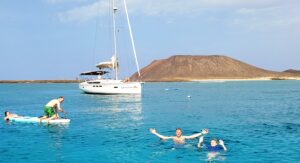 More than likely we will go south around Lanzarote and visit the uninhabited Lobos Island. it is an islet just north of Fuerteventura in Spain's Canary Islands. It comprises a largely uninhabited nature preserve that's home to diverse flora and fauna, including rare birds. The main beach, Playa de la Concha, is known for its spectacular clear waters. We may visit Fuerteventura before heading North to complete the circumnavigation of Lanzarote. Think of passages of 35-45 miles with some upwind sailing and more relaxing downwind legs with some shorter days allowing for exploration, swimming and snorkeling. A Lanzarote example itinerary can be seen here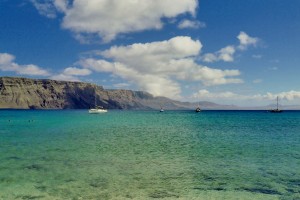 The Sailing. The islands provide excellent 'winter sun' yacht cruising within short flight times with temperate climate and some great winds! Distances over the week would be around 155 miles for your logbook and fantastic sailing in temperate conditions. Most winds are from the north east or north west with a good breeze so we cover the distances easily with the boats cracking on at 8/9 knots because of their waterline length. Between the islands there are acceleration zones where the wind  'squeezes' and speeds up – so excellent windy sailing with reefing practice in parts!
Our Skippers are all commercial endorsed MCA / RYA Yachtmasters – great fun and great teachers too. The 51ft Jeanneau or Bavaria 52 will be skippered by one of our Yachtforce team but you can take the option to skipper your own boat and 'Sail in Company'. (see prices at bottom) but be aware that there are only a few smaller craft available. 

Sail Around Lanzarote – 'Buy A Berth' – 51ft Modern Yacht  (see Itinerary here)
What's Included
Lunch Stop at Los Lobos Anchorage

Professional Skipper

7 days aboard yacht
Instruction
 Shared cabin / (Own cabin limited availability)
51 foot – 5 cabin / 3 heads yacht
Gas
Accommodation on board
Breakfast, lunch and snacks on board
Life jacket
End of week cleaning
Bedding and Towels
Not Included: Flights to Lanzarote  Transfer to marina (15 eu taxi fare), meals / drinks ashore. 195 euro –  'Boat kitty aboard' which includes the yacht security deposit insurance, fuel used, mooring fees, towels, bedding  plus cleaning materials, drinks mixers, breakfasts, lunches, some beers and some G&T's and the large pre- week shop by Skipper / Mate
To Book: Email us at info@yachtforce.co.uk or ring us on 02380 016450
We will send you more information, the event specification, booking form, our bank details. Deposits £500 pp for buy a berth deposits with balance 8 weeks prior to event. Skippered charter 50% deposit with balance 8 weeks prior.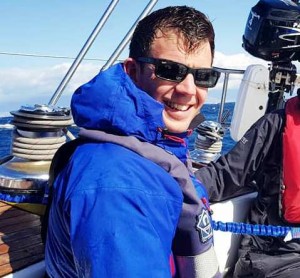 Testimonial: Dan Harrison said this about a windy January Canaries Cruise from Tenerife on a 49 footer, 'My partner and I went on the Canaries cruise organised by Yachtforce, with Buster as Skipper and Vikki as First Mate. We had an excellent week. We had more wind during the week than expected but it meant Buster taught us loads about sail trim and boat balance. The trip was great fun, communication before and during the week was spot on. This was the first time we had sailed with Yachtforce. We will definitely be using them again.'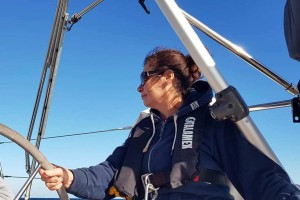 Maxine Oliver, Had this to say about a windy week circumnavigating Lanzarote in January. 'Second time I have been sailing with Buster and Yachtforce and this week in Lanzarote did not disappoint. A real mixture of sailing in all conditions, developing my sailing skills and building my confidence in the capable hands of Buster.  We all had a really good time, lots of laughter and relaxation and exploring the bays and towns of Lanzarote.   Yachtforce go the extra mile to ensure all the crew develop their sailing skills at whatever level they are at and that we all get on well together,  organising gin sundowners at the of the day in the sunshine, meals out together in the evening or time on your own.  Both skipper and crew go the extra mile to make sure you get everything from your holiday and that everyone on board is comfortable and looked after.'
Canary Island Flights: (Please make sure you book the right Island / airport for the correct trip.) There are a variety of flights available from the UK to Lanzarote (Airport code ACE) .   Easyjet / Jet2 / Tui / Ryan Air
(Jan 2022 – Return fees from just £45 (LTN) £78 (LGW) with Easyjet or £78 with a good 2 bag carry on allowance from Jet2 from BHX Birmingham!)
Canaries Bare-Boat Charter Prices held until May 2022
Minimum sailing experience – Coastal Skipper with VHF Radio License.
All yachts below are modern and well equipped. If you wish – you can join our 'Mini Flotilla' for a comfort feel of 'sailing in company'. (prices below). The charter company that we are agents for are Lava Charter and the price you pay with us is the same that you pay if you use them direct. We are very happy with their standards and how they maintain their boats and their protocols. These are not the cheapest yachts but we rate them as a cut above the other operators and we know first hand what you are getting as we know the boats, have been on board to look over the fleet and also use these boats. We also will arrange the advance permissions for mooring at La Graciosa when you charter through us and can give you advice on which supermarket will deliver to the boat on a Saturday, where the closest / best / cheapest supermarkets are and how to get your major initial shop to the boat. See here for additional bare boat info.
Note we have included the obligatory extra that is charged which includes all Mooring Fees, End-Cleaning, Gas, Berthing at Marinas includes electric and water, Dinghy or SUP, Outboard Engine plus Fuel, Baby/ Kids life jackets, Bed sheets & Duvet, Towel set (small + large) p.p
 Marina Lanzarote:

Yacht Make / Size


Cabins + (Heads)
Year
Up to May 2022 Charter  Cost
Deposit

Obligatory Charge

Inc. Cleaning/Bedding / Towel /Outboard / Dinghy or SUP. All Mooring Fees inc. water / electric


BAVARIA 37
3  (+ 1) 2015
€3026
€1.500,-
inc
Dufour 382
3  (+ 2) 2015
€3228
€1.500,-
inc
BAVARIA 41

3  (+ 2) 2015
€3531
€1.500,-
inc
Dufour 412
3 (+2)
2017
€3632
€1.500,-
inc
BAVARIA 46
4 (+ 3 2015)
€4086
€2.000,-
inc
BAVARIA 51
4/5 (+ 3) 2015
€4742
€2.000,-
inc
BAVARIA 56
5/6 +3 2015
€5802
€2.000,-
inc
Jeanneau 479
4 (+4) 2018
€4490
€2.000,-
inc
Dufour 512
2017
4 (+4)
€5045
€2.000,-
inc
Jeanneau 519
5 (+3) 2018
€5146
€2.000,-
inc
 'Sailing in Company' Fee


 2 Cab

£

 3 Cab

£150

 4 Cab

£200

5 Cab

£250

 Skipper
 €295 p/day
 Hostess
 €140 p/day
 'Sailing in Company' in Lanzarote

Want to Skipper on the Canaries Flotilla Yourself? Need some advise and reassurance?
We can help. If you are minimum Coastal Skipper and have a radio licence you can charter and act as Skipper on your own boat but you have the option to sail with us 'in company' joining our own itinerary for as much of the time as you wish. You have the option to join in the morning briefings, discuss with us the route, hazards, mooring detail and if we are in before you we are on hand to take lines and help out when you moor at night. You simply pay a yacht supplement of as low as £150 for this service – on top of the charter fee indicated above.  It also includes various evening cockpit sun-downers with nibbles, a ready made social side of things, an opportunity to join in with group evening meals ashore plus briefings from the First Mate on facilities / places of interest for each port.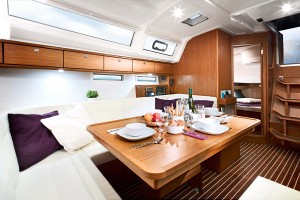 Canaries Private Yacht Charter with Skipper? Not a problem – we can supply a skipper to teach you on your own yacht. Enjoy intensive tuition and coaching… or simply let the skipper do it all for you. Want someone to act as First Mate, help teach and help with the catering – not a problem. We arrange the charter and can supply the Skipper / Mate – just let us know your numbers, group dynamic, what you would be after from the experience, preferred size boat. We will let you have a quote on your own bespoke event.
For Canary Islands – Lanzarote Base – Bare-boat Yacht Charter – Click Here
How to Book: For book a berth we are taking money now. Balances are due 10 weeks prior to departure. Please do not arrange your flights until you have received confirmation from the office. Please take out insurance to cover yourself for health, curtailment, C19, repatriation and whatever other risks you want to cover. The Post Office are doing policies that cover covid from £35 week / £45 for 2 weeks
 Email us at info@yachtforce.co.uk
or Ring us on 02380 016450
Covid Safety / Entry Procedures into Canaries –   See here for more detail and latest up to date information of Canaries entry requirement https://www.hellocanaryislands.com/travelling-to-the-canary-islands/ 
Jet2 do a really good simple to understand page on what is required – See here for Jet2 info detail
Check out this site for latest entry health requirements https://www.hellocanaryislands.com/coronavirus/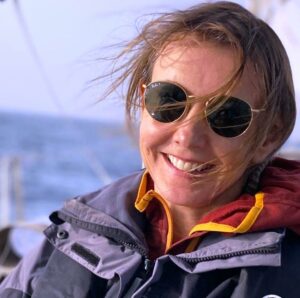 What the clients say -Ali  had this to say about the family Skippered Charter on a large, modern Jeanneau 51ft Yacht with Josh as Skipper on a 3 boat 'flotilla' sailing from Lanzarote on the February 2022 Winter Sun Trip, 'What an absolutely wonderful week we had with Yachtforce. Superbly organised from start to finish and our skipper, Josh, was calm, generous with his knowledge, a great sport and an absolute pleasure to have around. Sailing in the Atlantic with family in February will be a memory to cherish for a long time, thank you so much. Yachtmaster, I'll be back!' . Freddie (also on the trip in Feb 2022) had this to say, 'Josh was a cracking instructor. A spiffy week sailing! Personal highlight was balancing the boat so we didn't need to helm.'