Greece Yacht Sailing Holiday / 1 Week Trip in September / October 2022
From Athens sailing the Saronic & Argolic Gulfs

Trip Dates:
24th September – 1st October 2022 – Bunk bed cabin available for shared / single occupancy
Skippers Cabin (en-suite) Available

1st – 8th October 2022 – 7 Spaces (New Week – Just added!) Get your deposits in

Prices From:
£1095pp Shared Cabin (Excludes Flights ATH Athens)
£1595pp Single Occupancy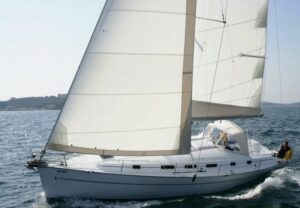 What To Expect Greece sailing in either May, September or October for a great fun time holiday in good company with warm winds and great sea swimming temperatures of average 24'C in September. This is a fantastic opportunity to have a bit of early / late sunshine in the Med, top up the tan along with learning new skills, develop your  existing knowledge on larger boats. You will add approximately 150 Nm to your logbook. Check out our Canary Island Sailing Trips.
Fun, Learning & Social The emphasis is on fun and learning with formal 'teach in' sessions every morning generally followed by a mornings voyage to a sheltered bay for a lunch-time stop for a bite to eat in the cockpit and a leisurely swim. You will sail to a host of different Greek Islands and lovely ports with a ready made social scene aboard this luxurious, large modern cruiser! Food / eating out is outdoors and very reasonable! Sun-downers and nibbles are had in the cockpit on board or watching the world go by from the local Taverna just meters from the waters edge.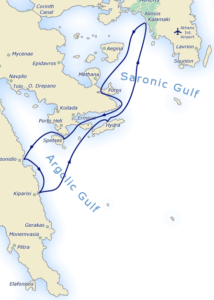 From We start from Alimos (Kalimaki) Marina which is located southwest of Athens, 15 km from the city center. It just history everywhere. If you have the opportunity it is definitely worth while coming out a couple of days early to look around.
Getting to Marina The cheapest way to the marina is definitely the X96 Bus, at just 8 Euro/person. It takes about 90 minutes. The Metro takes 1hr and costs about 12 euro. If you want to take a taxi it costs around 45 Euro/pers, depending on the number of people and takes around 1 hr.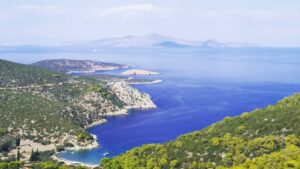 The Sailing Area is well known to the Yachtforce Skippers. We used to charter 'mini flotillas' of several yachts cruising these delightful waters and have also done a delivery or two! The fantastic Islands provide a wealth of history and interest with numerous small bays and coves to anchor up and swim. With a large yacht we are able to the cover miles effortlessly and cruising over into the Argolic Gulf is quiet and relaxed. On the way we may stop at Poros or Epidavros, the car free Island of Hydra with its donkey carts for transport or a bay around the corner from Porto Heli. It is well worth the slightly longer day to get to the Argolic Gulf and we may get as far as the historical walled city of Monemvasia or the ports of Leonidio and Kiparissi.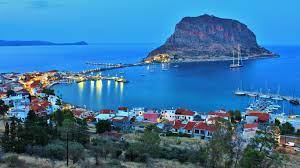 'Buy A Berth' Take a cabin or berth aboard our fantastic large yacht with Skipper. They have  4 or 5 cabins, (normally 4 doubles plus a bunk bed cabin and sometimes an additional 'Skippers cabin' accessed through the fore-hatch with 3/4 toilets / showers) and give great space aboard for fast comfortable cruising in warm sunny climes. These are cracking boats and if you haven't sailed a big boat before you'll be amazed at the space – the deck height head clearance and big cabins.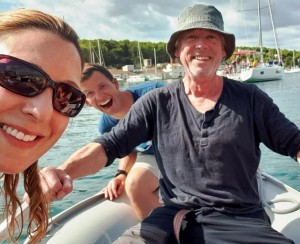 Excellent Tuition is available all week in a relaxed style, practise your passage planning and a bit of navigation, act as 'skipper on-board' the boat but under guidance – or just kick back and join in the sailing elements when you want to. We take any experience level on this trip and we try to keep the saloon areas clear using just the cabins so that there is plenty of space aboard. We aim to have 7 clients on board a 50 footer.
We all chip into the running of the boat and you can be as actively involved as you want. You may be asked to shop locally and 'forage' for fresh lunch provisions – see photo!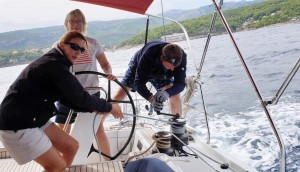 First Day would be a  shake down sail with of about 30 Nm so nice easy relaxed stages and nothing too fraught so don't be put off by the thought of constant long passages.  We make sure that we have time to relax each day so there is plenty of time to relax and swim etc. and we try to stop every day for lunch and a chance for people to have a quick dip in the really warm water. We tend to anchor in a secluded bay and take a long line ashore. Lunch is prepared whilst the team takes to the water! The water is fantastically clear and around 25'C.
We have a great lunch and then carry on sailing for another couple of hours sailing to our destination. It may be anchoring in a secluded bay, mooring at a restaurant or backing up to the local quay.
It is fantastic scenery and great fun sailing in good company.
Not Included: Flights. Transfer to marina. meals / drinks ashore. 195 euro 'Boat kitty aboard' which includes the yacht security deposit insurance, fuel used, fresh water (we buy it from bowsers), port & mooring fees, towels, bedding plus cleaning materials, drinks mixers, breakfasts, lunches, some beers and G&T's and the large pre-week shop by Skipper / Mate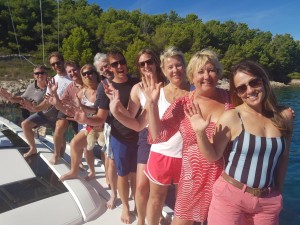 We have limited availability on this trip for singles (with sole occupancy)
To Book: To secure your place please pay a deposit of £500 per person with the balance due 10 weeks prior to departure. (do not book a flight until the office has instructed you to do so)
We advise people to take out relevant personal insurance for their specific event at the time of booking (including cancellation or curtailment – and for any health / personal accident / Covid cover as required)

Other Events You May Like:
Canary Island Sailing Holidays
UK Cruises / Cross Channel Trips
Email us on info@yachtforce.co.uk