2022 New Year's Yacht Sailing Party!
3 Days / 2 Nights – From Mercury Yacht Harbour, Hamble / Solent
Thursday 30th (Join 1000 hrs) / Friday 31st December &  Saturday 1st January (1600 hrs)
Cost:  £800 for 2 persons in shared cabin / £459 Single saloon berth (1 saloon berth space left)
See in the 2022 New Year Afloat with Yachtforce.
Join us afloat over this New Year for a special social time and a great sail! We will sail within the Solent and moor alongside in the marinas with 240 volt electricity for the boat and good shower and toilet facilities shore-side making sure that you are toasty warm at night.
Join us  on Monday morning at 10am for a cracking sail within the Solent. We will leave behind the historic Hamble river and go beyond Calshot Spit into the Central Solent with great views of the Isle of Wight. We will have a warming lunch on board and then spend a night moored alongside a pontoon in a West Cowes marina on the Isle of Wight giving you the opportunity to explore Cowes High Street. We eat on board with wine with your meal.  Explore the local hostelries in West Cowes after eating aboard – there is plenty going on.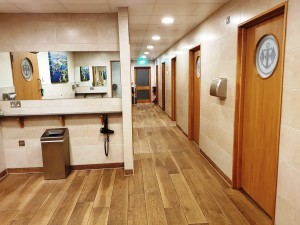 On Tuesday (New Years Eve) we will sail during the day with the usual tuition and mentoring giving everyone the chance to be totally involved and then sail west to Yarmouth on the Isle of Wight past the bird sanctuary and all the wild-life in Newtown River. We will moor up over night in the marina at Yarmouth.  We will eat a sumptuous New Years Celebratory 4 course meal aboard with great wine and then step ashore to visit some local  Isle of Wight hostelries in front of a roaring open fire with tunes  before retiring after 1 am to our snugly heated boat.
On Wednesday morning after a slightly slower start we leave the historic harbour at Yarmouth for a days sailing and have a well deserved brunch afloat before returning to Mercury Yacht Harbour on the river Hamble ready to disembark after 3pm.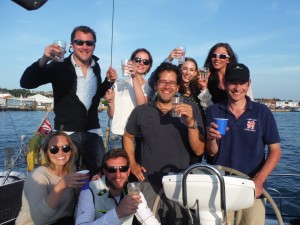 A New Year's Yacht Sailing Party for all those not wanting to do the 'usual thing'. Get away on board a yacht among excellent company on the Solent – great for small groups, couples and singles. A fantastic few days sailing extravaganza taking in some great  places, great sailing and great learning experience on an a cracking patch of water. Why spend a fortune on New Year's Eve or being at a party where you really don't want to be? Chill out and have some fun with us over New Year. There will be a great combination of the sailing … and the social… the roaring fire… and a few tunes in local hostelries!
The Concept.
Some people have asked for an alternative to the usual boring, expensive New Year's Parties. So this is your chance! Grab a place on board! Sail during day light hours and do some night sailing and get to understand the night-time navigational challenges and methods we use. We don't have to sail all night but can get a few hours in because it gets dark early!  We teach people the art of sailing if they haven't sailed before… let people expand upon their knowledge base if they are already sailors… and bring people on. We give everyone the opportunity to be completely involved in the sailing – or if they'd prefer – just chill out.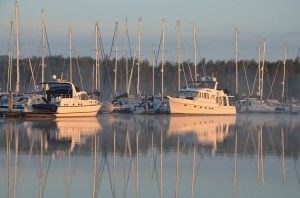 Once safely tied up for both evenings have a cockpit party with cocktails. Eat aboard to keep the cost down as going out for meals around that time is hellishly expensive – more on the catering later! Explore the local hostelries after dinner as there is plenty of live music available at the local ports… Relax & Enjoy!
It Is Hot.
We have a diesel heater for use when underway, with an additional electric fan heater plus an oil filled radiator aboard the boats when attached to shore-side electric. Honestly… we sail all through the winter, on occasions we go across the English Channel to France and the Channel Islands… and though it can be fresh on deck on occasions – down below we are in shorts and tee shirts when the heat is on!  We also supply you with the sailing specialised wet weather gear in case of bad weather – but we will give you a kit list of what to bring with you if you sign up.
The Yachts.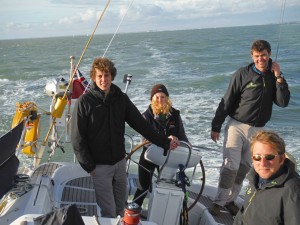 We start from Hamble on the Sunday morning and finish on the Tuesday lunch-time back at our home base at Mercury Yacht Harbour. Plenty of free parking with on site 24 hr staffing for a comfort feel when leaving your car – or easily accessible by rail as we are only 14 minutes taxi ride from Southampton Airport Parkway Station.
We raft up alongside each other at night and plug into the electric shore-power in the marinas. There are great shower and toilet facilities  ashore and also every yacht has its own marine toilet and hot water shower aboard (though it is not quite like the power showers ashore!).
Catering.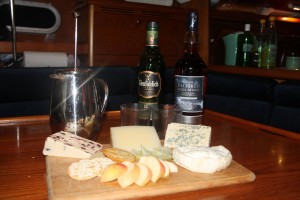 We keep the price down. All meals will be taken aboard to reduce the costs – a huge factor to consider. All breakfasts, snacks, lunches, dinner and the New Year's Meal are included along with good quality fizz, wine and cocktails on New Year's Eve.
The New Year's Eve meal will be a high quality affair and is fully supplied! Kicking off with a cockpit party, fizz, cocktails and appetisers followed by scrumptious  4 course dinner all served with appropriate wines followed by coffee, mints and a digestif.
Example New Year's Eve Menu
Cockpit Party
Cocktails & Fizz
Mixed Appetisers
Moules – Garlic / White Wine with Crusty Bread
Salmon Fillet Pesto over Green Beans Parcel with New Potatoes
Banoffee Pie & Cream
Cheese Board Selection
Selected Wines
Coffee & Mints
Liquor & Liqueurs
New Year's Yacht Party Includes.
Professional Skipper
2 Nights / 3 Days Aboard
Accommodation Aboard
Food & Drink Aboard
Breakfasts
Lunches
Sun downers &  Appetisers
4 – Course  New Year's Eve Dinner
Wine, Digestif & Fizz to see in the New Year
Mooring Fees
Fuel & Gas
Safety Equipment
Wet Weather Gear
Questions? Drop us an email – speak to us if you are interested and we can take it from there.
To Book £200pp deposit will secure your berth. Balance 45 days prior to event.
Contact Paul or Buster on 02380 016450 or email us at info@yachtforce.co.uk
Yachtforce Reviews