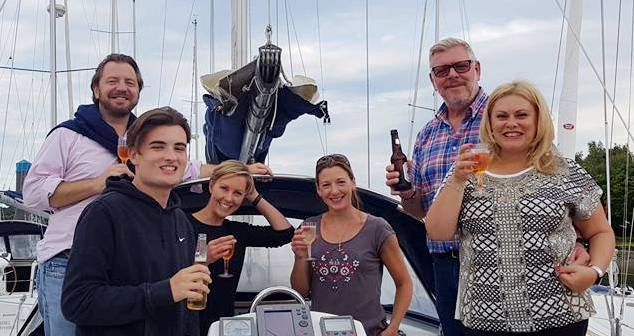 A fantastic inclusive yacht sailing weekend break with a Skipper excellent for complete beginners to more experienced sailors starting with a sail on the Friday evening from our Hamble marina. It is a great way to learn to sail and excellent platform to improve your experience and skills in a social environment whilst having a relaxed, fun, yacht sailing experience or holiday break in the sheltered waters of the Solent. These events make for an excellent birthday, Christmas or special occasion present – See Here for Vouchers
These yacht sailing weekend breaks are great for singles, couples and small groups. We either make up a group aboard from several bookings  or you can organise your own group of about 5 persons. You arrive Friday evening (late arrivals can be accommodated) and after a safety briefing we cast off to a local port for an evening or 'night sail'. After the evening sail we then moor up, have 'sun-downers' and snacks in the cockpit once safely tied up, eat a fantastic meal aboard with wine in a social environment, and then if you have the energy – go ashore to explore…
The Yacht Tuition – More than you think!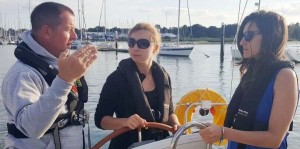 Brilliant for beginners. Various clients have said that we should stress the amount of tuition that you will receive on these weekends, as in their experience, more teaching was delivered than they expected. Normally we run with 2 people teaching aboard (Skipper & 1st Mate) giving an excellent tuition ratio often 1:2 and 1:3 which means if you want it to be intense – it can be! Most people think  sailing on the Friday evening is a real bonus and excellent start to the weekend with an understanding where we are, where we go, plus all the lights and shapes for buoyage and shipping. It really seems to make the weekend seem longer!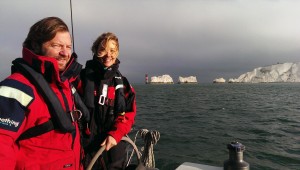 However, it must be stressed, you decide whether to get involved and at what level. It really is up to you to do as much or as little as you want in terms of running the boat. All practical aspects are covered along with theoretical areas to do with passage planning and local pilotage looking at the charts and reference material. You are guaranteed to learn a lot.
Click for Trip Advisor reviews!
What You Experience: Some people may want to experience a night sail, others to do some passage planning practice or navigation, if conditions and experience allow we fly our spinnakers – both symmetric and asymmetric. Essentially the Skipper will ask you what your expectations are for the weekend and we will try to achieve them. We have had absolute beginners aboard to Yachtmasters and they have had a great experience learning heaps. Many people have gone on to experience our  beginners Yacht Racing Weekends or if they fancy something abroad (if C19 allows etc) our Croatia Event in September or our Canary Islands Trip for some winter sunshine in January / Early February.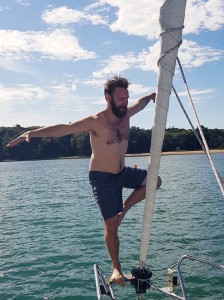 Explore local rivers, creeks and ports. We may visit bustling Cowes – the home of the major yacht regattas in the UK, pay a visit to the historic River Beaulieu where they used to build ships for the English fleet in the 18 century or anchor off in Newtown River and stop for lunch and a swim. We could visit the historic town of Yarmouth on the Isle of Wight or pop across to its neighbour, Lymington in the New Forest on the mainland. There is so much to do and enjoy with changing scenery and much wildlife. To free up space aboard the boat during peak times we often take the Skipper / First Mate off into shore-side accommodation at night giving people the opportunity to spread out.
The main thing is to relax and enjoy the sailing weekend experience and the opportunity for intense tuition if you want to refresh skills outside of a 'course format'.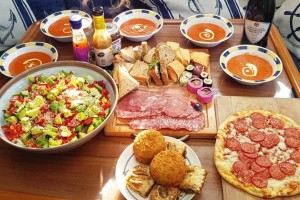 The Food: You will sleep on board and enjoy quality food and drink whilst you are with us. The catering includes real coffee with breakfast and dinner, ample snacks and fruit throughout the day,  a hearty lunch, an excellent Sunday brunch and afternoon tea and cake or scones and cream. We eat aboard one evening during  the weekend with pre-dinner G&T's, a 4-course dinner including a cheese board and wine (normally on the Friday evening). On Saturday, after a goods day sailing and we are safely tied up, we can have cockpit 'sun-downers' and nibbles  prior to exploring the shore-side entertainment of the local port when we eat in a pub at own cost . You will not go hungry when aboard and we cater for varied diets. Scroll Down For Dates: 
From: Mercury Yacht Harbour, Hamble, UK. SO31 4HQ Travel by Train info here
Other Dates: If the dates below don't suit you – then ring us as other weekends are often available. Sometimes we have been able to be flexible with the meeting times and occasionally people arrive late on the Friday and we pick them up in Southampton / Cowes after we have had an evening sail.
Need a Private Weekend for Friends or Family? We can cater for your own private weekend too, putting on a skippered charter weekend if you have a group of friends that would be interested.
Price Includes:
Yacht Sailing Weekend Break (Fri 1830 hrs – Sun 1600 hrs)
Professional Skipper (& First Mate when available / allowed due to any restrictions) Maximum 5 Clients (usually 4)
Accommodation Aboard
Friday Evening Sail (conditions  & crew experience permitting)
Food & Drink Aboard (see catering above)
Breakfasts
Lunches
4 Course Dinner (includes cheese board) with Wine
'Sun-downer' G&T's & Snacks
Mooring Fees
Fuel
Safety Equipment
Wet Weather Gear -Jacket & Bib Trouser (adult sizes only)
Covid19
We will carry out up to date risk assessments and thorough cleaning / disinfection regimes as necessary. You are expected to monitor your lifestyle and own testing regime to minimise risk to yourself and others.
Own Group?
If you are a household couple or bubble please contact us and we will see what we can do for weekends and we may be able to schedule an event for your date requirements.
We have reviewed dates / schedules and will add distance sails / cruises to the dates below where we can fit individuals in relative to new guidance when issued by Govt. This is a constantly changing situation and we will use both social media and our database for promo emails to inform you of latest events.
2022 Solent Sailing Weekend (+ Cruise Dates)
Yacht Sailing Weekend Break (Fri 1830 hrs – Sun 1600 hrs)"A price for cabin for 2 persons" = Total price for 2 people sharing a cabin booked under one form / payment.  Singles please enquire (but should be okay from June 21st)
Solent Weekends (& long weekend options)
Yacht Cruise & Distance Sails Dates:
Please Note that if event is a 'cruise or cross channel' then a mooring fee share is required – (budget on £40 for 5 Day / £30 for 3 day. All Channel crossings will be subject to Government advice  on travel regarding Covid – alternative trips will be West Country.
 Canaries Week – Winter Sailing from Lanzarote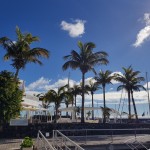 Have a group and want a warm week sunning yourselves afloat during the cooler months – we can sort it! Ring us!
Buy a Berth:
Wk 1.  Jan 29  – 5 Feb 2022  (7 day) Canaries Island Cruise Week (Full)
Wk 2.  Feb 5 – 12 Feb 2022  (7 day) Canaries Island Cruise Week (Full) 1045pp sharing
Week 3: February 12 – 19th February 2022
(Available for Skippered Charter – Approximate cost of 10 person  51 ft yacht including Skipper – from £6820)
Week 4: 19th – 26th February 2022 (Skipper Charter Week – Take the whole Boat)
Approximate cost of 10/12 person 56 ft yacht including Skipper – from £7600
Dates don't fit?
We will be in the Canaries in February 2022 if you fancy a skippered charter at Half Term.
Enquire, and we'll do our best to put them on at your request! Further information of the Lanzarote charter fleet click here
Got a Group? Want your own date for your private weekend with  family bubble – not a problem. Speak to us and we will tailor make a weekend for 4 people plus!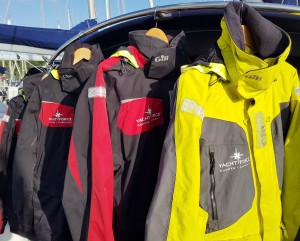 Need a present? Vouchers available – see here
See Our Team Here
See more on wet weather gear Here 
How to Book:  We do not have an online booking system  and prefer to communicate individually to our clients. Ring us on 02380 016450 or email and check availability. We can either fill a form in over the phone and take payment by card or email you a booking form and you can do a bank transfer. Debit cards / bank transfers are preferred.
Once booked: We send a confirmation and 'what to bring aboard doc'.
Email us  at info@yachtforce.co.uk if you need more info. NB:  Make sure that we are a trusted email – we have had reports that our emails go into some peoples spam folders – especially Hotmail accounts.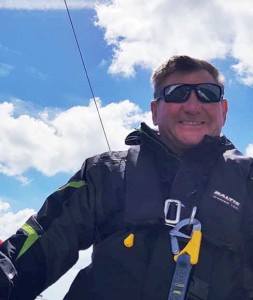 Jonathan O'Brien, 'I booked this to get some more experience towards my Day Skipper qualification and dragged the long suffering missus along too. From the moment we arrived, it was obvious we were in good hands. The Skipper knows everything about boats and the Solent and the First Mate knocked up delicious food in a tiny galley while we were cranked over and bouncing up and down. The Skipper knew what I wanted out of the trip and gave me route planing and pilotage tasks and he even had the missus on the helm and trimming the jib.
We had great weather, great wind and got on well with the rest of the crew. A super learning experience for me and a great weekend for everyone else.'