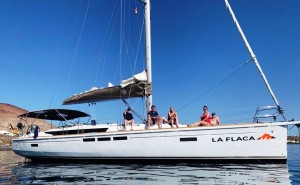 Lanzarote Sailing Yacht Charter Fleet from Marina Lanzarote at Arrecife in the Canary Islands.
That means more choice and a larger fleet will be available in our favourite warm winter sailing destination with our favourite charter partners!
Up coming Specific Dates: If you are looking to get some warm water sailing in to blow away the blues of the recent lockdowns take note that for a Skippered event our Lead Skippers with crew will be available during December 2021 if you fancied some time afloat. "For about £1000 pp you can get 6/7 of you on a a large 4/5 cabin yacht of about 50 feet and well taken care of! Now that would be a Christmas Treat! At the moment there is availability between 10 – 24 December! and from 5th February!"

An additional 5 Dufour yachts ranging from 38 feet through to 52 feet were recently available bringing the fleet up to 12. More importantly it will also give more boats at the smaller range (37 – 41 feet) totaling 5 to chose from in this range. That will make it easier for those wanting to charter a smaller boat to accompany us on some of our winter trips 'sailing in company'. See here for our Skippered Charter and 'sailing in company' opportunities / dates.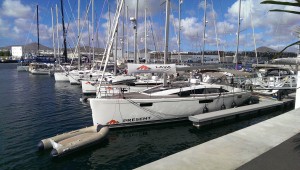 These yachts are definitely the best in any charter fleet that we have used in the Canaries. That fact and the great efficient and friendly service we receive from the Lava Charter team makes it a 'no brainer' if you want a hassle free well supported holiday chartering in these waters.
See bottom of page for bare-boat pricing
If you want us to Skipper you around these waters in a support or teaching role just shout out. We know them pretty well and would help you get the best out a holiday.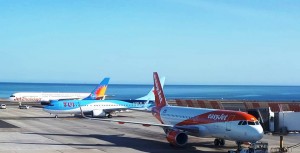 Canary Island Flights: There are a variety of flights available from the UK to Lanzarote (Airport code ACE) . Easyjet / Jet2 / Tui / Ryan Air
Canaries Bare-Boat Charter 2021 Prices held until May 2022
All yachts below are modern and well equipped. If you wish – you can join our 'Mini Flotilla' for a comfort feel of 'sailing in company'. (prices below). The charter company that we are agents for are Lava Charter and the price you pay with us is the same that you pay if you use them direct. We are very happy with their standards and how they maintain their boats and their protocols. These are not the cheapest yachts but we rate them as a cut above the other operators and we know first hand what you are getting as we know the boats, have been on board to look over the fleet and also use these boats. We also will arrange the advance permissions for mooring at La Graciosa when you charter through us and can give you advice on which supermarket will deliver to the boat on a Saturday, where the closest / best / cheapest supermarkets are and how to get your major initial shop to the boat.
Any Canary Island bare-boat charter booking made through Yachtforce will be the same price as you would pay by booking direct. We urge you to call us and discuss your requirement so that we can give advice. We have 1st hand knowledge of the boats, the location, the cruising ground, the staff team in resort and practical elements such as which supermarket / website that delivers to the boat on a Saturday and the ridiculously low cost and name of good gin! We would love to be able to share this knowledge with you.

Note we have included the obligatory extra that is charged which includes all Mooring Fees, End-Cleaning, Gas, Berthing at Marinas includes electric and water, Dinghy or SUP, Outboard Engine plus Fuel, Baby/ Kids life jackets, Bed sheets & Duvet, Towel set (small + large) p.p .We can give you the charter price in GB Pounds.
Marina Lanzarote:

Yacht Make / Size


Cabins + (Heads)
Year
2021 to May 2022 Charter Cost
Deposit

Obligatory Charge

Inc. Cleaning/Bedding / Towel /Outboard / Dinghy or SUP. All Mooring Fees inc. water / electric


BAVARIA 37
3 (+ 1) 2015
€3026
€1.500,-
inc
Dufour 382
3 (+ 2) 2015
€3228
€1.500,-
inc
BAVARIA 41

3 (+ 2) 2015
€3531
€1.500,-
inc
Dufour 412
3 (+2)
2017
€3632
€1.500,-
inc
BAVARIA 46
4 (+ 3 2015)
€4086
€2.000,-
inc
BAVARIA 51
4/5 (+ 3) 2015
€4742
€2.000,-
inc
BAVARIA 56
5/6 +3 2015
€5802
€2.000,-
inc
Jeanneau 479
4 (+4) 2018
€4490
€2.000,-
inc
Dufour 512
2017
4 (+4)
€5045
€2.000,-
inc
Jeanneau 519
5 (+3) 2018
€5146
€2.000,-
inc
'Sailing in Company' Fee


2 Cab

£

3 Cab

£150

4 Cab

£200

5 Cab

£250

Local Skipper
€295 p/day
Local Hostess
€140 p/day
'Sailing in Company' in Lanzarote

Want to Skipper on the Canaries Flotilla Yourself? Need some advise and reassurance?
We can help. You charter and act as Skipper on your own boat but you have the option to sail with us 'in company' joining our own itinerary for as much of the time as you wish. You have the option to join in the morning briefings, discuss with us the route, hazards, mooring detail and if we are in before you we are on hand to take lines and help out when you moor at night. You simply pay a yacht supplement of as low as £150 for this service – on top of the charter fee indicated above. It also includes various evening cockpit sun-downers with nibbles, a ready made social side of things, an opportunity to join in with group evening meals ashore plus briefings from the First Mate on facilities / places of interest for each port.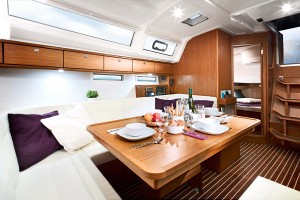 Canaries Private Yacht Charter with Skipper? Not a problem – we can supply a skipper to teach you on your own yacht. Enjoy intensive tuition and coaching… or simply let the skipper do it all for you. Want someone to act as First Mate, help teach and help with the catering – not a problem. We arrange the charter and can supply the Skipper / Mate – just let us know your numbers, group dynamic, what you would be after from the experience, preferred size boat. We will let you have a quote on your own bespoke event. As an approximation budget on about £1000 per person for this service on 6 people aboard a large 46ft – 51ft yacht (final price depending upon boat size / occupancy)
If you are interested in chartering with us, whether bare-boat, assisted or on a skippered charter and want to talk to someone who sails around these waters regularly and ask advise – feel free to contact us.
Email us on: info@yachtforce.co.uk
Call Us on: 02380 016450