Are you in need of brushing up and getting some practise or training in Flotilla Yacht Sailing Skills before you go abroad on a flotilla yacht sailing holiday to Greece, Croatia or the Mediterranean? Possibly you are looking at a yacht bare-boat charter and you want to hone some skills.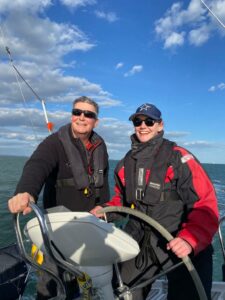 Our private tuition days are just great to build confidence for you and the family before you set sail abroad on flotilla or a bare-boat charter or flotilla in the Mediterranean.
Join us at Hamble, UK South Coast to get some yacht sailing flotilla practise in. We do a variety of what we call 'fill in' days at offer prices for this type of refresher sailing from just £425 (depending on season)for a 37 ft sailing yacht including skipper for a day. Add a few of these special offer sailing days days together and do an overnight for maximum benefit.
See here for the latest offers. If your dates are not here then just ask as the diary changes constantly and we may be able to help.
Flotilla Yacht Sailing Skills
Whatever refresher flotilla yacht sailing skills you are looking to recap or learn we can help. Below are just some of the elements that most people want to recap – not all but some of them. Let us know before hand so we can make sure that your aspirations are met in the time frame allocated and then discuss with your Instructor on the day as to exactly what you are wanting to learn. If it is a long list think of possibly doing 2 days with an overnight as well. That way you can pick the Instructors brain even when you are not out sailing!
Yacht Sailing Practise Skills
Mooring (parking)
Anchoring
Reversing the Yacht
Throttle Control
Knots & Cleats
Ropework
Sails Up / Down
Reefing
Man Overboard
Radio
Water tanks and Isolator
From: Mercury Yacht Harbour, Hamble SO31 4HQ. Plenty of free on site parking within the marina, great facilities and a great restaurant / bar.
The Yachts: 37ft Jeanneau Sun Odyssey. An ideal size to learn on. 3 cabin yachts that may be slightly smaller or may be larger than the yacht you are hiring abroad but react in the same manner. Excellent for yacht skills training.
Timings: Days run 0930 – 1630hrs (unless you are doing an overnight staying – possibly on the Isle of Wight.)
Lunch: Either bring a packed lunch to eat on board – or go ashore to eat for a short stay at a marina if it is more a 'fun' day or special occasion. We want you to to get the most from your time aboard.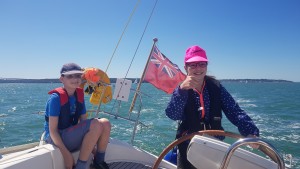 Our Skippers / Instructors: All our team are a wealth of knowledge and most will have sailed in the area that you are going on flotilla sailing holiday so will be able to answer any questions about the area and prevailing wind patterns. Many have been on flotillas with the various companies so know their practices well. Some of our team have even inspected the centres abroad on behalf of the RYA.
If you think we may be able to help then please do get in touch!
Or email us at info@yachtfoce.co.uk
Tel: 02380 016450