Sailing Yacht Stag & Hen Yacht Parties – Stag  party & Hen party yacht sailing weekends (with Skipper / Captain) on the Solent and from Brighton. Our South Coast bases operate from the Hamble River, Portsmouth and Brighton with easy rail and road access to London.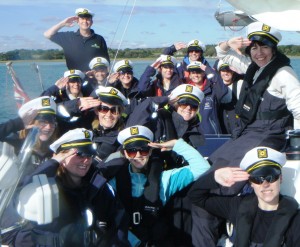 These sailing weekend Stag or Hen parties take place on our modern yachts taking in local ports and hostelries on the Isle of Wight and the surrounding South Coast. There are no costly hotel bills, you can keep the group together and we can moor where you want! Take more than one boat for your stag or hen party if it suits you numbers wise and we can have some informal racing but you don't need to be separated for long as we can anchor rafted up alongside together in peaceful anchorages for lunch and a swim.
You do not need any yacht sailing experience to enjoy one of these yacht sailing Stag or Hen party weekends. This is just a fantastic time, with a wonderful new sailing experience with your friends, relaxing and cruising the Solent or Brighton area on your own sailing yacht. You can learn to sail as we go along, as much as you like – or you can kick back and just relax! Take more than one boat for some great inter-boat ad-hoc racing – the competitive element makes a fantastic additional buzz to the event – moor the boats up together alongside each other in the evening and chill out. We can take the Skippers off the boats at night if required, and put them into B&B, giving you more room aboard to spread out and relax.
We can help plan your itinerary for you making sure that you get the maximum out of your stag or hen party yacht sailing weekend, visit some truly memorable places, anchorages and hostelries… or if you wish visit the livelier ports of Cowes, Portsmouth and Southampton for some nightlife. We will advise on the best places to eat and tailor an itinerary to suit you and your group. Just chat to us and tell us your needs.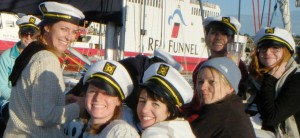 All cabins plus the saloon and heads (toilet / shower area) benefit from the on board heating system. Whilst in marina there are modern, clean, shower and toileting facilities and we can hook up to electric shore power. There is a bathing platform off the back of the boat for the brave… and cockpit shower for when you come out of the water!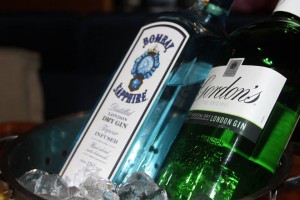 You can bring your own provisions and drinks on board so that you can budget for an economical stag or hen party weekend. Start your Stag or Hen do with sun-downers on the Friday night then spend Saturday sailing and exploring, lunch and swim in a bay, out for Saturday night and then finish on Sunday afternoon…
Stag & Hen Parties Yacht Sailing Weekends Price Includes:
Professional Skipper (Captain)
Accommodation Aboard
Between 5-9 Clients per boat
Home Berth Mooring Fees
Fuel & Gas
Safety Equipment
Wet weather gear £20 per weekend See Here
Sailing Weekend Example Prices Shown (37ft Yacht + Skipper price split between 7 persons aboard)
As group numbers may fluctuate we have split the Skippered Charter price between a crew of 7 for the below guide prices. If you have less on board you have more room to spread out but it costs a bit more and if you have more people a tad less.

Low Season (Nov-Mar)  (£190 per person) per weekend
Mid Season (April / May / Sept / Oct) (£228 per person) per weekend
High Season (June / July / Aug)  (£255  per person) per weekend

For Powerboat Day Events
47ft powerboat for day events for up to 12 persons from Chichester
58 ft powerboat for days and longer charter for up to 12 persons (day) from Hamble
See What Our Clients Say:

James Carn Stag organiser for 11, 'Cheers Buster! It was a great weekend! We really enjoyed meeting Graham too! Will highly recommend!'
Jonathan Bull, Organiser of '3 Day' Stag Do,  in July, "Our skippers, Tom & Dave, are well-seasoned pros whose expertise and patience were invaluable but more importantly – both extremely decent blokes whom joined us for dinner and drinks as one of the group (less fancy dress)!  
I would wholeheartedly recommend Yachtforce without hesitation and fully intend to use them in our next event. Not yet fully recovered but an absolutely outstanding weekend!   T'was a faultless trip and the feedback – incredibly positive. Thanks again for all your help and we will back again for more events I'm sure!" Jon.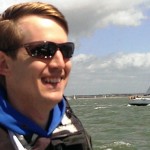 Huw Williams – 2 Boat Stag Event – "We just wanted to say what a great time we had on that weekend (the bits I can remember pre-pub anyway), the weather was perfect and I think everyone enjoyed the blustery conditions on Sat afternoon. Yourself and Tim were fantastic skippers/instructors and we enjoyed your company in the pub as well. I will definitely get in touch should we look for another charter in the next few months, a few of the guys were very keen for a repeat visit so we may well make this an annual event… All the best, Huw."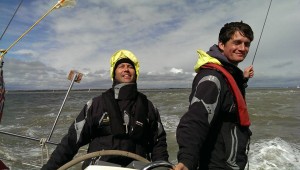 Mike Dowell – Stag group organiser. "Yachtforce are fun and flexible which means you really get the most out of the weekend – perfect when you're organising a weekend away with your mates. Really appreciated the communication and calls on our day of arrival. As an organiser of the stag I appreciated knowing you were on hand and switched on! I thought it was good vfm for a stag do activity and appreciated the way you lumped costs together and the use of the wet weather gear which was a lifesaver. Many thanks."
Richard Moore, 2 Bt Stag Event, "We had a fantastic weekend's sailing for a group of 14 of us aboard two boats. The range of experience was from complete novice (about 12 of us) and a couple of experienced sailors but the tuition and organisation of the weekend was faultless. The two Paul's showed everyone the ropes and we all got got stuck in and had an amazing time. As we were organising for a stag weekend the most important thing was for the groom to come away smiling and he (as well as everyone else) loved it. I couldn't recommend Yachtforce highly enough! Thank you very much and see you again soon!"
'Recently returned from an outstanding Stag sailing weekend in the Solent! Buster displayed high levels of professionalism and organisation throughout the build-up making invaluable suggestions in terms of routes/kits/ etc. He went above & beyond on several occasions making for an extremely well-organised event.'
Click here for more testimonials