For Skippered Charter with your own Skipper Click Here…
Charter Yachts
Berths
7 Day Week
Midweek
 
Week
 end
 
 
 
High
Mid
Low
High
Mid
Low
High

Mid
Low
 
 
June/July / Aug
April / May / Sept
Nov – Mar
June/July / Aug
April / May / Sept
Nov – Mar
June/July / Aug
April / May / Sept
Nov – Mar
Beneteau 35 – Brighton
6
£2045
£1899
£1499
£1440
£1099
£899
 £1450
 £1140
£855
Dufour 36- Hamble
8
£2015
£1565
£1100
£1099
£995
£795
 £999
 £895
 £695
Dufour 365 – Hamble
8
£2015
£1695
£1210
£1525
£1095
£695
£1350
£1040
£755
 
 
Week
 
 
Midweek
 
 
Week
end
 
 
 
High
Mid
Low
High
Mid
Low
High
Mid
Low
Beneteau 36.7 – Brighton
8
£2045
£1899
£1499
£1140
£1499
£899
 £1450
£1140
£855
Jeanneau 37 – Hamble
9
£2015
£1885
£1140
£1425
£1395
£795
£1350
£1140
£795
Dufour 385 – Hamble
Day 12
£2050
£2050 p/day
 
Inc Skipper
Inc fuel
 
 
 
 

Targa 47 – Chichester

Day 12
 

Mon- Thur

£1950

p/day

 Fri – Sun

£2050

p/day

Inc Skipper
Inc fuel
 
 
 
 
Yacht Charter Extras
Cruising chute / Spinnaker (deposit applies)
£50 per day
 
Outboard engine
£85 per week / £50 weekend
 
Wet weather gear
£10 per day
 
Sleeping bags
£5 per day
 
Skipper (aboard our yachts)
£250 per day
 
Skipper (own boat)
£250 + VAT per day
 
First Mate (aboard our yachts)
£110 per day
 
First Mate (your yacht + VAT)
£110 per day
 
Fuel (you refill tank – no charge)
Minimum £20 per day. Min £40 per weekend for Solent charters.
 
Cross channel chart portfolio
£50 per wk
 
Optional  'End of charter clean down fee'
£95
 
Any skipper shore-side accommodation
£95 (from)
 
For any racing charter pricing please contact us.
Outgoing Handover Times
(Subject to availability)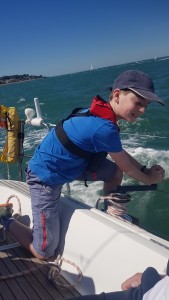 Weekend Charter:    Friday 1800 hrs – Sunday 1600 hrs
Week long Charter:  Friday or Sunday 1800 hrs – 1600 hrs
Midweek Charter:     Monday 0900 hrs – Friday 1500 hrs
Daily Charter:              0900 hrs – 1700 hrs
At the commencement of both skippered and bare boat charter each yacht receives a complementary 'starter pack' of tea, coffee, sugar, tea towels and all cleaning materials.
Equipment such as wet weather gear can be hired.
Your yacht will be supplied with fully filled diesel and water tanks, gas cylinders and be fully cleaned. One bottle of gas is included.
You return the yachts 'as found' and clean down ready for the next charter. If you wish us to clean down your yacht after charter, the 'clean down' fee applies.
You will need to supply your own towels, pillows and bedding.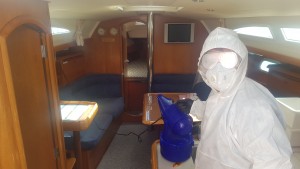 Anti – Covid19 Measures. Additional  Anti Covid 19 fogging disinfection fee is available on request (£75) or applies to charters during restricted periods by the Government and is carried out rigorously during any further restricted periods.
The home marina base at MDL on the Hamble has ample free parking and the complex is 24hr staffed, there are excellent showers, toilets, laundry, a restaurant, bar, chandlery / marine shop (now at Port Hamble). There is 240 volt electric to the boats at the home marina and berthing here is free. See here best travel options from UK airports.
Bare Boat Charter Experience Level Required
Bare boat yacht charter is available for those who are familiar and experienced as Skipper with the size of yacht they wish to charter in tidal waters. The minimum of an experienced RYA Day Skipper qualification with UK charter or UK skippering experience or equivalent standard PLUS appropriate tidal experience having been skipper previously in tidal waters, plus a VHF operator's licence, is required.  (We stress that you must prove / demonstrate  experience as skipper in tidal environments).
You will be asked for documented tidal mile experience / or a sailing CV along with other experience indicators such as previous charters, duration and their locations, size of yachts used, any yacht ownership plus the experience level of your First Mate.
We are then able to form an understanding of your overall experience and suitability to charter any particular vessel for any particular area / voyage.
If you are in any doubt about your experience level, your tidal experience as skipper, lack of paper qualifications then please discuss with us or drop us your sailing CV and we can then have a chat / take a view or ask our insurers to approve – your previous experience counts for a lot! Please understand that we are obliged to ensure that any person wanting to charter is experienced in the waters that they wish to cruise. For any racing charter we require your racing CV to be approved by the vessels insurers prior to acceptance.
If You Do Not Have the Required Skipper Experience in Tidal Waters
Please see here for our Skippered charters. It may be that you simply require additional instruction, mentoring or guidance that we can provide. You will then have additional skills to give you confidence to charter in UK waters. https://yachtforce.co.uk/yacht-charter/skippered-yacht-charter/
 Security Deposit
Yacht Charter Deposit £1,250 / Racing Security Deposit £2,500 /  Spinnaker Deposit (additional) £350
This can be authorised on a credit card or bank transferred.