Sail around the Isle of Wight on a yacht cruise for a weekend break under the guidance and instruction of your own professional Skipper is a fantastic sailing learning experience and open to people of any level. We follow the 60 mile course that is raced every year in June by thousands of yachts in the famous Round the Island Yacht Race but we have the opportunity to relax and enjoy the sights with various sailing skills practiced and refined as we go around the Isle of Wight – as we have time on our side. These weekends make excellent presents – Buy a Voucher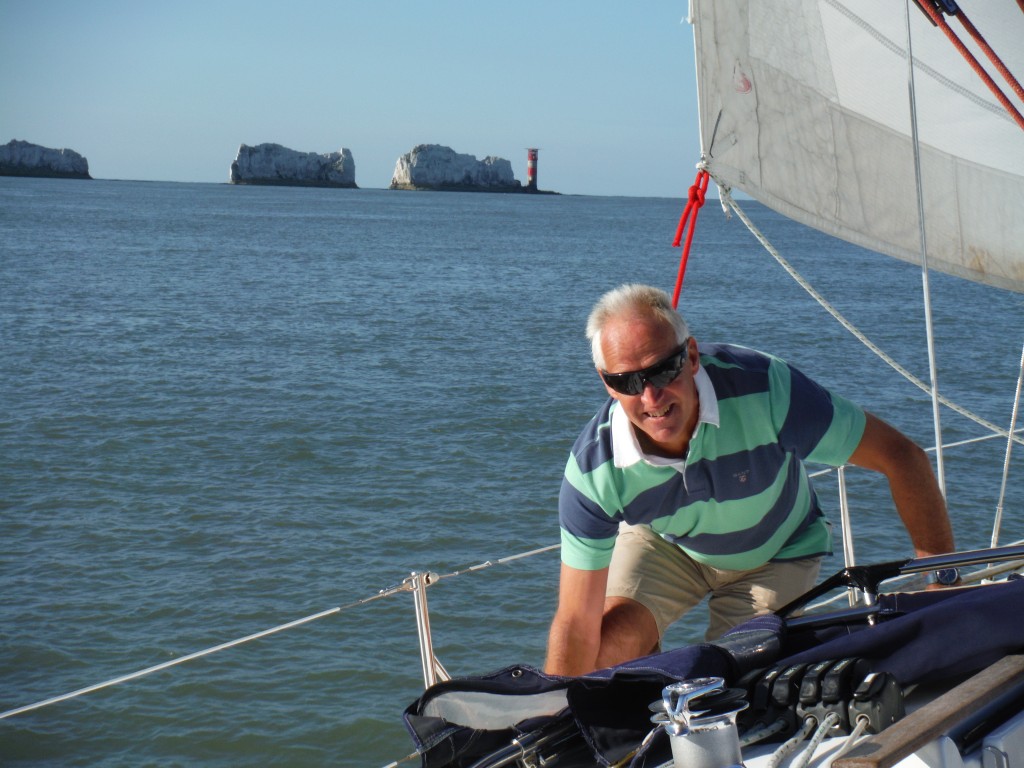 Live On Board The Yacht
You stay on board the well equipped, 9 berth modern yacht over the weekend on Friday and Saturday nights being well catered whilst aboard with fantastic food and even  wine with your Friday 3 course evening meal (once safely tied up alongside in the marina). On the Saturday night, after cockpit cocktails and snacks, you eat ashore sampling the fare of a 'local hostelry'. We moor alongside in Solent marinas ensuring excellent toilet and shower facilities and plugging into the 'mains' electricity allowing for ample heaters, phone and camera charging to take place.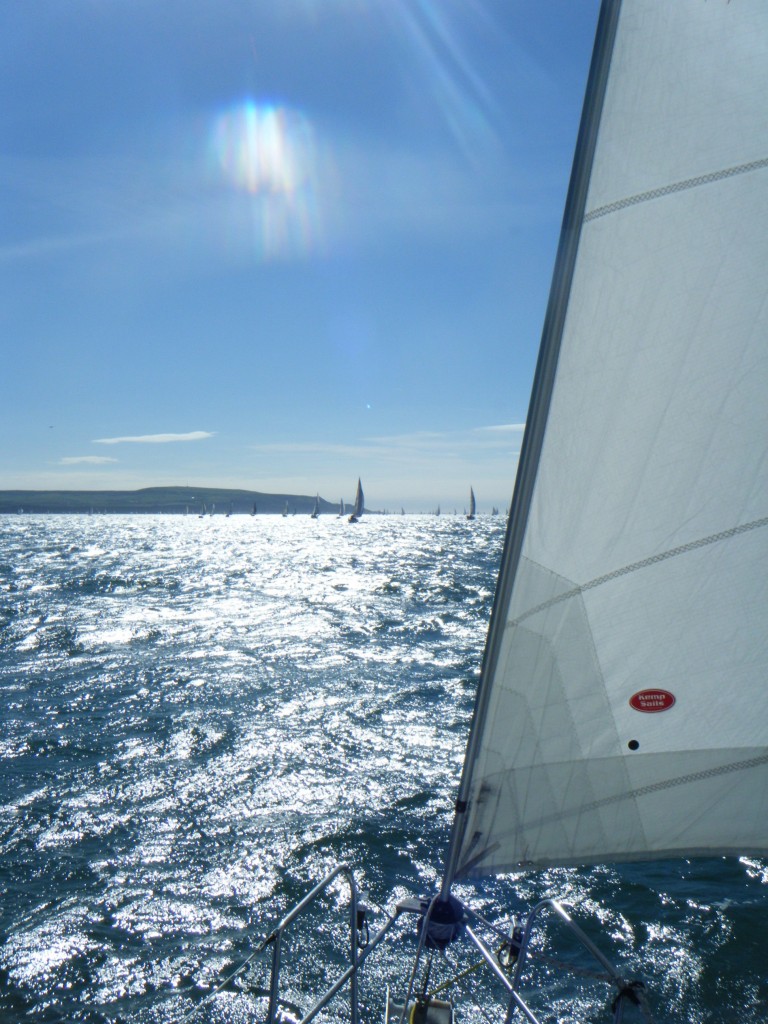 The Round the Isle of Wight Tuition Cruise
A round the  Isle of Wight weekend sailing break cruise, starting from the Hamble, you will moor in potentially 2 different Solent ports depending upon wind and tide conditions, either on the Isle of Wight or on the mainland. Where we start from for the circumnavigation depends upon the tide and wind but sometimes we night sail on the Friday either to Cowes, Yarmouth or Lymington ready for the majority of the round the Isle of Wight cruise on the Saturday.
On the Saturday you will travel through the Hurst Castle narrows where the tide races, see the multi-coloured sand cliffs of Alum Bay and pass close by to the famous Needles Lighthouse. From here you will travel south  to St Catherine's Point passing the lighthouse catching the tide to sweep you around to the east towards Foreland with magnificent views over the Isle of Wight's classic chalk cliffs and surrounding hills.
After passing  Sandown we may drop anchor at White Cliff Bay for  lunch or use the shallow entrance into Bembridge as a pilotage exercise. If the wind is from the west this provides some great flat water blasting and with the right conditions we fly the gennaker (asymmetric spinnaker).
You then pass by close to No Man's Land historic Palmerston fort built in 1880 to protect Portsmouth from invasion now being refurbished as a  luxury venue with 22 bedrooms, roof-side hot tub and Nordic Bothy… whatever one of those is.
From there it is a beat up towards Cowes off the notorious Ryde Sands and past the renown Bramble sand bank which dries out on large spring tides allowing the famous annual cricket match to be played.
Sailing Skills
We cater from beginners to Yachtmasters keeping everybody involved. We practise different sailing skills depending upon the conditions and everybody helms(steers) taking it in turns throughout the weekend, hoists and trims sails learning as we go along and those more experienced that want to be involved with the planning help with the tidal calculations and the managing of the yacht .
We then have a sailing skills session on the Sunday before returning to our base on the Hamble. If conditions allow we use our asymmetric spinnaker.
It is a fantastic and memorable yacht sailing experience to take part in. Do not be put off if you are a beginner and if you are a seasoned sailor take advantage of the tidal planning and more advanced skippering techniques that you will be assisted with.
Weekend Cost:
£419 pp Single. April – October Included
£790 (price for cabin for 2 persons sharing) £419 Single (saloon berth)
Yacht Sailing Weekend Break Price Includes:
Professional Skipper
Accommodation Aboard
Food & Drink Aboard
Breakfasts
Lunches
3-Course Dinner with Wine & Cheese Board
'Sundowners' & Snacks
Mooring Fees
Fuel
Safety Equipment
Click here to see more on our sailing weekends and dates.
How to Book:  We do not have an online booking system  and prefer to communicate individually to our clients. Either ring us on 02380 016450 or email and check availability. We can either fill a form in over the phone and take payment by card or email you a booking form and you can do a bank transfer. Debit cards / bank transfers are preferred.
Once booked: We send a confirmation and 'what to bring aboard doc'.
Contact us by email – info@yachtforce.co.uk
Or call us 02380 016450