Yachtforce Client Testimonials & Reviews about Yachtforce Skipper & Bare Boat Yacht Charter and Events on the Solent. Just a few of the comments over the past years.
Sailing The English Channel Under Spinnaker. Cristian R had this to say about a Spring Bank Holiday Channel Hop to France in 2022, 'It was great to sail with Buster and Chris from Yachforce. Their boat handling skills are impressive and they are very friendly. I learned a lot from watching them and they were happy to share some of their knowledge with me. The weather was good for flying spinnakers which was a first for me.'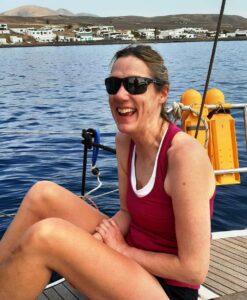 Suzanne said this about a 'Buy a Berth' space on a 56ft Bavaria around Lanzarote and Fuerteventura, 'Mixed but fab weather [testing to relaxing], great companion crew, fab skipper and fab first mate – even the dolphins agreed – what a great week
and welcomed break
. What else could you ask for on a Yachtforce trip!'
'Such an amazing week in the Canaries with Josh as the ever knowledgeable, calm and fun skipper. We have all learned a great deal. Organised brilliantly by Buster and team. Thank you, hope to be back!'
'Fabulous week sailing around Lanzarote with the family…. all in the extremely capable hands of Josh. Josh, while being totally professional, made the experience great fun and was brilliant at sharing his font of knowledge what ever your level of skill. Some really special family memories were made on this trip and we can only thank Buster and his team. Great outfit.'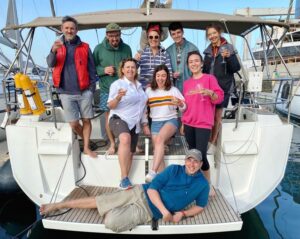 Ali  had this to say about the family Skippered Charter on a large, modern Jeanneau 51ft Yacht with Josh as Skipper on a 3 boat 'flotilla' sailing from Lanzarote on the February 2022 Winter Sun Trip, 'What an absolutely wonderful week we had with Yachtforce. Superbly organised from start to finish and our skipper, Josh, was calm, generous with his knowledge, a great sport and an absolute pleasure to have around. Sailing in the Atlantic with family in February will be a memory to cherish for a long time, thank you so much. Yachtmaster, I'll be back!' . Freddie (also on the trip in Feb 2022) had this to say, 'Josh was a cracking instructor. A spiffy week sailing! Personal highlight was balancing the boat so we didn't need to helm.'

Ben had this to say about a New Years Sailing Event to see in 2022, 'What a brilliant way to spend the New Year. Sailing across a dark Solent in some pretty strong winds will stick in the memory for a long time. This was our first sailing holiday and we were very impressed with how much we were allowed to do. Buster's reassuring and calm instruction meant that the sailing was perfectly exciting for us. My wife was petrified of sailing but she was soon smiling and surfing the boat down the waves. Apart from the lovely sailing, the provisions couldn't be faulted. Buster's roast lamb was amazing and Vikki was a delightful host. Our only complaint is that we enjoyed sunsets at sea meaning that the superb G&T sundowners had to wait until we were in the saloon long after dusk.'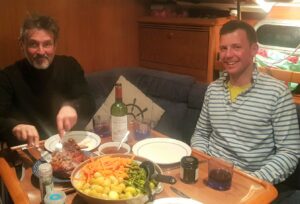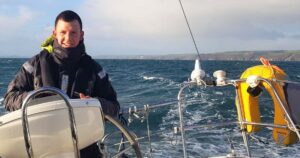 Dan Harrison said this about a 7 day 'Westcountry Cruise' in December 2021, Having sailed the December cruise in 2019 with Buster I was keen to sign up to the December 2020 cruise as soon as possible.  Unfortunately for reasons we all know too well this could not go ahead, so I was eager to be part of the trip this year (2021).  We all met on Orinoco Flow at Mercury marina in the Hamble on the Friday evening.  We had an amazing sail from Hamble to Lymington that evening under a starry crystal clear sky, recapping our knowledge of the flashing sequences of cardinals, lateral marks and spotting numerous shooting stars.  The following day we took the decision to stay in port due to Storm Arwen which gave us the opportunity to discuss the week ahead, review the forecast and potential sailing destinations, and complete our passage planning for the next couple of days.
Although the weather at times was fresh, the provided wet-weather gear coupled with a heated boat mean that you never feel cold. We got as far West as Dartmouth.  The sailing during the week was fantastic and as always Buster imparted his knowledge, demonstrating practically how to balance and stabilise the boat for the wind and sea conditions.  Not only did we do a lot of sailing but we also had the opportunity to carry out all the passage plans and pilotage, taking it in turns to lead each day. We generally had the South Coast cruising ground to ourselves, having only seen four other boats on the water by the middle of week, with two of them being the Queen Mary 2 and her pilot vessel departing Southampton. Not only are you immersed in a life of sailing for the week, the hospitality on board is excellent, the highlight being the slow roasted lamb that was in the oven for the duration of the passage from Dartmouth to Poole, ready to reward us on arrival into Poole. Thanks.' Dan.

Sally on a weekend skippered charter in November with Skipper Steve H said, 'My partner and I had a fantastic weekend with a wonderful skipper Steve. Steve was fantastic.. incredibly calm and very good at offering instruction and advice without being overpowering. I never thought sailing in November would be fun but we didn't feel the cold thanks to hot water bottles and electric blankets! It was really windy which was great. Orinoco Flow was a great little boat .. super comfortable, clean and classy. Thank you Buster and thank you Steve!'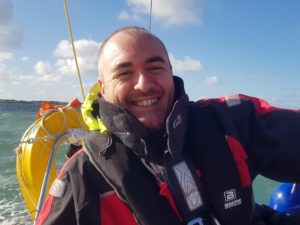 John said, 'Had the best time with Yachtforce! Sailing in the Solent. First timer came away with the sailing bug! The crew were the best we could of asked for, great people, extremely knowledgeable and experienced. I couldn't recommend them enough! Will be coming back for sure!'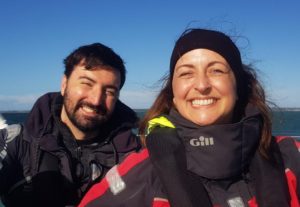 Al had this to say about a windy and sometimes wet Catered Solent Sailing Weekend including a fantastic night sail under the stars in October, 'Had a brilliant time sailing the Solent with my wife and friends. Buster taught us loads about sailing as we sailed through some exciting weather. We were fed very well. An experience I will always remember. Thank you Buster and Vicky for taking good care of us. Highly recommend to anyone who wants a real sailing experience.' 
3 Day Cruise with night sail in September, 'I just wanted to let you know I had a fantastic three days on Galadriel.  The boat was perfect and Josh was a great skipper. The advice you gave on the phone about mile building was also much appreciated. I hope to sail with Yacht Force again. All the best.' Leith.
August 2021. 'I would just like to say what an enjoyable day we all had sailing yesterday. Steve was an excellent skipper allowing us all to take the helm and get involved with the rope work but also very relaxed to spend the day with. We were lucky with the weather, a good breeze to make it interesting but also the sun came out for some of the time. We sailed around to Seaview where our son's fiancée and family spend some time each summer. We even had a bit of a race with another boat on the way back and won !! Please thank Steve next time you see him. Best wishes'. Jane G.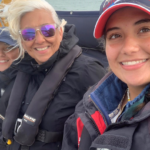 August 2021 – 5 Day Holiday Family Cruise with Steve as Skipper, 'Thanks for a fab week sailing with Steve. The kids & I thoroughly enjoyed it & I'm sure we will be back. A fabulous week sailing with skipper Steve from Yachtforce! My 13 year old & 19 year & I learnt so much! The yacht was well looked after & kitted out perfectly for us to make meals etc. And we would love to return at some stage. A great experience! Once again many thanks & take care.'  Delene, Reese & Trent
July 2021. Multi-boat Corporate Sailing Team Day to Cowes for lunch. 'Hi Buster, it was a pleasure to sail with you yesterday. Everyone enjoyed the activity greatly! I will highly recommend it on the tripadvisor page. Have a nice weekend,' Charles
     'Hi, Buster, Stuart here. I had a great time with Joshua. He is a wonderful instructor and a credit to you and to himself. We managed to nail the MOB in the morning, the rest was just plain sailing. Maybe one day we will bump into one another but in the meantime please accept my thanks for what was arranged and how well it went. Best wishes,' Stuart
June 2021. 2 Day Charter with Skipper Paul T. Douglas Gee said, 'We've had a lovely couple of days on Galadriel with Paul who's been brilliant. Just perfect for a family getting to grips with a new hobby like we all are. Thank you.  Very much looking forward to coming down again in July. BW.' Douglas.
April 2021, 2 x Skippered Charters with Skipper Instructor Paul T personal coaching towards Day Skipper, "Superb instructor, good yacht, beautiful (and suitably challenging) location. I not only achieved my Day Skipper qualification  but learnt much more besides. Experienced, calm and credible, the instruction was first-rate. And it was enjoyable! Well done Buster and Team. Thank you for providing an excellent instructional charter." Rupert
August  Catered Sailing Weekend for 6 persons. Crew slept ashore.  'Many thanks for a wonderful weekend – it was a special way to celebrate Hannah and I getting engaged. It was a very fun, uplifting experience, and we enjoyed the company of both Josh and Chris. I appreciate the weather was not great, however, they both did what they had to do to keep our spirits up and also to provide some learning along the way. Josh was patient, engaging and willing, and always prepared, so we appreciated him as the skipper. Chris was also a great host, kept us laughing along and the food was excellent – the girls have asked a few times if you could share with us the recipe for both the chicken dish we had for dinner and the sausage dish we had for brunch! 
We are definitely going to Greece on a sailing holiday next year, I will pass on the information to our friends and I will get back to you once I have more information. I will also circulate the below and we will get a few trip advisor reviews.   I hope we were engaging and pleasant guests!
Thanks again, and please send me regards to the wider Yachtforce team. Regards', Munaf
       We had two super days sailing on Orinoco Flow. We were a family group of four with very mixed abilities from experienced but rusty to complete novice. Our skipper, Buster, was everything we could have hoped for. He ran a tight ship which meant we all had to do our bit but his instructions were clear and very precise and by the end of day 2 we all felt we'd learned a lot in a short time. My son, who is keen to charter with his family in the future, soaked up all the detailed information and Buster never got tired of answering his many questions.
Preparing breakfast and lunches was easy in the ample galley and we enjoyed a good meal ashore in the evening. Sleeping accommodation is comfortable for this type of boat (37' Jeanneau).
We would thoroughly recommend Yachtforce – Buster's knowledge and experience is immense but he's fun to chat to with a G&T at the end of a day's sailing!!
A family powerboat day on the 47  foot Targa powerboat from Chichester marina in July 2020 'Sorry for the delay been a bit busy, The trip was really amazing all the kids loved it and we will definitely do this again and again I'm sure. Many Thanks Alister'
A Solent 'get back into it' day sail in July with skipper Paul T, 'We had a lovely day with Paul. I hope he enjoyed our company as much as we enjoyed his. His knowledge is obviously vast and he was more than happy to answer questions all day. We were very impressed. We are weighing up our next move as regards sailing and will be in touch when we have a plan. All the best, Tom'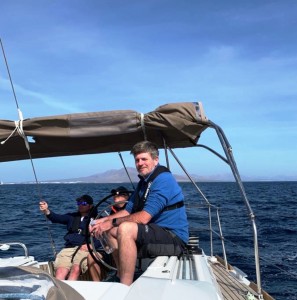 Stuart came on a January Canaries trip with Yachtforce, 'Very well organised and run by Buster and Chris, great sailing, food.
Good company – more G&Ts as the sun set than I have had in a while.
Weather was perfect – nice to come home with a tan.
Transfer from UK was quick and uneventful. As with all trips with Yachtforce,  I am sure my sailing improved.'
Dr Stuart Marsden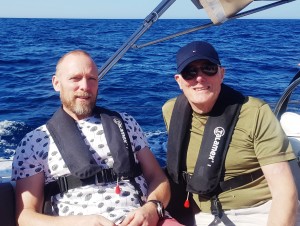 Brian came on a winter circumnavigation of Lanzarote holiday week with his son Kevin. Weather was 22-24'C, blue skies and great winds.  'Hi Buster, Thank you for a great week sailing we both had a fabulous time and learnt so much more from the trip . Good company good food , good weather. Am seeing Kevin in March will try to confirm next year with him. Regards, Brian'.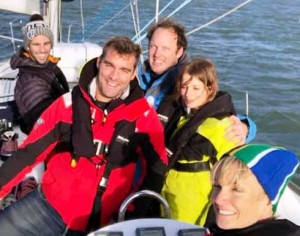 James Wood had this to say about a 'refresher day' prior to a BVI charter, and it was the  day before Storm Ciara – so a tad breezy!  'Hi Buster, We had a great time with Paul – exactly what we were after. Please pass on our thanks to him for an excellent day. We will definitely be in touch again for some other trips/training, and will certainly do a Tripadvisor review for you when I get a chance. All the best', James.
From Brighton Marina in November, Astins 2 Boat Company Race Day to Newhaven (for lunch) and Back to Brighton, "Morning Buster, The guys had a great time Thursday – the feedback I have had is really positive so we will look at arranging another event in the summer when its warmer,"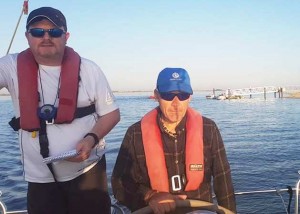 Dave Edwards said this about a 3 day cruise to Poole and back via some interesting pilotage in Chichester Harbour, 'This is actually the second trip I have taken with Buster at Yachtforce – previously the cross channel mile builder. On both occasions sailing with buster is a real pleasure and his knowledge (which is incredible!) freely shared throughout. I have also been fortunate to experience two different first mates at Yachtforce, Stu on the first and Vikki on this last trip. Both did a fantastic job and are a real asset to Buster and Yachtforce – and highly recommended.
.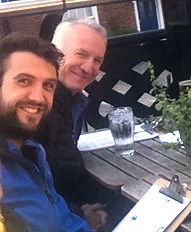 Jon Hunter said, 'I booked a two night sailing trip for myself and my dad for his birthday 5 days prior to the trip, pretty last minute! Buster was very helpful and gave plenty of advice regarding the trip and made the booking experience as easy as it could be… great communication with regards to sending receipts, information, advice etc. on email and also over the phone. It was mentioned that due to the storm rolling in it may be quite rough but no risks would be taken… which made us novices feel well at ease!
Prior to arriving Buster had also emailed to give details of our skipper, Laurent, and his first mate, Chris who we met upon arrival at Hamble. We quickly got settled on the boat and made to feel welcome.
The sailing we had was certainly rough at times, but the professionalism of Laurent and Chris was second to none, we certainly felt safe in some pretty rough seas throughout the weekend. The sailing was great fun and very exciting all weekend and we were given the opportunity to help with the ropes and time at the helm. Laurent and Chris could not give us enough advice, tips and information to help us learn knots and be of some sort of use on the boat!
Now onto the food, how the meals and food was prepared in such a small area was incredible… especially when being prepared at quite an angle!! Great tasting and filling.
Overall, a great time had by all, the food, drinks, socialising, banter and so on was very refreshing, we met some great people, learnt a lot, had many laughs and we will certainly be back again with these guys!!
Peng Sun, Family charter in July, "It was a great trip sailing around the Solent with Yacht Force. Everything was well organised and Paul made us very welcomed upon arrival. He was excellent with the children, and explained to them always with great enthusiasm the ways about sailing, clearly someone who himself enjoys this enormously. The trip was great to allow the kids to build on their prior experience and try it out in the real sea, something he enjoyed very much, and definitely shall come back again. Highly recommend Yacht Force!" Peng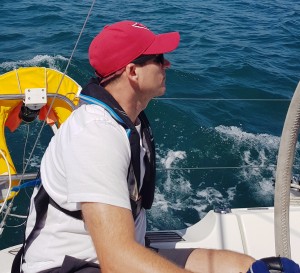 Carl Moore did Round the Island Race Event and said, 'Brilliant RTI Sailing Weekend – Again! Every year we have a great time on board Orinoco Flow with Buster for the RTI and this year was no different!He really gets the balance right between having fun, being safe, sharing his copious amount of knowledge and also being super competitive too!
Everything is very well organised and calm'. Carl

Weekend Stag Event. 'We had a fantastic time thanks, and the groom absolutely loved his weekend. I'd be grateful if you would pass on our thanks to Graham, our skipper.  He judged the level of involvement required from the chaps perfectly, and was really good company (he even donned one of our stupid hats when we went out for dinner on the Saturday night "Coast" is a lovely restaurant by the way). I'll certainly bear you in mind for future trips and will be recommending you to friends and colleagues. Many thanks, BW,' Will
'Buster and team, Many thanks for a great weekend, fantastic fun and excellent company – and I am up for RTI race next year. I do see that next year the race has been brought forward to 30th May'. John Pymm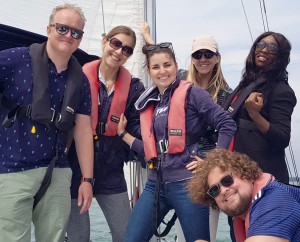 2 Yacht Company Team Building Race Day in June. 'Thanks very much for a superb day yesterday, there's been a load of positive feedback about the event, both of you guys and your organisation of the day and also sailing generally.' Richard Turner – JorgensenTurner
A Private Skippered Charter for Day Skipper, 'Hi Buster – Tim and Christian did you proud last week. It was both challenging and enjoyable. Even though one of the things it achieved was show me how much I still have to learn, the difference in how I felt about controlling the boat at the end of the week compared with the start of the week was enormous. Tim deserves a sainthood for his patience. He only called me a plonker once! Seriously he really is an excellent teacher as well as being a great sailor. No doubt you know that already but I think it is important to give feedback and credit where it is due. With it being just the two of us under instruction coupled with the fact that Chris was already really good I meant I was pushed to the max which can only be a good thing. I have a week on dry land now and then we are chartering on the West Coast of Scotland so I will get a chance to try out and hopefully cement in my new 'skills'. Thanks again for sorting it out. The whole package was spot on.  All the best', Steve.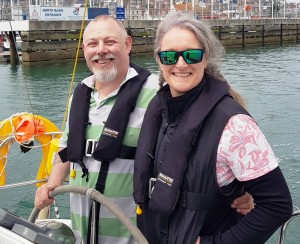 Two day Solent Skippered Yacht Charter (June 24th – 25th 2019) 'Me and my other half (Carol) have just done a two day yacht charter with a skipper. We were both complete novices and hadn't done any sailing before at all. The skipper was very friendly and professional and certainly very knowledgeable and immediately put us at ease. Safety was a top priority and we were confident we were in good hands.  He was very patient and a great communicator and explained things in an easy to understand way so we knew exactly what he was asking us to do. He asked us what we were wanting to gain from the sailing experience and made sure we got as much as possible from our time with him on the boat. He told us a lot about the local waters and we learned a lot about the places we visited. I learned much more than I expected and was more than satisfied with the experience and we would certainly use them again. All in all, a thoroughly enjoyable experience.' Gary Spink
Giles Barfield, Sumco had this to say about a 4 boat race day, 'Hello Buster, Just wanted to thank you, Steve and the team of Skippers for arrange such a great sailing experience.   The feedback from my colleagues was clearly evident with the huge Cheshire Cat grins they were all wearing.  Tonight's dinner conversation was peppered with lots of "our skipper said. . ." comments. For a group of people that were very concerned about going on water, I think we have quite a few converts.  (I myself am very keen to go sailing again at the earliest opportunity!) Please let me know if you would like a company recommendation or review for your company.  Once again thanks for everything, and pass on my thanks to Steve and the other skippers'.     Best Regards, Giles

Douglas had this to say about his Flotilla training weekend from Brighton Marina in May, 'We had a really wonderful time and Jonny was a perfect fit for us. It took a couple of hours for us to get used to each other as he's so relaxed and we were keen to crack on but he was the perfect teacher for us and was brilliant with the children too. We found the two days very productive and delivered for us in spades in terms of what we were looking for. I'm excited about our flotilla holiday now and I know we all are as a family. We know our roles on the boat and some knots too 🙂 Thank you. We'll definitely do it again and hopefully with Jonny too.  After our sailing holiday if we could get a couple of days private tuition to help with taking our day skipper courses for example, that might be the way forwards? Thank you Buster. A great experience and I'm sure a pivotal one for our three children.'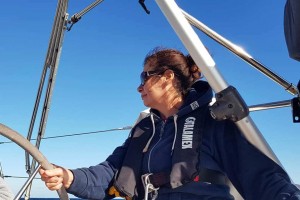 Maxine Oliver, Had this to say about a windy week circumnavigating Lanzarote in January. 'Second time I have been sailing with Buster and Yachtforce and this week in Lanzarote did not disappoint. A real mixture of sailing in all conditions, developing my sailing skills and building my confidence in the capable hands of Buster.  We all had a really good time, lots of laughter and relaxation and exploring the bays and towns of Lanzarote.   Yachtforce go the extra mile to ensure all the crew develop their sailing skills at whatever level they are at and that we all get on well together,  organising gin sundowners at the of the day in the sunshine, meals out together in the evening or time on your own.  Both skipper and crew go the extra mile to make sure you get everything from your holiday and that everyone on board is comfortable and looked after.'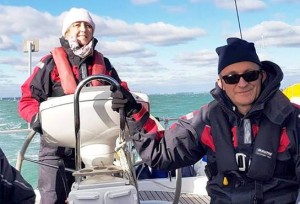 Jeff Pellett on a windy Solent sailing weekend in late October said, 'Completed a weekend sailing trip last week with both Buster & Vicky. This genuinely exceeded all expectation with a standard of tuition which was excellent and Vicky's catering which was also fantastic. It is obvious Buster has been sailing for many years and equally obvious he still very much enjoys the experience. He demonstrates complete confidence which is very reassuring, especially when you experience conditions which are a little more challenging. Vickys ability to cook proper meals from scratch was amazing. Both Karen & I would have no hesitation in recommending Yachtforce.'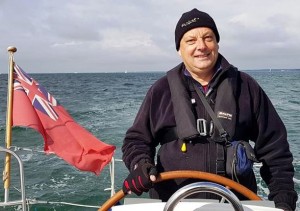 Jim Dennett, on a breezy Round the Isle of Wight weekend in September said, 'A birthday surprise weekend 7 September. From the outset I knew I was in good hands with a first class skipper Buster and first mate Vicky. They were both professional, knowledgeable and clear in all their instructions with a good thorough safety briefing before setting sail. I felt completely confident and safe throughout the whole weekend. The highlight, due to favourable weather conditions, was being able to sail around the Isle of Wight. I was given the opportunity to use sail, rope work and helmwork. Food and drink was first class, plentiful and of good quality. Positive feedback was given and definitely a confidence-building time. I would have no hesitation in sailing again with Yachtforce and look forward to booking with them again soon. It was a great way to gain experience and I would recommend it to anyone considering sailing either as a beginner or with experience.'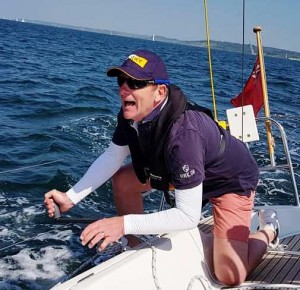 Mark Wilkinson on a Solent sailing weekend in late September said, 'The weekend sailing was the best experience…, the Friday evening we night sailed which was great to be enjoying the week end from the off. Saturday I was very impressed by Laurent's calm approach which gave me great confidence, he was able to adapt to the conditions and change plans to suit the team. The guidance and tuition was pitched just right, so I was able to learn a huge amount over the weekend. Chris's great food and hot drink delivery were very much appreciated. Sunday sailing up the Beaulieu river was a special day. Many thanks to the YachtForce team.'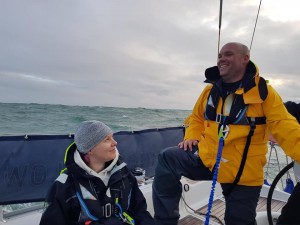 Chris Mander said,  'I would also like to thank you again for a really great long weekend – we were a little apprehensive to start with, but you guys totally exceeded our highest expectations!' Chris & Sarah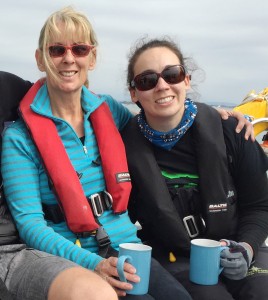 Lindsey Dixon (on right) said, 'As always a wonderful weekend with Yachtforce! Absolutely brilliant for sailors of all abilities. We were fantastically looked after, everyone learnt loads and had so much fun. Can't wait for the next trip!'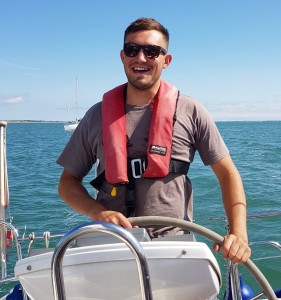 Edwin Grimster said, 'Just finished my second trip with Yachtforce (1 training weekend and 1 cross channel trip) both were excellent, very professional skipper and great equipment. The Skipper was extremely informative and happy to answer any questions I had can fully recommend them as an alternative to Sunsail type sail training as not following a strict course allows a lot more information to be crammed in.'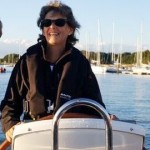 Morag Dawson said, 'Great weekend on my first trip with Yacht Force and my first experience of Cowes week. Thanks so much to Paul and Nat. Hope to sail with you again soon. Lovely photos. X'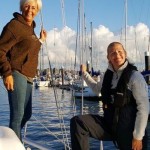 Debbie Brown said, 'Had a fabulous weekend. Paul and his first mate Natalie were amazing. Great sailing great food and great company. see you soon guys'
Helen Tanner (back again for the 3rd time this year) said this about her Cowes Fireworks n' Race Weekend, 'Paul was absolutely awesome – yet again, another outstanding skipper on Team Yachtforce. Super knowledgeable, always confident, calm & fun. A pleasure to sail with.​ ​​Similarly, Nat was awesome too – a true hostess who kept us all fed, watered and entertained. I didn't make one cuppa this weekend, which is a first for me considering how much I drink! Again, a pleasure to sail with. Food was delicious and loads of it. Awesome trip yet again – the perfect combo of sailing professionalism and loads of fun. ​Awesome crew again too – you attract such a lovely mix of people.'
Adam Barlow said this about RTI Race Event, Just wanted to say thanks for a great weekend. Steve was an excellent skipper, great guy to sail with. Chris (First Mate) is a credit to your team as well – in fact all the guys I met were great.'
        James Fox had this to say about RTI race event, (he's done 4 RTI's with Yachtforce) 'Please pass on my thanks and appreciation to Steve and Chris. Awesome guys, great fun and would love to sail with them again. So if you need numbers for next year then, as always, sign me up!  Also love the boat. Good to see you as well'
Gerard McCarthy said this about RTI Race, "This is the first time I have sailed with Yachtforce and would certainly do so again. We had entered the Round the Island race and came a very respectable 233rd out of over 1200 boats, and with probably half the fleet not finishing due to very difficult sailing conditions. The skipper and mate were excellent, and the "crew" who I had never met before were a good bunch. All in all a very enjoyable experience and one I would certainly repeat".
       Helen Tanner had this to say about her RTI event with Steve and Chris as Skipper / Mate, 'Awesome RTI sailing weekend – super fun crew, amazing skipper and loads of laughs. Highly recommended."'
'Scott did very well as we are quite a disparate group. He was a proactive instructor and skipper but without being controlling – generally a very pleasant supportive presence and good to be with. Would highly recommend.' Jeremy Lamb, private skippered charter.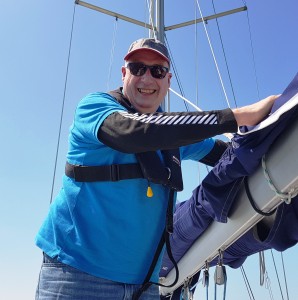 'I bought my husband a weekend sailing voucher for his 60th birthday. He had done a bit of sailing before but none for about 10 years. The weekend started on Friday evening with a comprehensive safety briefing and then a night sail across to the Isle of Wight, followed by two full days on the water on Sat/Sun. When he got home on the Sunday his face said it all – a grin from ear to ear that didn't disappear for several days. He had the best time with skipper Buster and two other crew members – great company, great food and fantastic sailing. He learned a huge amount and can't wait to go on another weekend with Yachtforce. I would highly recommend Yachtforce.'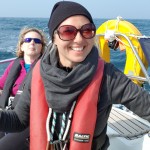 Kathy Basheva said this about her Cross Channel Cruise, 'I crossed the channel with Yacht Force on the second Bank Holiday weekend. It was an amazing experience. I was a competent crew and I learnt a lot. Buster and Vicky were patient with my questions and explaining from knots through navigation and berthing. Thank you both!'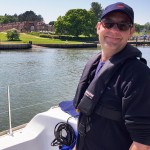 I would highly recommend Buster @ Yachtforce. Not only is he a great teacher at all levels, he's not bad company too !! Loads of fun, tonnes learnt, great food – thoughtfully delivered (especially as I'm vegetarian). The whole weekend was an experience I hope to have again in the not too distant future. Thank you.'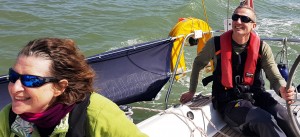 Patrick Stileman said this about his private tuition weekend, 'For the third time, on Friday last week my wife (Gill) and I boarded Orinoco Flow for a weekend of sail instruction with Buster of Yachtforce. The fact that we keep returning is itself an endorsement of what we think – essentially Buster is incredibly knowledgeable and a really good instructor. He clearly explains what's required and has a great sense of humour which makes the sailing a thoroughly enjoyable experience. I would recommend Yachtforce to anyone looking to brush up / learn from scratch sailing skills, or to just have a top time out on the water!'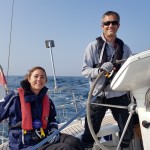 James Rushton said this about his recent Cross Channel Cruise, 'My wife bought vouchers for a weekend with Yachtforce but I decided to 'upgrade' to a long weekend to cross the channel. As a couple who have followed the RYA syllabus, we're lacking in non-school experience so were looking for something more relaxed to build some miles. What Yachtforce offered us and delivered was an informal setting to test our skills, blow away the cobwebs learn many new tips and tricks, whilst reinforcing what we had already learned (and subsequently forgotten!). Our skipper and first mate were knowledgeable, friendly, informed and experienced but had such patience that we always felt at ease. A wonderful weekend and we both learnt a great deal. Thank you Yachtforce!'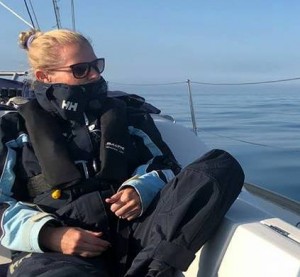 Helen Tanner who has sailed with us several times had this to say, 'Laurent was awesome – one of the best skippers I've sailed with. Quietly confident, super friendly, shares knowledge readily and great fun. Chris who was First Mate was an amazing host – fantastic cook, very chilled out and super lovely.  ​It was the best food on a trip ever – and amazing tolerance of my veganism! ​The boat was spot on, no issues. ​Overall just an awesome sailing weekend and my first Cross-Channel experience.'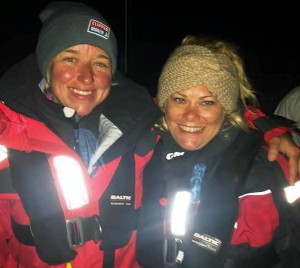 Julie Collins had this to say about her 3 – Day Cross Channel Event, 'Fantastic trip with the all-girl crew and our Skipper Laurent and First Mate Chris. What an amazing weekend we had, laughs from start to finish, great tuition from the Yachtforce professional team, and a Champagne supper to celebrate our successful crossing to Cherbourg.  I have sailed with Yachtforce a couple of times before and cannot recommend them highly enough. Thanks again and see you soon xxx'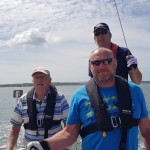 Paul S had this to say about his Solent Sailing Weekend, 'Just back from a sailing weekend I organised with my brother for our father. The three of us are novice sailors and joined three others to make up a crew with Buster as captain and Vikki as our first mate. Despite the other three crew being more experienced sailors at no point were we made to feel anything other than valued members of the team. We managed a night sail; did some river and entrances, had the spinnaker up and made the most of mixed sailing weather. 
More important was that it was an absolute hoot. The atmosphere was relaxed and friendly (not always my experience on a boats), the jokes terrible and everyone enjoying themselves. During it all Buster continued to educate and Vikki worked her magic in the tiny kitchen that most professional chefs would trouble to match in a commercial kitchen. We had a little time onshore- just enough to satiate a thirst worked up onboard.
Most importantly my father absolutely loved it. The three of us couldn't have wished for a more fulfilling and enjoyable experience. Thank You!'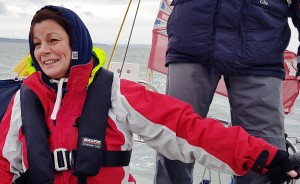 Maxine Oliver had this to say about an Easter Cross Channel Event, 'Don't hesitate to book your sailing trip with Yachtforce, Buster and his team will look after you every step of the way, with their vast knowledge and experience coupled with their excellent coaching and training methods you will learn to sail or improve on your existing sailing skills regardless of your ability.
I have just completed a 4 day channel crossing with a real mixture of weather and a lot of rain but with a fully heated and very comfortable boat, great food, a few gin cocktails and fantastic company it has been fun and also been invaluable to me, a real confidence booster improving and building upon my sailing skills.  Buster even got me over my fear of helming and I am now really looking forward to take my sailing to the next level.
A big thank you to Buster and first mate Bruce for a great sailing trip – we will be back for more fun and sailing soon.'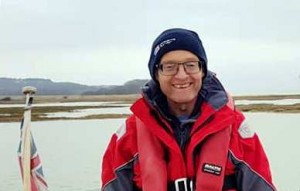 Roddy Maddox said this about an early season Solent Weekend, 'I had a very enjoyable weekend with Buster as Skipper and Vikki as First Mate.
Buster's instruction is well above average, he really gets one to think ahead about what is happening. I certainly think this makes one a much better skipper.
Vikki's cooking is first rate.
I thought a very well balanced weekend in terms of some good sailing exercises but also some relaxed social time. Well done!'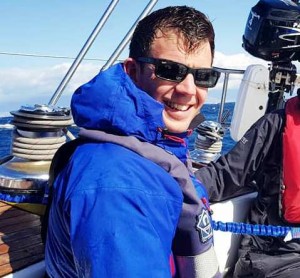 Dan Harrison said this about a windy January Canaries Cruise from Tenerife on a 49 footer, 'My partner and I went on the Canaries cruise organised by Yachtforce, with Buster as Skipper and Vikki as First Mate. We had an excellent week. We had more wind during the week than expected but it meant Buster taught us loads about sail trim and boat balance. The trip was great fun, communication before and during the week was spot on. This was the first time we had sailed with Yachtforce. We will definitely be using them again.'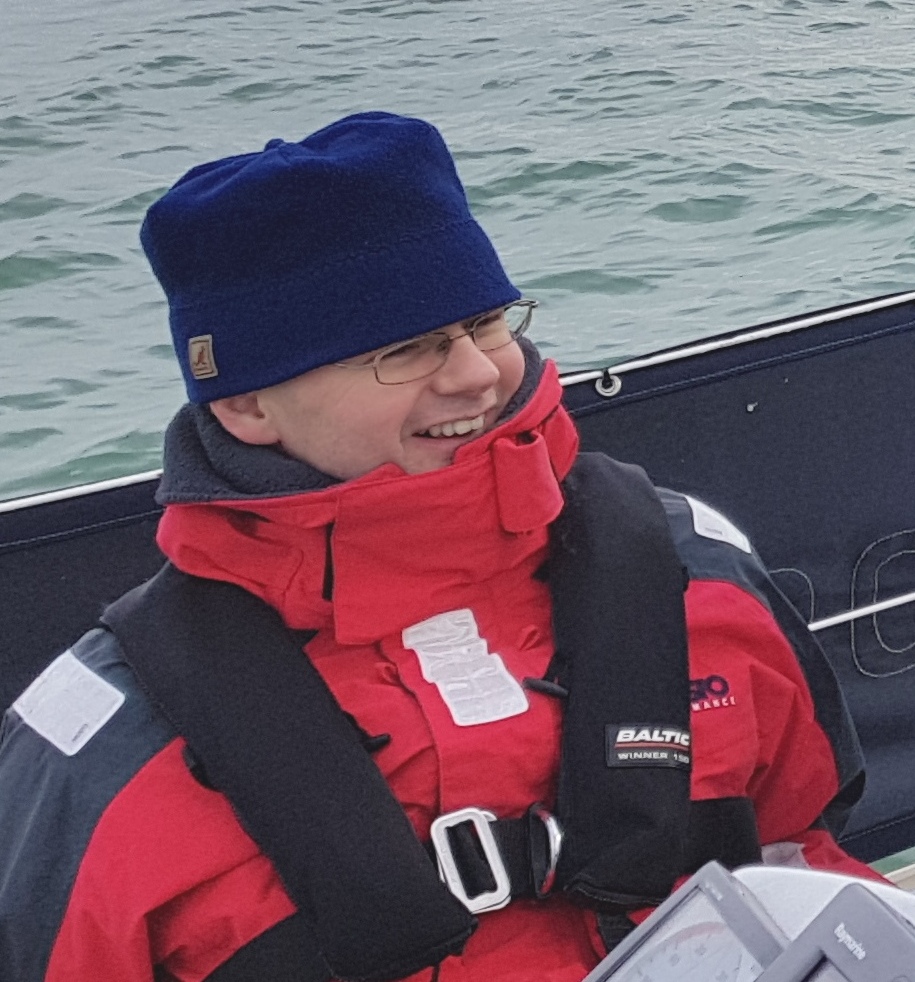 Rich O'Driscoll said, "Thanks for the great weekend, your passion for sailing really shines through (even when the sun didn't) and the food was amazing. The yacht felt factory fresh rather than being a workhorse.The food was great from start to finish, fresh, tasty and plentiful. The best bit of the event was going out on the first night (after a warming soup) – it really helped set the scene for the weekend. Happy sailing, and hope to book another weekend in the new year. I think you have nailed the format. I would absolutely recommend your services to my friends. It's very good value for money."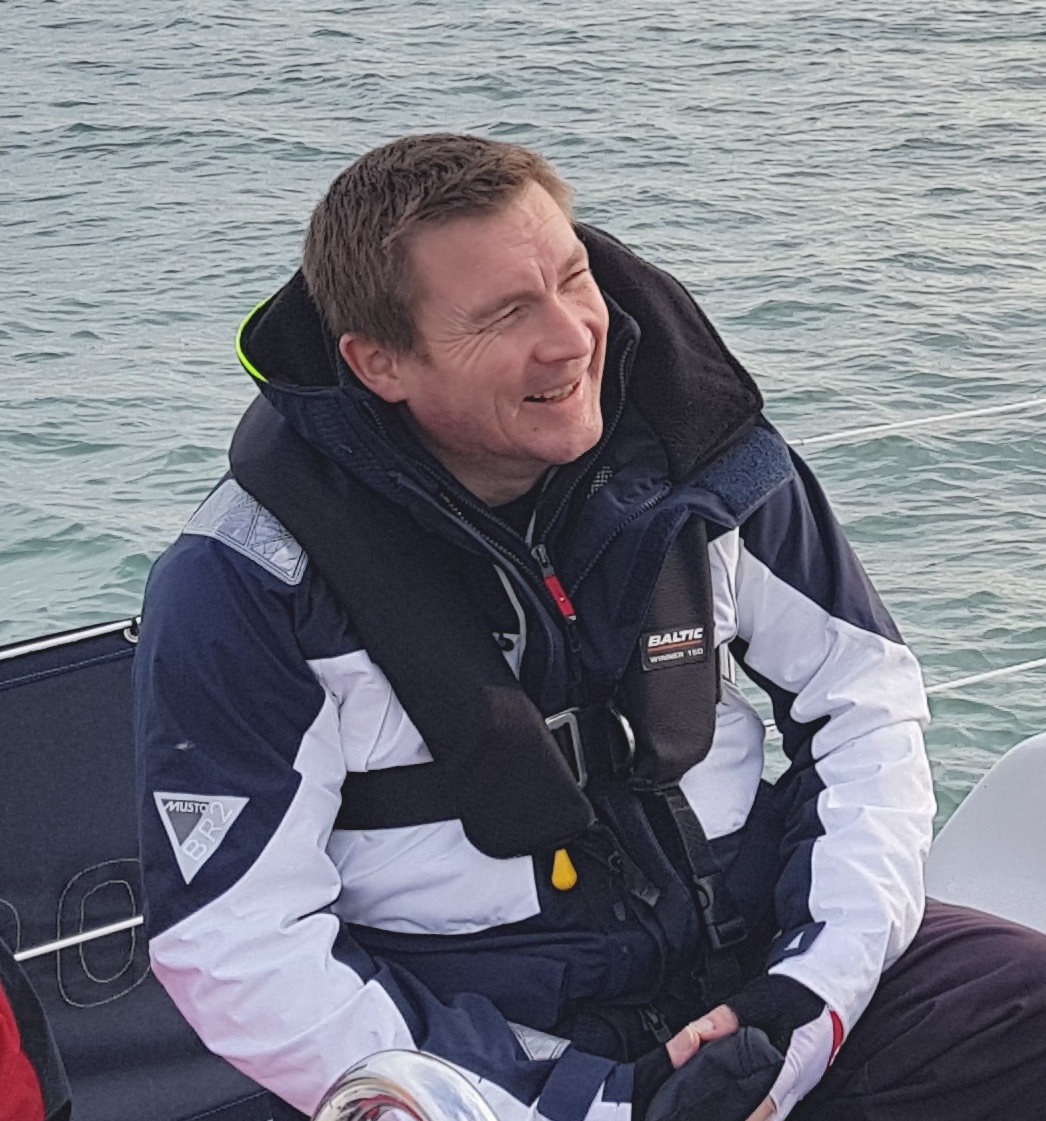 Steve Welch said this about a Solent Sailing Weekend in November, "Lucy and I just wanted to say thank you for a really enjoyable weekend. You really looked after us. Your coaching and support was excellent and enjoyable. It was lovely to hear Lucy, having never sailed before, talking passionately to her mum about lateral marks, tides and helming on her return. We both learnt so much. It was great how the weekend accommodated with little fuss a range of experience and knowledge whilst still making the weekend enjoyable for all. I have to say the hospitality was also excellent. We never wanted for food or drinks. Everything always appearing at the right time through the hatch whatever the sea state. It was a thoroughly enjoyable weekend, with lots of laughter, food and sailing. Thank you."
Mark Di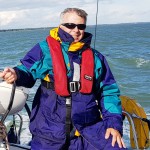 nwoodie on a Solent Weekend in September, "Had a fun weekend with Buster and Jamie. Learnt lots of sailing skills delivered in a very professional way, tailored to the needs and wants of each person. Everyone was able to choose how much they wanted to get involved. Great company from others on the boat and felt like a real team. We were looked after really well and the food was fantastic. Will definitely return for more."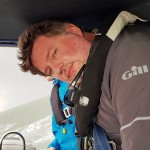 Steve Hicks says this about learning to sail in strong winds, "Another great week sailing with Buster. It must be me but both times I sign up to sail across the Channel with Buster we have to change our plans. In both cases gale force winds in the Channel made it wise to stay in the relative shelter of the Solent and Poole harbour. Even though we didn't enjoy breakfast in St Vasst we did do plenty of sailing, navigation and pilotage exercises, man overboard under sail and most importantly conversations and demos about how to safely and effectively sail about in heavy weather. Buster puts all the stuff you learn on RYA courses into perspective and teaches you to be a sailor not just how to sail. The company was good, the food excellent, the whiskey in good supply and sailing. Did I have a good week : what's not to like." Steve is booked on the December 7 day Cross Channel Trip… fingers crossed this time!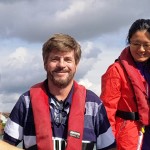 Dr Stuart Marsden said this about a September Sailing Weekend, "I am thinking of taking up sailing after retirement. This was a first "toe in the water", and 1st time as "crew" on a Yacht. We had a fantastic time Buster and Jamie were great. We had some rain, but all part of the experience. Time passed very quickly, and I learnt lots. Now planning how to do my competent crew. Can strongly recommend it , even for someone not planning to take up sailing."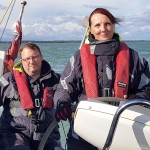 Aleysha Gull said, "We spent the weekend with Buster and Jaime on one of their sailing weekend experiences at the beginning of September. Despite being a complete beginner myself and almost experiencing all four seasons in one weekend it was a fabulous time. Our group consisted of various levels of experience but everyone learned lots and had equal experience of being at the helm, pilotage and the ropes. We were often left to work as a group with Jaime and Buster keeping a sneaky eye on us from the cabin. The food and company were excellent, with Jaime making a full on three course dinner on the Friday night. The weekend is packed from start to finish and I would highly recommend it to anyone. "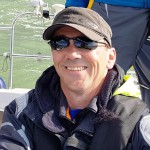 Arthur Malkin  said, "Joined Yachtforce for one of their social sailing weekends in the Solent. What a great experience! Right from the outset we were looked after by Buster & first mate Jamie – kitted out in great quality wet weather gear, professional briefing and food before a really informative night sail on Friday followed by a hearty & delicious meal and a few glasses of wine at our overnight stay in Southampton marina.
Saturday stop offs in the Beaulieu river and Newtown creek before mooring up in Yarmouth on the IOW for G&Ts and a great dinner at a local pub. Sunday brunch and some challenging winds brought an exhilarating end to a fantastic weekend.
Buster was brilliant and ensured everyone got an equal chance to experience helming, rope work and pilotage coupled with some useful tips and a huge depth of theory knowledge.
No one was ever challenged to do anything they didn't want to but all of the crew, strangers at the start of the weekend, rose to the challenge and pulled together to make the experience one to remember. Great bunch of people.
A few words about Buster's right hand man Jamie – great company, always ready to impart his own knowledge and calm in challenging conditions ….. and he cooked up some great food with the boat well heeled over; very impressive! In all this was a very memorable weekend which catered for all levels and was fun, challenging, informative and very enjoyable on a very well equipped and maintained yacht.
I'm definitely going back for more …. channel crossing next year."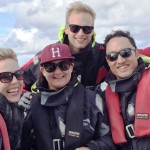 Katie Jeffery from Canada said, "I did a sailing weekend with friends in mid July. It was by far one of the best trips we have taken as a group. While the weather didn't show up the fun did. Tim and Ollie were fantastic and kept our spirits high. We all came out with better sailing skills and stories to be retold over the years to come. I highly recommend a sailing weekend. Also the food couldn't be beat, especially the Sunday fry up! Thank you for the epic weekend!"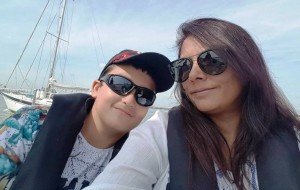 Hemal Holden had this to say about a 3 Day Bank Holiday Charter in August, 'I booked this trip as a birthday present for my partner which ended up with me booking the whole boat since I wanted my sister and my son to experience sailing. The pricing was affordable for what we were getting. Buster was very friendly and gave me all the information I needed. I was able to choose between having my food provided and sorting my food out myself. I went for the 'all in' to make it easier. The food was very good – fresh and tasty.   Fresh food nicely cooked by Tim himself. Our Skipper Tim was brilliant. Amazing Skipper!!! Very Knowledgeable and very good at teaching. Tim gets A***.  Good sense of humor and very good communication skills.  Safety was always top of the list. The First mate Ollie was also brilliant. We had a super weekend.'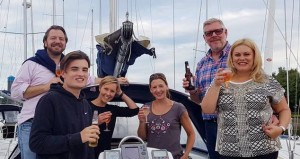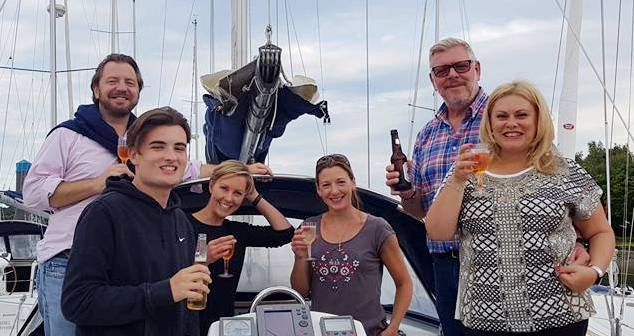 Julie Collins (right of pic) said this about Cowes Weekend, 'We joined Yachtforce for a weekend aboard Orinoco Flow to celebrate a big birthday and we were not disappointed. An action packed weekend which included night sailing to see the Cowes Fireworks, racing in the Cruiser C class and then docking with the Fastnet entrants the night before their race. The weekend ended with us watching the start of the Fastnet and then sailing back into the Hamble. The Skipper Buster and our first mate Vikki were both amazing. We had excellent tuition, food and a good measure of fun. Very highly recommended.'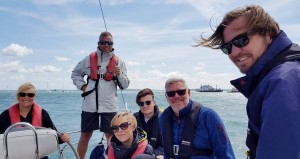 Justinian said this about Cowes Week Race & Fastnet Start, 'We've done several weekends with Buster & team over the last few years, but in the last year we've moved things on to try a few more adventurous trips – including a cross channel at Easter and last weekend a first go at Yacht Racing for the culmination of Cowes week. What a fantastic and memory-filled weekend… Difficult to pick highlights as we packed so much into such a small period of time but seeing the start of the fastnet from the absolute perfect spot will surely go down as one of our great sailing memories! From those who are trying their first experience of sailing to those with a few more miles under their belt Buster has an amazing talent at bringing a group together, getting the best out of people and imparting a huge degree of learning without it ever feeling like a teaching weekend.Another cracker, thanks team Yachtforce!'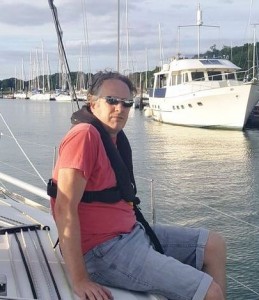 Chris Davey, July solent sailing Weekend, "I had the pleasure of spending the weekend sailing with Tim and Nat. I wanted to let you know what a great time we all had. We really appreciated Tim's friendly and informative approach and the knowledge he bestowed upon us. Nat created some great meals and provided some fantastic insights. It really was a wonderful weekend and helped re-enforce some of the business coaching behaviours I work with customers on."
Recently returned from an outstanding Stag sailing weekend in the Solent! Buster displayed high levels of professionalism and organisation throughout the build-up making invaluable suggestions in terms of routes/kits/ etc. He went above & beyond on several occasions making for an extremely well-organised event.
Jonathan Bull, Organiser of '3 Day' Stag Do,  in July, "Our skippers, Tom & Dave, are well-seasoned pros whose expertise and patience were invaluable but more importantly – both extremely decent blokes whom joined us for dinner and drinks as one of the group (less fancy dress)!  
I would wholeheartedly recommend Yachtforce without hesitation and fully intend to use them in our next event. Not yet fully recovered but an absolutely outstanding weekend!   T'was a faultless trip and the feedback – incredibly positive. Thanks again for all your help and we will back again for more events I'm sure!" Jon.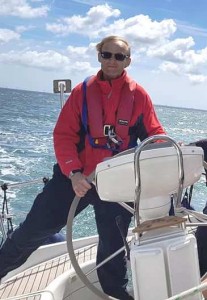 Roddy Maddocks – June Solent Sailing Weekend, (pictured on right) 'Having sailed before with a number of sailing schools, I strongly recommend YachtForce. A great mixture of individual coaching tailored to each customer's level of experience, a relaxed fun style and always safe.'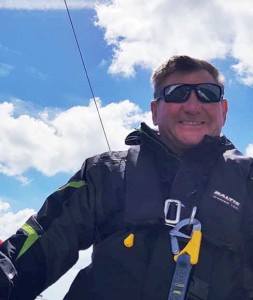 Jonathan O'Brien, 'I booked this to get some more experience towards my Day Skipper qualification and dragged the long suffering missus along too. From the moment we arrived, it was obvious we were in good hands. The Skipper knows everything about boats and the Solent and the First Mate knocked up delicious food in a tiny galley while we were cranked over and bouncing up and down. The Skipper knew what I wanted out of the trip and gave me route planing and pilotage tasks and he even had the missus on the helm and trimming the jib.
We had great weather, great wind and got on well with the rest of the crew. A super learning experience for me and a great weekend for everyone else.'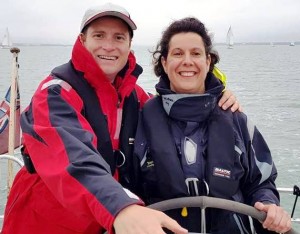 Carl Moore on private tuition in June, 'We booked this day for two couples to build up their experience ahead of a bareboat charter in the summer. One of the couples had never sailed before.
The Skipper was excellent at ascertaining exactly what each of us wanted from the day & exceeded all of our expectations – we all learn't so much & had a lot of fun too!! Not only did Buster bring loads of knowledge, but he was so good at sharing it across people of completely different levels.'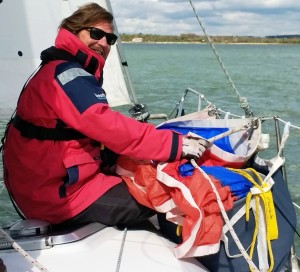 Justinian Clifford Bowles, Cross channel cruise Easter 2017, 'Sorry haven't written to thank you for another absolute belter of a weekend over Easter, it was though, for sure – great fun, a fab crew, amazingly well looked after as ever, and fast sailing in good weather. What more could we ask for! Thanks so much. Will get on and do a(nother) trip advisor review when I get a mo.'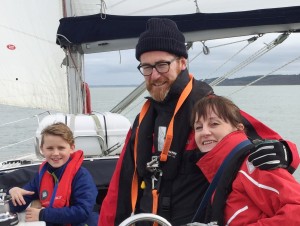 Grainne Phelan, with 3 on board for a family Skippered Charter in February, including her 10 year old son, rated our pre-event information, communication, yacht  quality, equipment & cleanliness all 'excellent' and had this to say about Paul the Skipper,'Paul was great, very patient with our son, a great teacher and good company.'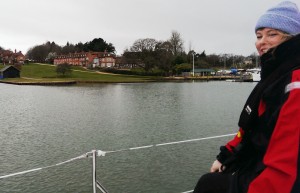 Jess Nugent, came back for another weekend Solent Sailing in February, ''The First Mate is really helpful, fun and friendly. Puts everyone in a good mood… Really tasty food, healthy and amazing that lunch can be prepared in F6/7! Skills! The Skipper is very confident, lets you learn rather than overwhelming you with information, patient. Adjusts to each person's skill level, but still challenges you. Excellent value for money and the best bit is going fast and healing a lot. This is an exhilarating way to spend a weekend, for those that want to learn or those that just want to know what it's like to sail and stay on the side-lines, you'll get good sound guidance and feel safe, plus be much more prepared going into a course like a day skipper/comp crew. You'll have fun a really get a feel for sailing, especially with Buster – rain or shine he will sail!"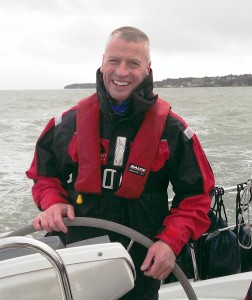 Mike Burton, on a blustery February Solent Teaching Weekend had this to say…  'We searched out Solent Sailing on Google, and picked what looked like the most complete experience – it was a great choice. I used your website and it is very clear and easy to use – I followed up with a call to yourself too and you were extremely helpful, ever patient with my daft questions. The Skipper was excellent. I learned a lot in areas (especially winching!) that I'd previously not been too involved in – Navigation, reading the Pilot Books etc. It was a blustery weekend and I had no concern whatsoever that we were sailing well within our abilities thanks to you. What a lovely boat and the First Mate was excellent in all areas, what more can be said! The food again was excellent. Perfect for the weather and activity… I couldn't recommend Yachtforce enough. A perfect weekend of fresh air, learning, and fantastic company. Skipper and First Mate are second to none facilitating the whole weekend with an aptitude of 'come on, let's get sailing and have fun!'. I went on a social weekend sailing trip that gave me the opportunity to learn as much as I wanted and more without the structured course restrictions. I could not think of anything that would have made it better and would definitely like to go again.'
Melanie Williams, 5 day skippered charter going west to Poole in late September, 'Thanks we had a great week. Yachtforce helped us have an amazing break sailing in the Solent for our Silver Wedding Anniversary- Paul encouraged and helped us to learn and achieve all we wanted.  Best bit was Jon – sailing up to Southampton with minimal support. Mel – the fun and challenge of steering through fairly rough water on the way to Poole. The boat was lovely and Paul's teaching techniques and patience were amazing!' Mel & Jon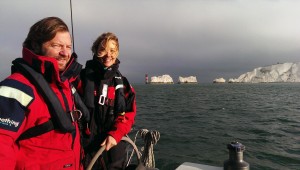 Justinian Clifford – Bowles, Private Skippered & Catered Charter (mentoring weekend around the Isle of Wight plus some mooring skills on a 42 footer in October) 'I just wanted to say thank you so much for a really great weekend – Sarah and I loved the opportunity to sail with you again, and once again the perfect mix of sailing with mates & lots of laughs, and really the best teaching we've ever experienced. I really appreciate the coaching!'
Mark & Karen, Social Sailing Solent Weekend with our Skipper Bing, 'Just a quick note to thank you again for a great weekend sailing last weekend.  We had it all, a night sail, maximising the light winds, tight mooring practice,  then a gale on Sunday morning!  Great experience for me and Karen. Bing (Skipper) was great fun – as were the other guests.  Can you let me have his email as I wanted to thank him again. Any last minute spaces for future events please let us know.'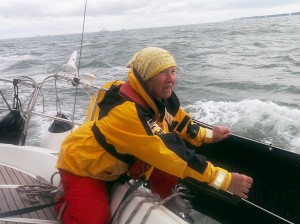 Jane Thomas, Cross Channel Cruise, September. 'Yachtforce provided a well organised trip, with excellent food aboard a well found and fully equipped yacht. Although not a formal training trip there was every opportunity to learn new skills and improve all aspects of my sailing.  The teaching was positive and engendered confidence. Clear commands and expectations. Careful of my welfare. I wasn't on a training trip but nevertheless learnt a great deal. Buster is also great company! The atmosphere aboard was relaxed and happy, and I felt secure and supported throughout a delightful Cross-Channel "hop".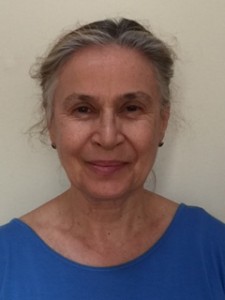 Laura Crosby, September Social Sailing Weekend, 'Thanks Yachtforce for an outstanding weekend ! The boat was super; very comfortable below deck and everything flowed very easily without any feeling of being cramped. Great value for money.
Nat, the First Mate, was relaxed, cheerful, and calm with a clear, friendly manner. She's lovely. She was a great instructor: I loved seeing her "knot school" group happily sitting on the deck mastering each knot in turn. The food was all really good! She impressively conjured up delicious feasts from the excitingly well -stocked fridge!
Jon the Skipper was friendly, relaxed, enthusiastic in a laid back way, always cheerful and good humoured; flexible, tactful while being very attentive to the situation in play. His obvious knowledge and skill meant that we could all relax knowing we were in very safe hands.  Excellent level of multi-layered skills and experience! His teaching was jargon-free until we became familiar with yachting terms; he instilled our  confidence in our abilities; very skilfully orchestrated a weekend of delight on board; offered great instruction on the various sailing skills (handling the boat, navigation, etc etc and a host of other details). Carefully matched our outings to balance the weather with our level of ability; we were fascinated and entertained by his showcasing the whole area with his extensive personal knowledge. So, yes –  The spirit of invitation and willingness to respond with ease to individual needs was wonderful. Our fellow passengers/crew were delightful and a feeling of camaraderie was quickly established. Still feeling the glow. Many, many thanks.'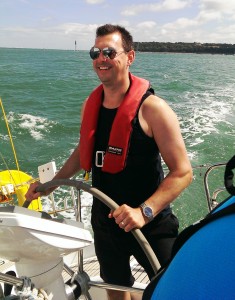 Anthony Hogarth, Cowes Fireworks, Social & Race Weekend, " Thanks again for a great weekend. I really enjoyed myself! Absolutely outstanding! Really amazing food and good portions!I plan to catch up with you guys again in the new year but also please keep me on the mailing list of anything up and coming that you think could be suitable for me."  
Richard Lankshear – September Stag Weekend, "Have just finished a weekend sailing in a party on eight novices. Dave the skipper was brilliantly relaxed with our incompetence and through his calm instruction, taught us the joy of sailing. Planning the weekend was really simple and Buster was flexible as we changed our plans. The boat was clean and well maintained and our skipper was helpful in pointing us toward the finer nightspots in the evenings. Thanks Yacht force for a memorable weekend."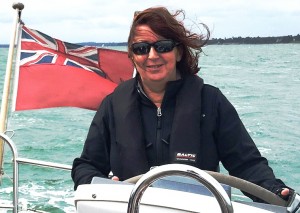 Joy Gateley, July Social Teaching Weekend, "The weekend was brilliant, met some lovely people of all ages with different levels of sailing experience and mix of personalities, we all got on well together and sailed as a team. The Skipper Jon and First Mate Josh were excellent, friendly, patient and ensured everyone was happy and were involved as much or as little as they wanted to be. Both Jon and Josh were good teachers and communicated well with the crew, extremely knowledgeable and confident and professional at all times. They wanted to please everyone and went above and beyond to do so. I had a fabulous weekend and would recommend the social sailing, it's surprising how much you can learn in such a relaxed unpressurised setting.  Well done Yachtforce, Buster, Jon and Josh …I am looking forward to sailing with you again sometime soon."
Dr Nick Alp, – 70th Birthday Family Sailing Day – July, "A quick note to thank you, Paul, Steve and Natalie for a great day of sailing on the Solent.  Everything went smoothly and exceeded our expectations.  And we even had a day of sunshine with 15-20 knots of breeze.  Champagne sailing indeed! Thanks again and kind regards,  Nick.''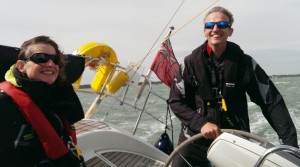 Patrick & Gill  Stileman, 2 x Private Skippered Intensive Tuition Weekends in June / July, 'What a top weekend it was last week – the conditions were absolutely perfect, and both Gill and I got a lot out of it.  We're now feeling very happy about hitting the Ionian!  Thanks so much for your terrific instruction – I feel that my boat handling and general feel for boat control is much improved, and Gill was very impressive under testing conditions. In terms of your feedback list, I don't really have time to answer each question.  I have nothing negative to say – it was all great!'
Charlotte – London said this about a July Social Teaching Weekend,
"I would highly recommend Yachtforce.   I joined a Social Weekend which was a great combination of getting involved in the sailing and improving skills as well as enjoying lovely food and drinks in great company in the sunshine!  Our crew Jon and Josh were incredibly professional, knowledgable and personable and went out of their way to ensure we all had a great weekend.   There was a vast range of abilities and experience in the crew and yet everyone was encouraged to join it and individual learning goals were accommodated.  Thank you – I will definitely be back."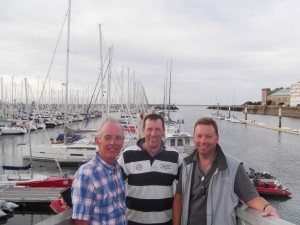 Tony McCaffrey, Cross Channel Skippered Charter Weekend in July 43ft Jeanneau: 'We wanted a skippered yacht charter for a weekend trip to France and this is exactly what we got. Yachtforce were a pleasure to deal with from the start, with a flexible approach and good communication. The Jeanneau 43 was ideal for the four of us and skipper Graham was excellent, proving his ability to manage  under some difficult circumstances. Overall this was a great experience and we can highly recommend Yachtforce to anyone wishing to venture into this exciting world of sailing.' see here Tony's  blog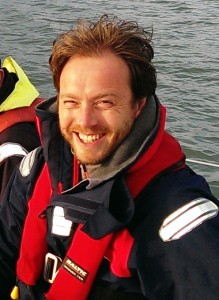 Robin Shepherd, (right) June Weekend Private Charter Sail Training:  "We had an amazing time, with never a smile leaving our faces.  Buster is a great skipper – we always learn so much and gain more confidence on the water – but share lots of laughs at the same time.  The boats are always immaculate and have everything needed for a relaxing and comfortable weekend.  Thanks again Yachtforce for a great weekend.  Can't wait to do it again."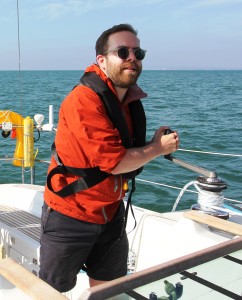 James Diggle, June Social Tuition Weekend, "I can't recomend Yachtforce enough if you are looking for a company on the Solent to sail with. I went on a social weekend sailing trip with them which was brilliant fun and gave me the opportunity to learn as much as I wanted about what was going on without the feel of 'box ticking' you can get from more structured courses. As with a lot of these things setting the right tone is crucial and the Skipper and his team know how to make people feel very welcome aboard and I knew I had come to the right place when 'humour' was on the kit list."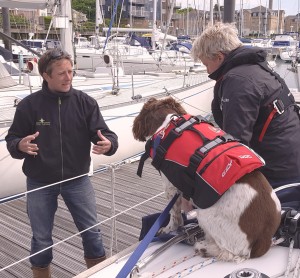 Anna Hannak,  1 Day Dog Boat Training & Refresher in May, said, ''just wanted to say we had an awesome day out sailing with Paul yesterday and to be honest it couldn't have gone any better. The weather was spot on and we got out of the experience exactly what we wanted. Out priority was getting Millie familiarised again with the whole 'sailing' thing and Paul was just fantastic with her, making a real effort to make it as much about her as well as us. Millie thought Pauls instructions were very clear and he was a very engaging teacher…(see photo)". Ed. "Now how big a bone would you like Millie?"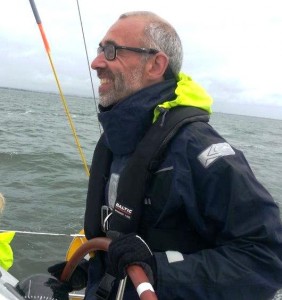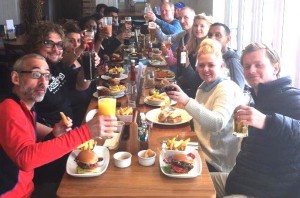 Richard Turner, 2 Boat Company Day in May said, "I just wanted to drop you a line to say a big Thank You to you Paul, Chris and John for making Wednesday's event so enjoyable, everyone has been buzzing about it since. Your organisation, attention to detail and helpful nature made the event a pleasure to both organise and participate in, genuinely."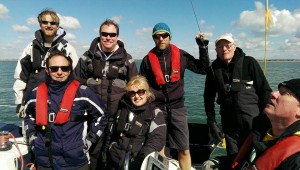 Mark Reed,  (group on right) April Social Yacht Sailing Teaching  Weekend in the Solent, said "A fantastic, thoroughly enjoyable weekends sailing with very knowledgeable Skipper and First Mate."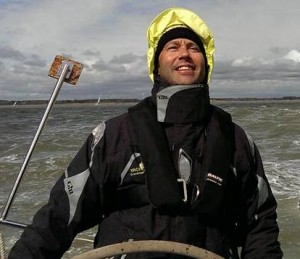 Mike Dowell, Stag group organiser, April 2016. "Yachtforce are fun and flexible which means you really get the most out of the weekend – perfect when you're organising a weekend away with your mates. Really appreciated the communication and calls on our day of arrival. As an organiser of the stag I appreciated knowing you were on hand and switched on! I thought it was good vfm for a stag do activity and appreciated the way you lumped costs together and the use of the wet weather gear which was a lifesaver. Many thanks."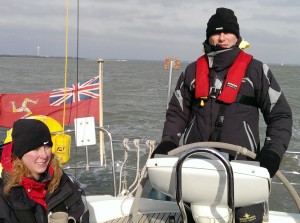 Feb 2016 Social Sailing Tuition Weekend. "Thanks again for a brilliant weekend.  You took such great care of us, and we learned more than we even imagined. We were excited about this first weekend tuition, but to say it exceeded expectations is an understatement. Great mixture of active teamwork, a lot of learning, laughter and relaxation. Does it get any better?! Now the only question is when do we get to go again!" Jane & Paul Grist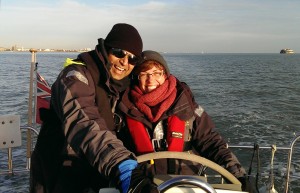 Jan 2016 – Marianna said,  "My husband and I had our first sailing experience with Buster last weekend. It was amazing. We not only got a great introduction into sailing, reading maps and planning routes, but also how to steer the boat under different weather conditions – blue sky and easy sailing the first day, rain and rough waves the second day. We got it all and enjoyed it a lot :-)"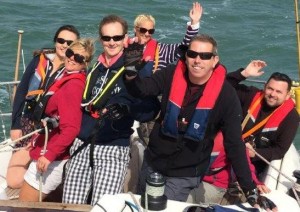 Charles Eynon, Account Manager, The CVM Group – 3 boat corporate team building day in September 2015 said, 'Just wanted to say a huge thank you for a great day on Friday. Everyone could not sing your praises enough. All your skippers were fantastic fun and great sports for allowing such exciting close quarter racing. We will see you again next year for round two.'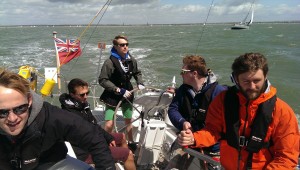 Huw Williams – 2 Boat stag event – "We just wanted to say what a great time we had on that weekend (the bits I can remember pre-pub anyway), the weather was perfect and I think everyone (with one seasick exception) enjoyed the blustery conditions on Sat afternoon. Yourself and Tim were fantastic skippers/instructors and we enjoyed your company in the pub as well. I will definitely get in touch should we look for another charter in the next few months, a few of the guys were very keen for a repeat visit so we may well make this an annual event… All the best, Huw."        "Tim and Buster our skippers were brilliant dealing with a real mix of sailing abilities and being fun with it. Well organised good value weekend. Can't recommend it enough" Thomas A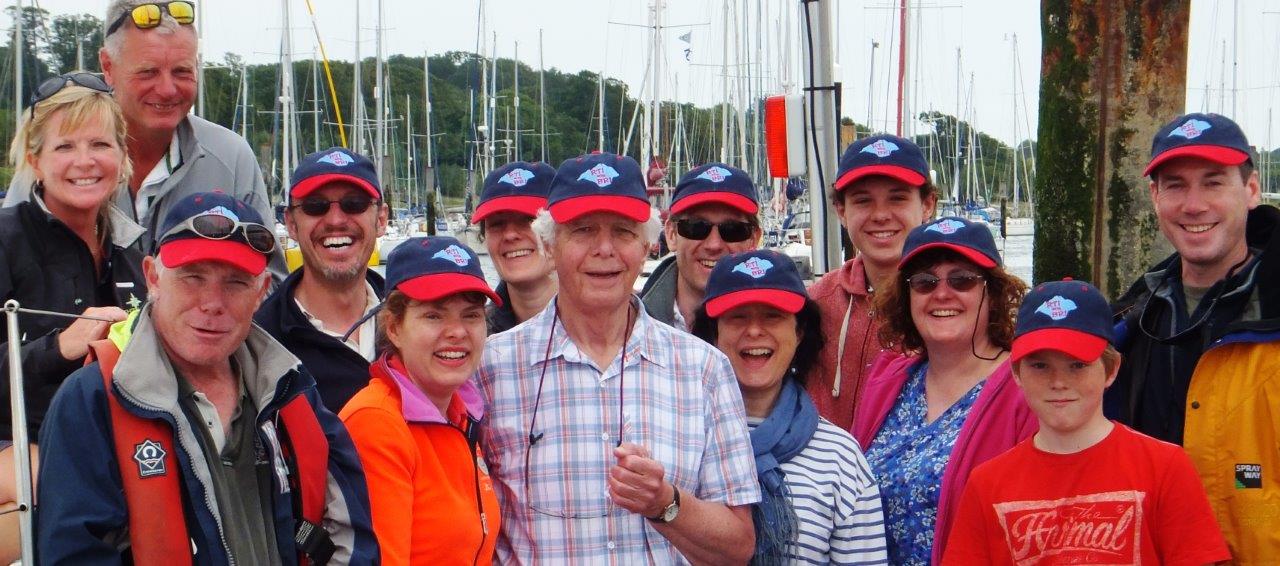 Brian Keys – Family Round the Island Race Adventure – 2015 – Bavaria 49ft. In Ruth's words,  "Ages ranged from fourteen to eighty, experience from nil to Yacht Master but everyone agreed that it had been "a wonderful day and certainly one to cherish".   Thanks to Louise and Andy the yacht finished unscathed – helmed over the finishing line by Brian, proud not only of that achievement but also of the family that had made it possible.   They in turn considered it "a wonderful day and certainly one to cherish" and concluded "thank you God, for sky and sea and wind in our sails".
Elizabeth Kelsey (right) – Cowes Racing Weekend 2015 – had this to say, " I had a fantastic weekend at the start of Cowes week, race training on Saturday and taking part in my first ever race on the Sunday. It was a great balance of learning, fun, and compet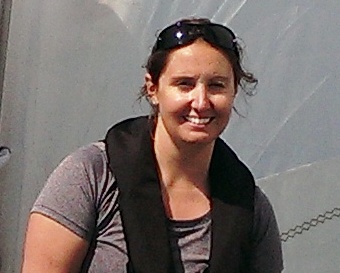 ition, and I'd recommend it for anyone interested in starting racing. And a great group of people, delicious meals on board and a fun evening out in Cowes… many thanks to the Yachtforce team".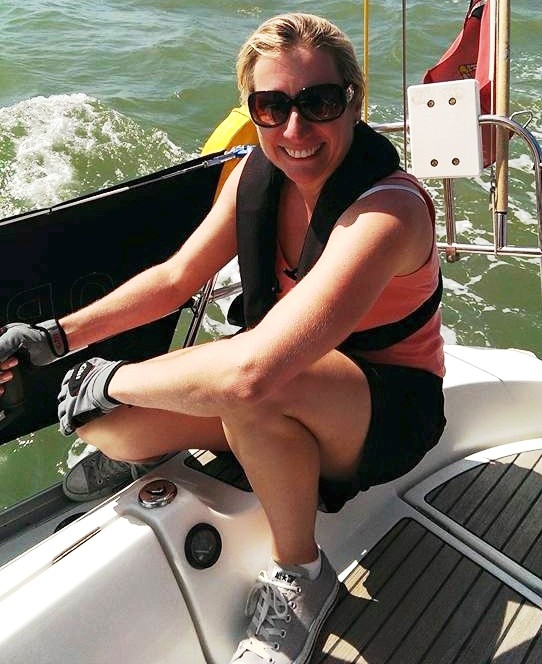 Natasha Warner – Cowes 'Practise & Race' Social Weekend  August 2015 – We went sailing with Yachtforce for the first weekend of Cowes. Had a fab time, Skipper and First Mate are really friendly and helpful and made me feel at ease after not being on a boat for a while and being more or less a beginner. The whole weekend was fun with practicing on the saturday and then racing on sunday. Such a brilliant atmosphere and opportunity to enjoy the racing first hand. I would definitely recommend this company for a good mix of learning and fun!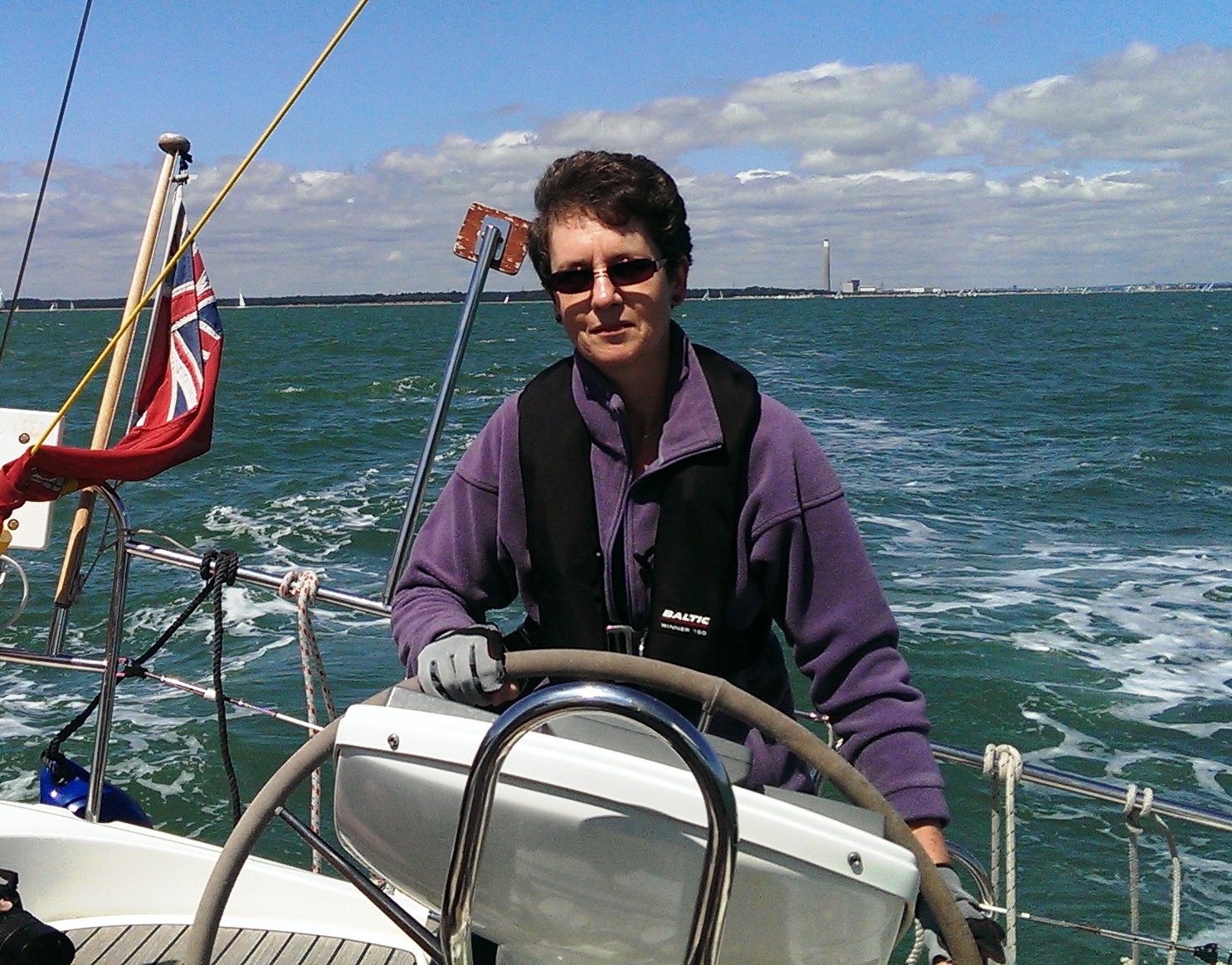 Judith Pearson – Social Sailing Weekend July 2015 –  "We have just returned from a weekend sailing with Yachtforce on the Solent. We had an excellent break with good company, good food, tuition as required and sunshine thrown in for good measure. The winds were kind to us and the team highly professional and safety conscious at all times. We were part of crew that had never met and were of mixed or no previous sailing experience. The Skipper and First Mate made sure everyone was content and participating as much or as little as they wanted. I would recommend this company without hesitation and am looking forward to my next 'fix' on the Solent."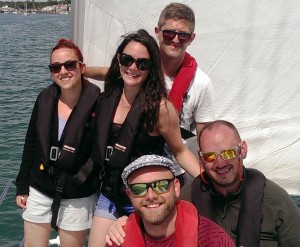 Amy Palmer – Surefoot Solutions Company Team Building 3 Day Event in June 2015 said, "We sailed with Yachtforce as part of our annual team building trip and had a fantastic time. The trip gave us a good mix of tuition and relaxing, with our Skipper & First Mate incredibly flexible and willing to tweak the trip to suit our group. 6 of us stayed aboard. We learned a lot, and laughed an awful lot. Would definitely recommend to anyone who is looking to bring a team together, or some fun as part of a group. I am sure we will be back again!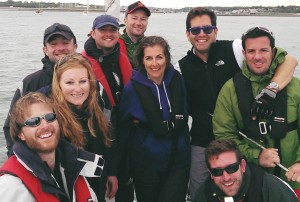 Alys Lewis – on a blustery RTI Race June 27th 2015 – said, " It was an absolutely fantastic weekend and I am really pleased I pushed myself outside my comfort zone to get through the other end  I will remember that weekend for a very long time and indeed we are all still talking about it, and thinking about doing it again next year. We may even be able to persuade a couple more of the girlfriends to come along next time so you may have even more screaming on the boat than just me. Thanks again for being our Skipper- we couldn't have asked for anyone better! Same goes for the First Mate Bruce too!"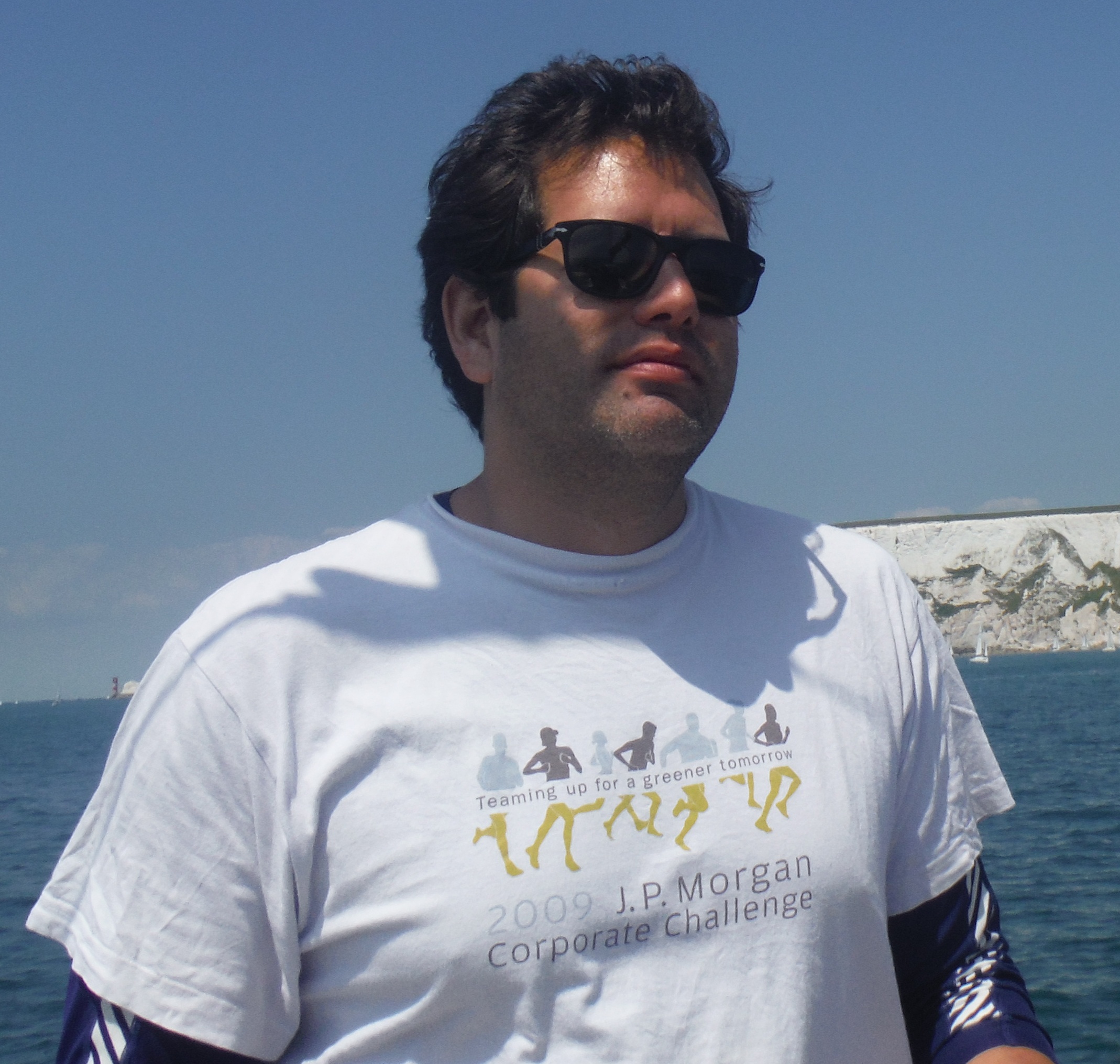 James Fox –  May 2015  Weekend – Race Prep Refresher for RTI said, "Yachtforce is excellent and by far the best yacht charter/training company I've come across. I've had the pleasure of chartering with them for Round the Island last 2 years and always impressed by their professionalism, safety, training, food(!) and more importantly humour. Very good fun and strongly recommend. James"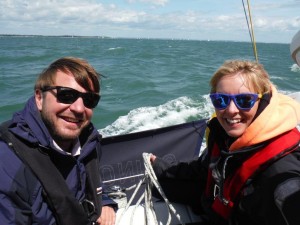 Justinian – July 2015 Private skippered Charter,  "Sarah and I had an utterly superb time with you and felt both thoroughly spoiled & well looked after all weekend, and once again, felt like we'd absorbed a lot of knowledge too, as well as having a good natter and a laugh (and a drink or two) with you guys – once again the perfect mix!"
And on May 2015 Teaching Weekend Justinian said, "Excellent, enthusiastic, & vastly experienced instruction, together with a laugh and a drink or two… A brilliant weekend, Thank you!"
Helen Tanner – Social Teaching Weekend – April 2015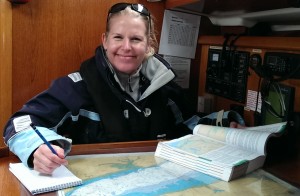 "I had a fantastic weekend sailing in the Solent. The boat, skipper & first mate were fantastic – experienced, fun, great hosts & gave me so much more instruction than I expected. I learnt a lot, which was unexpected, but added to the fun. And my fellow crew? – such lovely, fun people and I really enjoyed their company. I'd highly recommend it."
Best Bit of Your Event? 'Night sailing on the first evening to get straight into it – unexpected but fab'. Helen owns a Beneteau First 21.7 and sails in the Bristol Channel (huge huge tides!)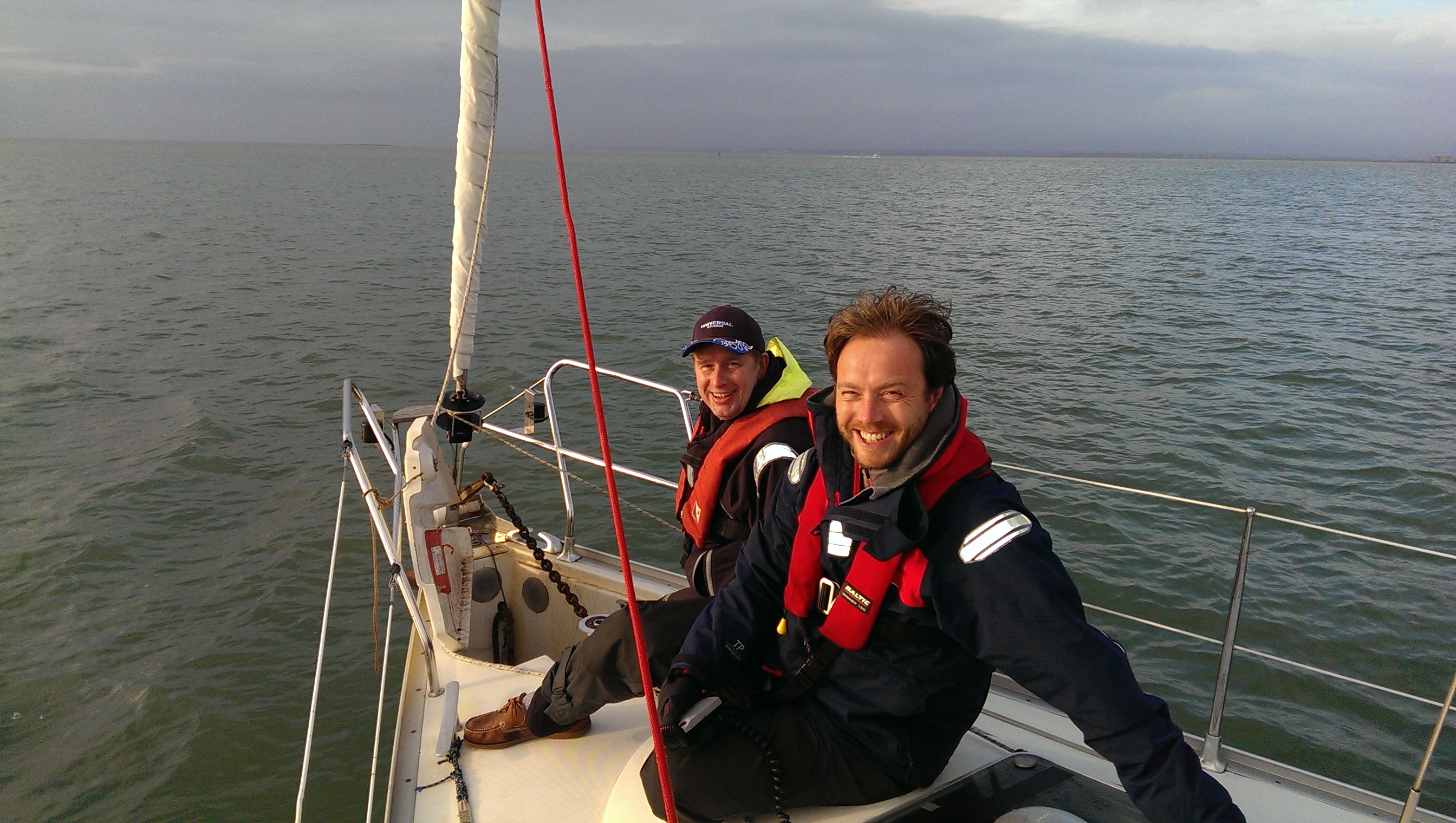 Rob Bourn – Skippered Charter Nov 2014
'Thanks again for another excellent weekend. I thoroughly enjoyed myself and leaned loads. I feel able to say that I now know what I am doing out on the water, almost. Still lots to learn though. We (All 4 of us) are very interested in the Greece flotilla next year so could you send me some details such as dates, costs, etc.'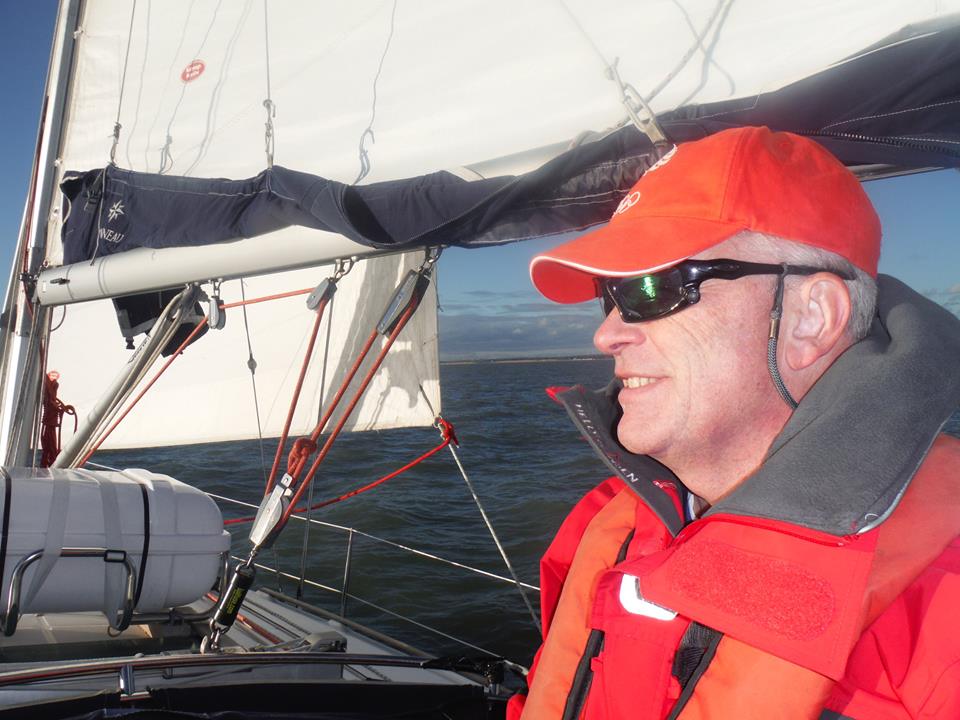 Solent Teaching Weekend – Oct 2014
'It was a pleasure to meet you and I loved the sailing weekend and will definitely be going with you again.
I do need to say a big thank you to you personally. I know you put a lot of effort in organising, feeding, and instructing and that was appreciated! Your efforts made it all work very well. I aspire to remember my lights as well as you do!' Simon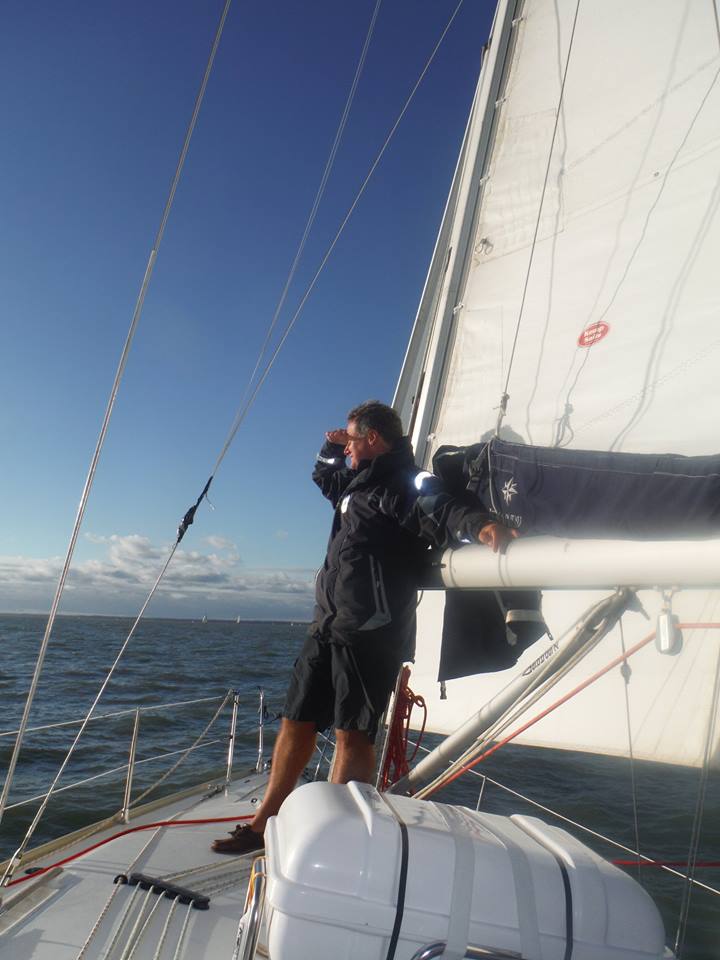 Social sailing Weekend –  Oct 2014 Steve Walker
'Just a quick note to say thanks again for the excellent weekend. I enjoyed all aspects of the trip and it was good to sail with such a lovely bunch of people. Let me know if you ever have any last minute openings on any of the trips as, if I am in country, then I would like to do more.' Steve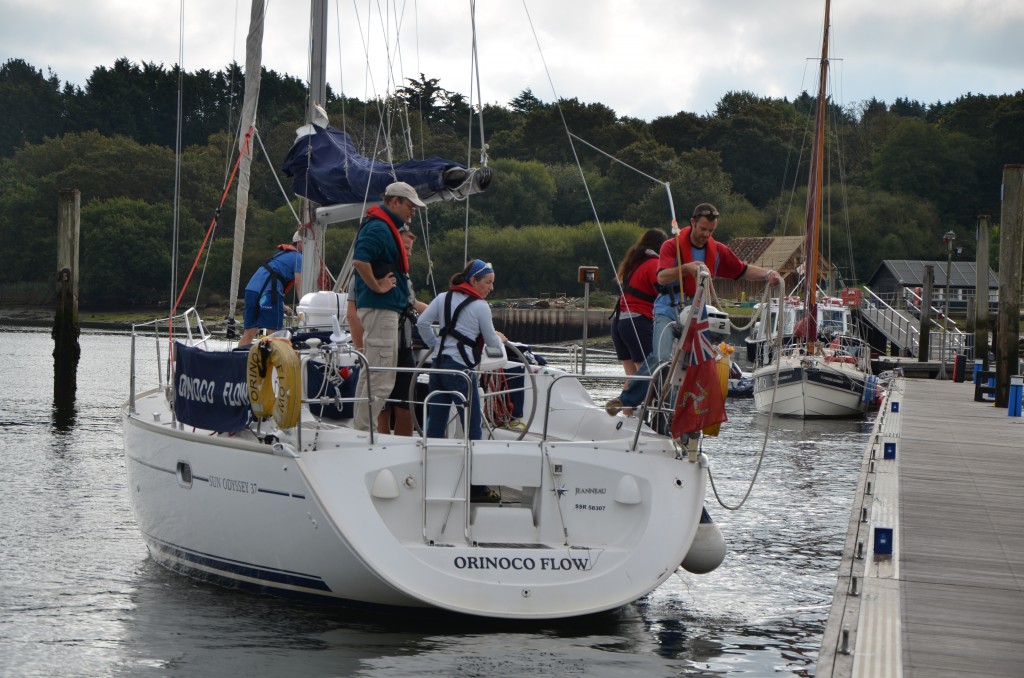 7 Day Channel Island Cruise – Sept 2014
'Graham, Big thank you for a great week. yes, having good weather did surely make a difference, however you and Louise are a first rate team and I learnt a lot.' Hazel Marcks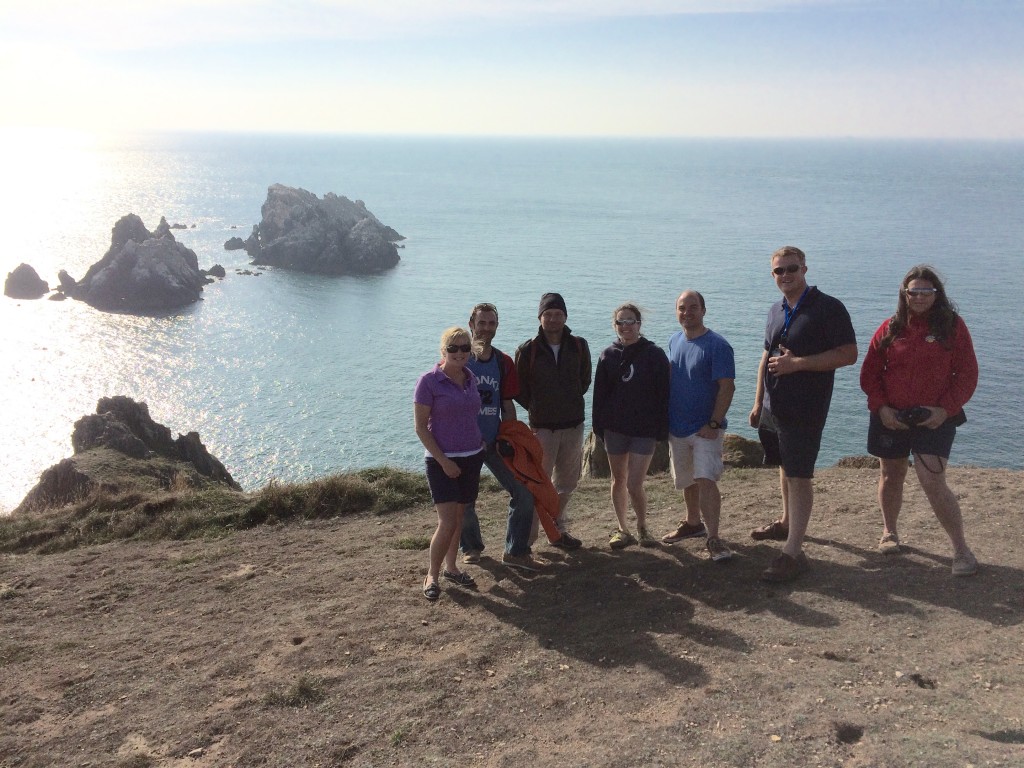 Channel Islands 7 Day Cruise
'Hi Graham and hi Louise,
greetings! Hope you are very well. I want to drop you a small note and tell how much I enjoyed our trip last week. It was really a nice time and good learning. Even days after getting off the boat I find myself waking up and thinking about tides and currents and wind and all.. 😉 Also I've just finished reading through your report, Graham. It is marvelous and a good reference for the next trip. Thanks a lot for writing it. It ends with "Scotland is nice in summer", what sounds very appealing to me. Have you ever sailed there before? Wishing you all a good time and the right wind, especially in Greece!
Mast- und Schotbruch und immer eine handbreit Wasser unter dem Kiel.. 😉 Cheers'. Thomas.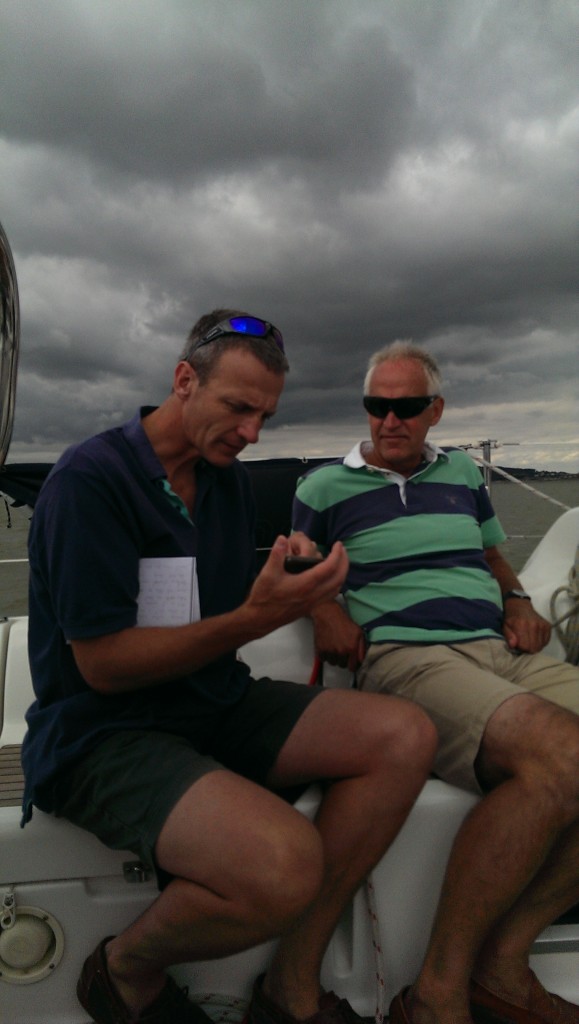 Patrick Stileman – Skippered Charter Training Weekend – Aug 2014
'I have just completed a weekend sailing around the IOW with Yachtforce – it was a really fantastic and eventful weekend giving us plenty of refresher training for an imminent flotilla holiday that we shall be taking in the Med.  The company and training was superb – it was a great refresher in which we covered a lot of ground (water!).  We were blessed with sun and Force 6 – 7 winds and it was great to practice heavy weather sailing techniques.  A top weekend all 'round.  Thank you.'
After an interesting charter in the Med Patrick and another member of his crew have now also signed up for the Fastnet with Yachtforce- check out what this entails her – Fastnet Info
Ryan Marianczak – Bare boat Charter Aug 2014, – ''Everything went smoothly which is testament to your planning and quality of the boat and equipment. Louise did a great job of the handover in/out and communicated well prior to the greet. V Good Value for money. From start to finish this was a great charter experience! Thank you to the team!''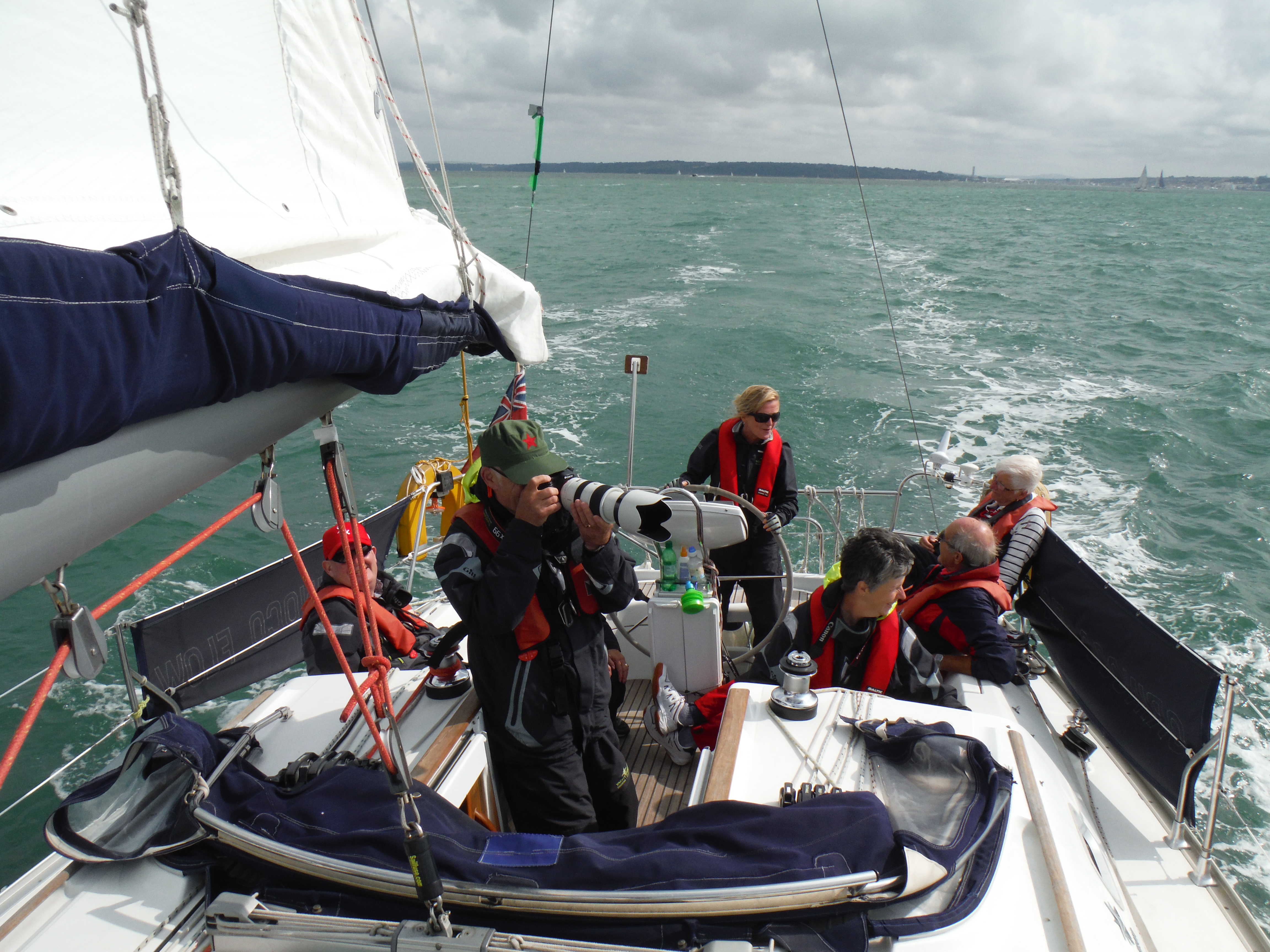 Anne Eckerslie – Berkshire Photographic Club on Cowes Week Regatta 2014 spectator day
"We all had an absolutely fabulous time, so thank you and Louise very much. We did appreciate all you did for us. We were looked after like royalty. We couldn't have had a better day at sea and just the right amount of wind this year. It was all fabulous …No, really it was all fabulous."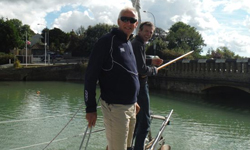 "Excellent value for money. Excellent boat. Very clean, well equipped and well organised. We had a really great weekend, and got so much more out of it than I expected. Buster was an excellent skipper – his instructions were very clear and informative, delivered in a relaxed, easy-going style. In just two days we practised a large range of techniques from night sailing, navigation planning, pilotage planning, anchoring, spinnaker use, reefing, MOB, and others. We had a thoroughly enjoyable weekend improving our sailing and boat handling skills."
Helen – who was on a skippered weekend for Yachtmaster Coastal practice – says, "Highly recommended for tailor made sailing tuition… best bits were learning navigational tips, especially at night. The Skipper was relaxed and very competent, good at teaching and genuinely cared about passing on sailing skills and knowledge. Boat – good standard/condition – heater and carpet amazing!"
"Thoroughly enjoyable learning and practice based relaxed environment provided by very proficient Skipper whom tailors learning and practice appropriate to own skill set. Many thanks, will attend again."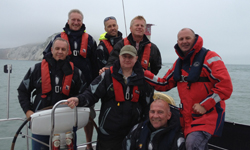 "Great weekend, Skipper Graham was excellent, will consider future events maybe a bit more planning to go to a destination and drive / fly back. Pre – event information from the Yachtforce office inluded very good detail of local area eatery's etc. The yacht was spot on."
"A great weekend with the skipper, giving us as much responsibility and information as each individual wanted."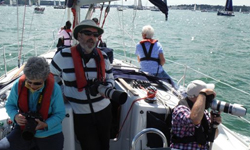 "I just wanted to say thank you so much for yesterday, it was just the best day. We couldn't have asked for better weather or experience. The experience exceeded all our expectations. An amazing day from start to finish – loved every second of it. Taking on a bunch of photographers with little or no experience of sailing was a daunting experience but Buster and Rich made us all feel welcome, extremely safe, and went out of their way to take us into the heart of the action to get that elusive shot!"
"Yachtforce were exceptionally professional, friendly and helpful. The yachts were of good quality and well presented. The shore staff were great. Good welcome pack with plenty of toilet rolls! Good value for money.  We were after a bespoke time from Monday to Friday and this was accommodated by the team. Friendliness and helpfulness of Paul, Buster and support team. Thank you for making our week so memorable."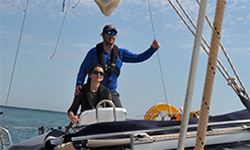 "Well, we were lucky enough to have the wind and the tide with us to spend a wonderful afternoon in Alum Bay where we could at last enjoy a lunch under sun, a swim, and last but not least – a dash to Yarmouth along some of the ships training for the Fastnet race – what a show!! Everybody can do it, you don't need any experience, you just need to be curious and to be willing to learn, or not – if you want the Skipper to do the job."
"Our Skipper Paul was great – patient, full of advice, great guy, always willing to share, always available, and his never-ending willingness to share small tricks…"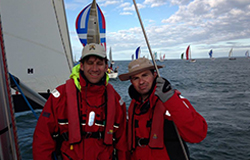 "Our best corporate yacht sailing event yet! Fantastic attention to detail and it all came together including the weather! Our fourth time with the Yachtforce crew. Excellent organisation, Skipper, First Mate and boat."
"Brilliant for beginners – and our clients loved it. "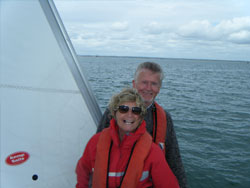 "Just wanted to say huge thanks for a fantastic weekend! Really had a great time and eager to do more sailing. Kaye's been in contact about Cowes week already!"
"Great time with a great team and a great event – really enjoyable and good value – try it"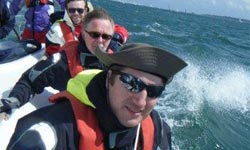 "Just wanted to say thanks for a smashing weekend – Peter and I thoroughly enjoyed Saturday's race, as well as the cruise yesterday. Eating a proper cooked breakfast moored up on such a lovely day was exactly the right way to relax after some hard winching! Best wishes and thanks again."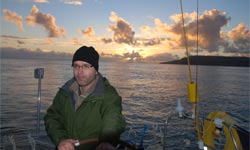 "Just wanted to let you know we had a really great time over the weekend. My team were really impressed by the trip. Tom is a really great guy and I think he struck the right balance between helping us out some of the time and leaving us to our own devices at others. It was a real pleasure to sail with him."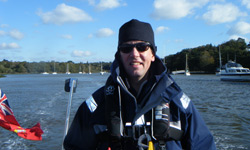 "Excellent weekend, something in it for everybody in a crew of all levels. The skipper pushed me out of my comfort zone in a safe and controlled manner, buzzing for a week afterwards. Fabulous food, good company."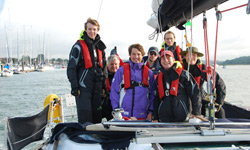 "A superb mix of 'racing' and social made for a hugely memorable weekend for all the right reasons. The well maintained and equipped Orinoco Flow carried us from The Hamble to race on the last day of Cowes Week, … we were thrilled to be taking part and had every confidence in our skipper, Buster, and mate, 'Paulo', whose excellent sailing skills were matched only by their culinary expertise. Absolutely loved it, thaaanks!!"
"Just a quick note to thank both Paulo and yourself for giving us such a great experience. Your appropriate approach to learning was just right and it added to what was a wonderfully balanced weekend of friendship, fun and 'finking'!!"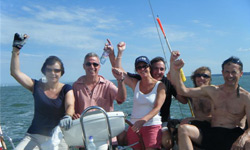 "3rd time on this yacht, this time at Cowes 2012. A great weekend. Buster is a great skipper and host, happy to pass on as much of his knowledge and experience as you are able to absorb, but he is just as happy if you just want to sit back and relax. Looking forward to being on board again soon."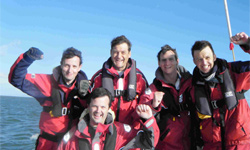 "We had an awesome day with two expert skippers in tough conditions racing matched Dufour 365's in the Solent. Who would have thought you could have so much fun in driving rain and a force 7? Typical British summer day in July! Thank you so much." (Photo at the end of the day – when the sun came out!)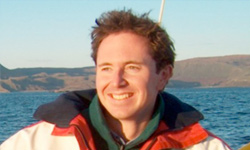 "Five of us rented Orinoco Flow over a blustery weekend in September. This well maintained and equipped yacht performed beautifully in every respect and kept us comfortable even as we had 31 knots of wind across the deck punching through wind against tide conditions in the western Solent.
The professional image that Yachtforce gave on their website was carried through in every aspect of the booking, handover and post-event procedures. The staff were a pleasure to deal with and shared their knowledge generously. Altogether a great weekend – Yachtforce did us proud."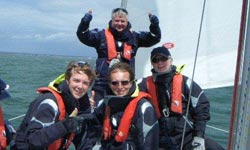 Excellent performance this year coming 171st overall with an inexperienced crew in blustery conditions. Fantastic fun up the beat – especially so close in to Ryde sands! … and we had got to grips with the tacking! We were really pleased with the way everyone pulled together making for a fantastic weekend of sailing… a bit of exciting racing… great food, great company and a really cracking sail on the Sunday! Skipper and first mate were absolutely fantastic!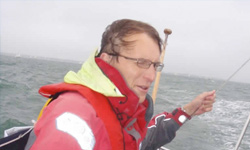 "Thanks again for a great weekend, it seems we came 251st overall, a great result. Please pass on regards to David and Amy, my 5th …and best boat I have done the RTI on, very tempted to book 2 places for next year if you are competing. Have a great summer! Cheers Simon"
Simon came back again with his son last year when we came 171st overall…
"Great Buster, Thanks! Another fantastic weekend…Cheers Simon"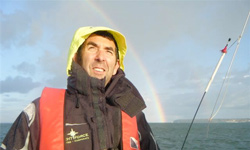 Thanks to Buster Nixon and all the crew at Yachtforce Charter for a simple handover and great weekend charter. Mixed bag of weather… loved the excellent new wet weather kit for the showers and occasional breezy times touching F7… superb boat, so clean and well presented. The binnacle chart plotter and instrumentation was a real bonus – so was 'George' the autopilot for short handed sailing. I enclose a shot of sunset on the Beaulieu River for your use. We'll be back!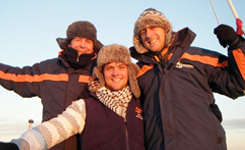 As Rich said – centre of photo – "Wow… Fantastic winter sailing on board the most comfortable and well equipped boat. Even in the depths of winter in January with clear crisp days and a starry but brisk -5'C at night we were toastie warm with the very efficient diesel heater."