Croatia  Sailing  Holiday / Trip in October 2020
October 3-10th 2020

Croatia Sailing Week – from ACI Marina Split
Price from:    £899 + Flights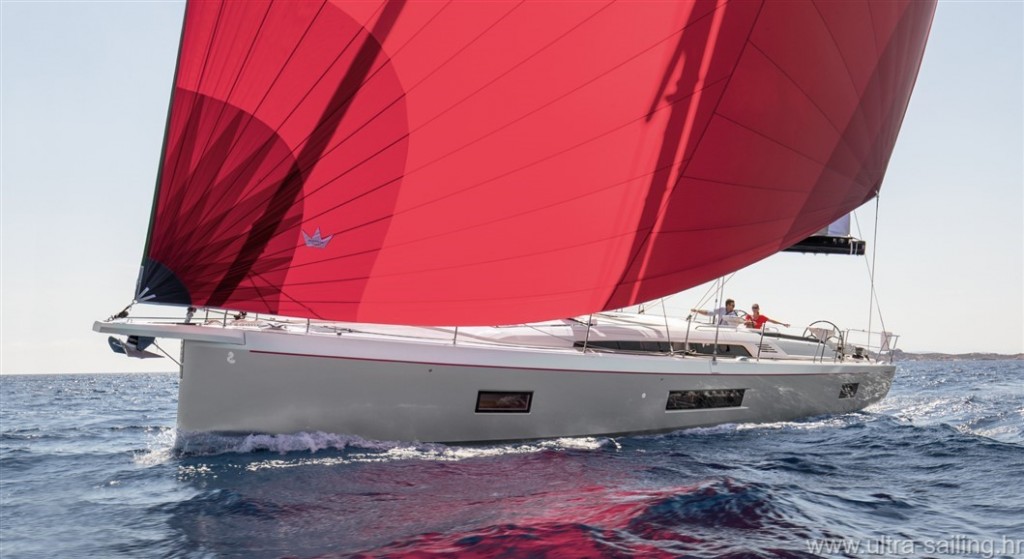 Croatia sailing in early October for a great fun time holiday in good company with warm winds and great sea temperatures. This is a fantastic opportunity to have a bit of late sunshine in the Med,  top up the tan along with learning new skills, develop your  existing knowledge on larger boats and adding some mileage to your log book. You will add approximately 150 Nm to your logbook.
The emphasis is on fun and learning with formal 'teach in' sessions every morning. You will visit and see a host of different Croatian Islands and lovely ports with a ready made social scene aboard this luxurious 51 foot modern cruiser!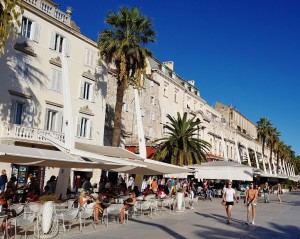 We start from Split which is just an absolutely stunning location with its fantastic architecture and historic old town dating back to Roman times and beyond. It just history everywhere. If you have the opportunity it is definitely worth while coming out a couple of days early to look around. The bus from the airport costs 5eu pp and comes right to the port in Split- it takes about 30 mins. A taxi for 3 persons costs 250 kuna or about £30. Airbnb does some great clean rooms close to the old town for about £50 per night for 2 people and food / eating out is about the same price as UK. The minimum wage is only just over 500eu per month but prices seem to be on a par with UK prices.
'Buy A Berth' Take a cabin or berth aboard our fantastic 51 ft large yacht with Skipper. They have  5 cabins, (4 doubles plus a bunk bed cabin with an additional 'Skippers cabin' accessed through the fore-hatch with 4 toilets / showers) and give great space aboard for fast comfortable cruising in warm sunny climes. These are cracking boats and if you haven't sailed a big boat before you'll be amazed at the space – the deck height head clearance and big cabins.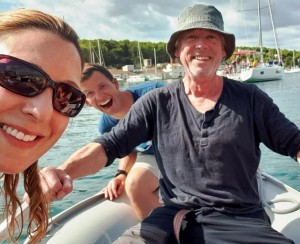 Excellent tuition is available all week in a relaxed style, practise your passage planning and a bit of navigation, act as 'skipper on-board' the boat but under guidance – or just kick back and join in the sailing elements when you want to. We take any experience level on this trip and we try to keep the saloon areas clear using just the cabins so that there is plenty of space aboard. We aim to have 8 clients on board a 51 footer.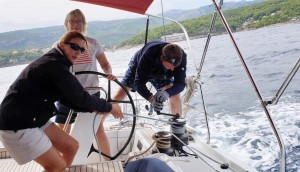 First day would be a  shake down sail with a maximum 30 nm so nice easy relaxed stages and nothing too fraught so don't be put off by the thought of constant long passages.  We make sure that we have time to relax each day so there is plenty of time to relax and swim etc. and we try to stop every day for lunch and a chance for people to have a quick dip. We tend to anchor in a secluded bay and take a long line ashore. Lunch is prepared whilst the team takes to the water! The water is fantastically clear and around 23'C.
We have a great lunch and then carry on sailing for another couple of hours sailing to our destination. It may be a mooring buoy at a restaurant, the local quay or it could be in a marina that have good shower facilities. We use the dinghy or the local water taxi to go ashore if we are moored on a buoy.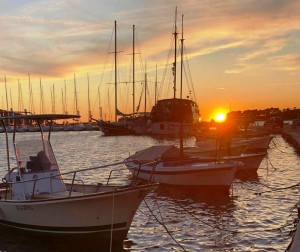 Fantastic scenery and great fun sailing in good company.
Price Includes:
50 ft Modern Yacht
Bedding / Duvet & Pillow
Professional Skipper
Excludes: 
Flights
Transfer to Marina Rtn – (shared Taxi or mini bus)
Boat Kitty 140 eu equivalent –  (for basics like lunch / breakfast / mooring fees / fuel / G& T sun-downers / cockpit snacks)
Towels 5eu
Tourist tax 10eu pp
(Each member of the crew will be liable for an equal share of the returnable damage deposit for the boat that Yachtforce has to put down – However, just to say, that we haven't paid more than £90 in damages! This deposit is to ensure that everyone looks after the interior / exterior of the boat and all the inventory items aboard)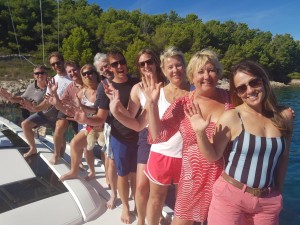 We have limited availability on this trip for singles (with sole occupancy)
Email us on info@yachtforce.co.uk