Around the Isle of Wight – 60 Miles – 16,000 People, 1,700 Boats!
The last couple of years events have been later in the year – always falling at the end of the month of June – this years event is right at the beginning! 1st June 2013!
Whether it will make it at all less windy this year we do not know but come heavy winds or light airs – this event is just the most amazing spectacle with over 16,000 people taking part, approximately 1,700 boats competing from the huge great round the world yachts, super fast multihulls right through the spectrum of race specific boats, the average family cruiser right through to old fashioned gaff rigged traditional ('trad') boats. If there is ever a race to be involved in – then this is it!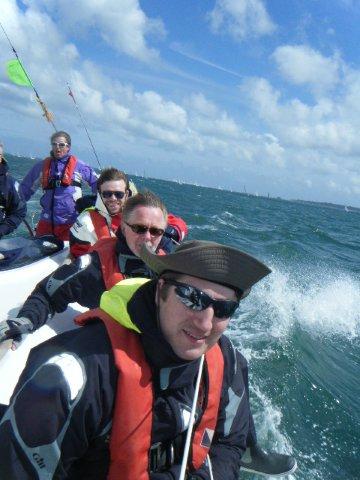 Every year Yachtforce puts in a number of boats into this most fantastic spectacle and it is an absolute ball. We have corporate clients taking a complete boat with skipper and first mate for their company and guests, and individuals taking a 'berth' aboard one of our other boats. We have some events that include the Friday as a practice day giving people a bit of time, training and understanding – and one where we take our 37 ft cruiser and meet on the Friday night for those short on time… meaning a bit of an 'in at the deep end' experience… but we have managed without dramas!
The event is well sort after – but always give us a bell or drop us a line just in case we have a cancellation like last year! Anyway, we will put you on our mailing list for next year or offer you alternative race experiences throughout the season and let you know of the latest events and socials.
We try not to take it too seriously – but a race is a race!
Even though we may be onboard a cruiser, a large 46 footer – or a fully race prepped boat we all race amongst the same type of rated boats in our own class so you compete with those around you – in the same class and division. Obviously the difference is in how regularly the crew races together… and some are pretty slick! But in this Round the Island Race event there is a huge diversity of standards and many that have not raced before… some who have never even been on a yacht.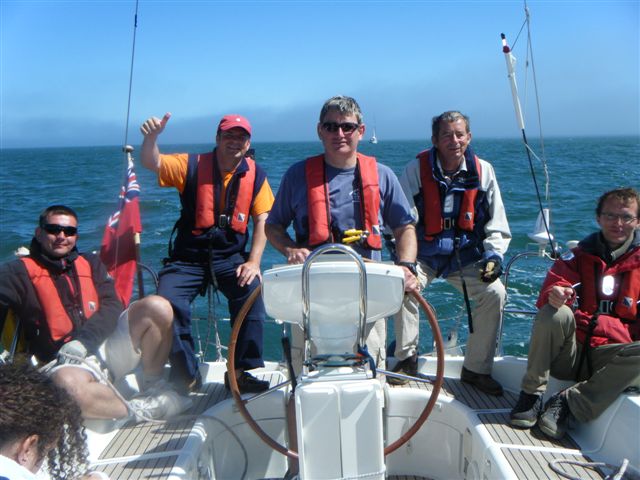 Everybody is encouraged to get involved and there is much work to be done on the winches and trimming the sails. The trimming is constant, the close proximity to other boats very exciting and in windy conditions it can be pretty tough work. At the end of the race day you may be exhausted but you will be exhilarated – it is an absolute blast! We can track our progress using smart phones and people at home can see exactly how we are doing relative to the others and where we are on the course on the computer back at home! Friends and family are encouraged to watch!
If you are there for practice day on the Friday you get some useful time to know the ropes and get to grips with your particular yacht. Friday evening is spent getting to know your crew mates better with a spot of grub and a couple of drinks – then early to bed for an early rise! The race starts early morning on the Saturday from about 6am – 7.30am and generally we would be moored up on the Medina river at about 4.30 in the afternoon depending upon your start time, size of boat and amount of wind… and the last couple of years – in the sunshine! Enough time to chill out and have a couple of drinks once safely along side before taking to the shore to enjoy the ambiance of Cowes and the festivities! On the Sunday we give everyone the opportunity to helm and do some more relaxed sailing getting back to the home berth on the Hamble at about 4pm.