Cross Channel Yacht Sailing Cruise  in October Half Term Anyone? Our next channel hop 5 day yacht sailing cruise across the channel will be October 21-25th £549
Our last Cross Channel Yacht Sailing Cruise was to explore Normandy by yacht and electric bike. This was a slightly different trip with an emphasis on relaxation with some down time for the Skippers and Mates!
The planning was all about arriving in France for meal times. The thought was get across to Normandy and if we can grab a day exploring further inland then we should give that a go!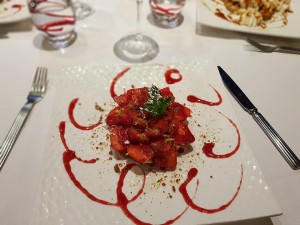 Just 4 of us went on a Cross Channel Yacht Sailing Cruise to Normandy by sail. It was to be a mixture of fun and relaxation. Relaxation for Buster perhaps as he left the planning and sailing down to both Chris and Stu ably assisted by Ronnie.
We visited Buster's favourite restaurant in Cherbourg and had a very pleasant dinner. We then had to make the decision to go down wind as it was a tad breezy and the waves were large. Any attempt to get to Alderney would have been punishing!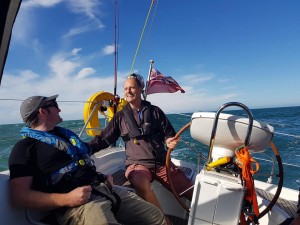 We got 'whooshed by the tide' down past Pointe de Barfleur and the lighthouse on the headland. The tides were giving in excess of 140% of the mean spring so there was one substantial tidal flow! The weather was great and it was pretty breezy.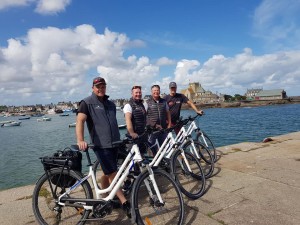 After an evening in St Vaast and another pleasant meal we decided not to get the early tide but have a 'jolly boys day out' and Chris went off to hire some bikes (15 euro half a day) so that we could have the opportunity to explore some of the Normandy countryside and take in the views.
What a  great shout. The 10 miles out to Barfleur was an absolute breeze. These electric bikes have a range of over 50 miles and though they look a bit 'sit up and beg' they are very effective and easy to use! The weather was perfect with light breezes and the traffic was very light and passes at a very respectful distance when overtaking the bikes. The villages we visited were immaculate and we remarked how unbelievably clean everywhere was. Exceptionally well maintained.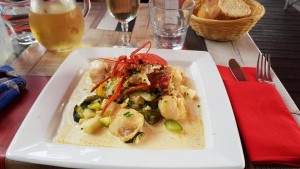 We had a great meal in Barfleur with pleasant relaxed service – more of a late lunch as we tend to stay on UK (boat clock) time but a very reasonable 17eu was all it cost for half a lobster with king scallops! Absolutely delicious.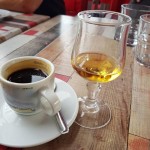 We do like to support the local economy so we had to partake of coffee accompanied by a local apple brew just to appease the waiter who felt coffee alone was not possible.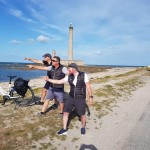 Post lunch we ventured further North to explore and climb the Pointe de Barfleur lighthouse (3eu entry) also known as Phare de Gatteville.
It is 75m tall – meant to be the tallest in the world – and you get the most amazing view from the top. There is a small office that sells entry tickets and the occasional cap souvenir etc. Now this is well worth the visit (if you do not mind heights) – and the walk up the 365 stairs. From the top you can easily see the extent of the overfalls and tidal race around the point with views right across the Bay de la Seine and west towards Cherbourg.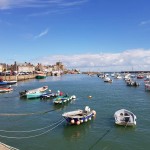 The route back to St Vaast is very pleasant along minor roads with low traffic levels. You go through the pretty village of Gatteville which has a stunning church. Alternatively you can take the coastal route but you end up pushing the bikes along some of the path through some patches of soft the sand – it is perfectly do'able but it just does not 'flow'.
Using electric bikes they whip along at 25km per hour (limited electric assist at that speed) so a very pleasant 40km round trip does not take long.
If you want to see more about our cross channel sailing trips, channel hops and west country yacht trips then please check out this page here for dates more info and pricing.