You may have wondered who it is in the Teletubby outfits… Here we have our very own version of Tinke Winky & Dipsey in a bit of sunshine and (warm)…
Now the boys had been dreading this…. Sub zero temperatures had racked the UK – snow on the ground, huge amounts of wind…. just the right sort of weather for hauling out yachts and getting to grips with icy fingers and mucky jobs!
Rich & Dougal had manfully volunteered for this one… shouting "Yes Please… Please let me out there in just 2'C so I can spray water, clean weed off, sand down and scrub decks til my fingers drop off like frozen icicles. Let me at those smelly bilges shouted Rich & Doug's, let me sort out the deep clean, polish the hull holding that power polisher above my head for 5 hours a day and lovingly apply the antifoul trying not to completely contaminate my clothes or car!"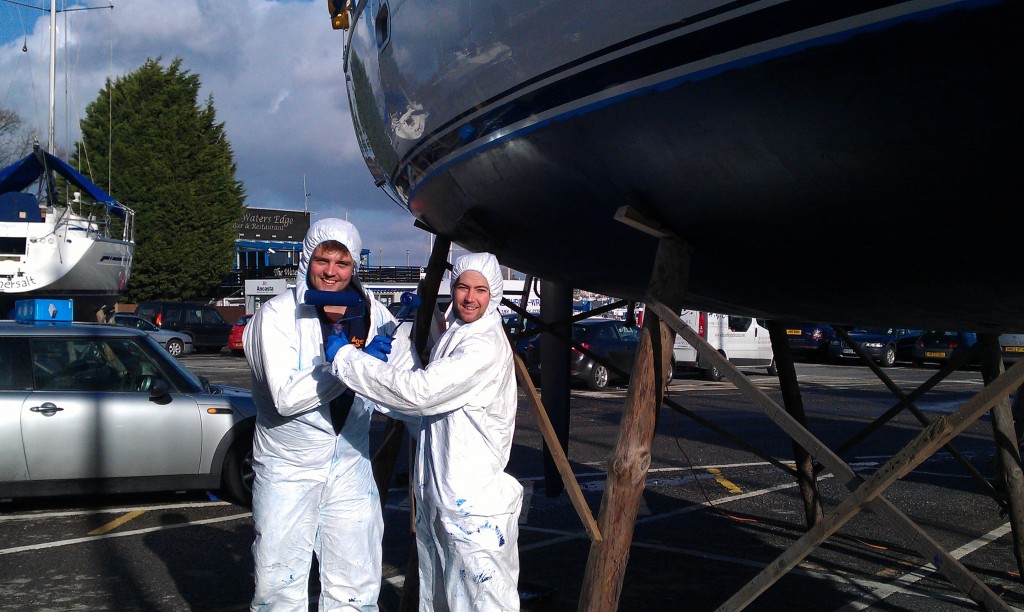 That's the problem with Yachts… hauled out and ready for care and attention – it was only the weather that was letting us down! As soon as there was a weather window and the temperature rose to 8'C the boys were at it with a bit of slip, slap, slop over that lovely bottom! They did a good job too with two days hard graft on hull polishing bringing up a fine lustre, new boot line stripe and well applied antifoul. Though the job was held back we got this one back in within 2 weeks… all the usual… plus new prop shaft.
Thanks to boys helping out and the maintenance team for their speedy work.