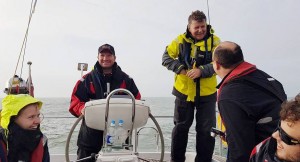 The truth about winter sailing in UK waters
Distance cruises and mile -builders in the winter… It takes a special type of person to want to go sailing in December in UK / Northern France waters but there are loads of positives to winter sailing and to be truthful in some ways for the Skippers, a lot less stressful.  Don't dismiss it – it is one hell of a learning experience! You learn more in the winter!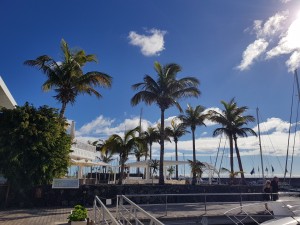 Many think of idyllic sailing as beautiful blue skies, warm winds and warm waters with remote bays to anchor in and places to explore ashore grabbing a bite to eat al fresco sipping an ice cold drink overlooking lapping waters – you get the picture… great thoughts but rarely achieved.
Winter sailing however, has great benefits and many Skippers prefer it.
The Booking / Non Booking Scenario
Many skippers find peak summer season stressful. It is true that you need to have to plan your destinations 2 days ahead and sometimes have to book your marina space more than 10 days prior – and that includes the Med! If you are on a 'turn up and find a spot' you have to be in  by 3.30pm (and in the Med that means missing the best (if any wind).
Parking can be stressful and the harbour berthing masters want you to be parked quick and efficiently as there could be 20 boats on your tail… you can unfortunately end up rafted on the inside with 3 yachts outside you and you need to leave at 5am… while the others yachts are fast asleep. Or worse still have to move to let some one out at 3am if you are on the outside!
People don't realise that we even have to book restaurants at least a few days in advance when sailing with groups. It is constant logistics and not easy not knowing the latest forecast or how crew are reacting to conditions.
The Crowds & Concerns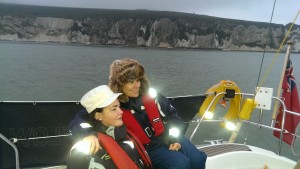 If you are in crowded waters such as the Solent – though brilliant for teaching and learning because there is loads going on from a teaching perspective – it is so busy meaning that you have to know your Colregs off by heart and the skipper has to decipher what every numpty is going to do if the other boat doesn't abide by Colregs…
Even the Skipper grabbing time to have a 'comfort break' can be challenging when teaching beginners as h is always worried about collisions… best to anchor and get the anchor ball up pronto so you have time to relax for just a moment.
Anchoring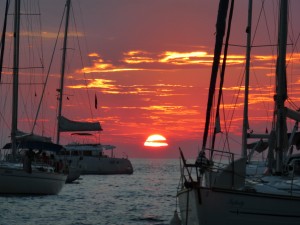 Anchoring in the best spot? Never get it in Summer do you? Not if we are teaching as we always make the best of the day and arrive after the hoards. It can be crowded and difficult creating stress.
I spoke to friends of mine that anchored in Studland Bay one Summer past. There were only 5 boats out in the bay at the time they anchored and they made the mistake of not plotting their position on the phone as a fall back position. They just didn't think.
They went ashore by dinghy in the light thinking nothing about it. They did a long coastal path walk and came back from their walk after a very nice pub evening meal and set off to find their yacht in the dark in their little dinghy… they couldn't find it through all the boats. It was just hundreds of anchor lights and pitch dark with no moon!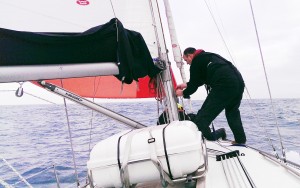 After an extensive search going from one light to another of over an hour and short of fuel for the outboard they ended up going ashore and checking into a B&B and coming back in the morning after breakfast! That was the last time they didn't attach a glow stick or cockpit lights to differentiate there yacht from over 130 that had arrived to anchor when out walking – or take a fix on their phones!
Winter Sailing – The Stress Free Scenario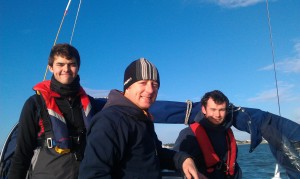 Winter sailing on the other hand can be a real joy.
It may be cold if wind is from the North and even a frost in the morning but with a polar air steam we generally get dry fresh weather. Clear crisp blue skies – and great wind for getting further west to Devon or a great kite run to Normandy or an asymmetric to Guernsey. We generally wear thermals and ski pants under wet gear when on deck. Waterproof gloves are great with the occasional hand warmer!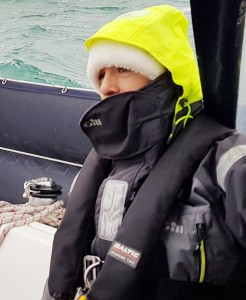 Westerly air stream gives moist weather but warmer with temps about 8 and 10'C. With good kit it is great.
The diesel heater literally means that you can be in shorts and tee shirts down below on off watch periods. You do need to be able to function below decks though – so take the tablets.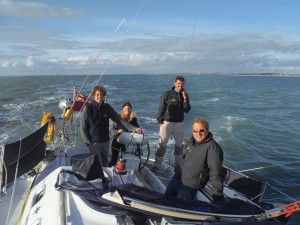 We run shorter watch periods on passages depending upon temperatures.
The boat has electric heaters for when we are tied up.
Skippers can relax knowing that there is very little out there for people to run into.
Every port is available and we get the choice of berths close to the facilities.
The marinas are all on winter fee schedule.
We can get into restaurants / pubs without booking.
Proper pubs have roaring fires!
There is no stress on parking – as there is no rush and we can teach people with no external influences.
We are alone in anchorages and get the best spot.
No audience as we teach you berthing / anchoring manoeuvres so less stress.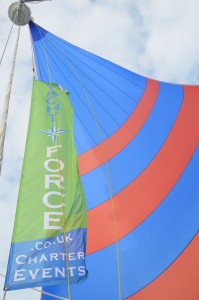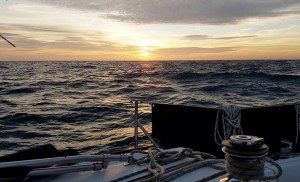 It is dark for a lot of the day 4pm – 7am so you get loads of night hours. Never underestimate the need to be able to sail and skipper effectively in the dark.
Reefing in the dark.
MOB in the dark.
Sailing / steering a course in the dark. Using the stars. Using the moon. Using the light of the tricolour light for sail angles.
Buoyage / light recognition – not just once but day after day so you absorb sequences.
Dark landfalls.
Foreign port land falls in the dark.
Strong winds and planning and executing sailing accordingly with a balanced sail plan safely make for indispensable sailing skills. Possible use of the storm jib and 3 reefs.
Daylight spinnaker / asymmetric kite when conditions allow. Easy because there is no – one around.
Dinghy and outboard engine use / transfers.
Passage planning / light sequences / pilotage
Overall on a 7 day trip clients have more autonomy as the Skipper does not need to be right on top of them and they learn shedloads.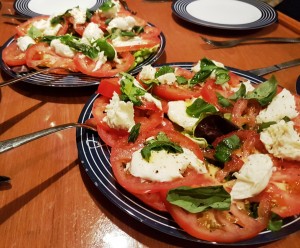 Buster is generally Skipper so you get great food. We often have a joint of slow roasted lamb during the winter months accompanied by a good red. A good malt whisky in a real crystal glass to finish off the evening.. when tied up safely of course.
Next Availability December 2-8th 2019 – (7 Day Trip)
Mercury Yacht Harbour – Hamble SO31 4HQ
£699
Buster is Skipper and Chris First Mate on the 7 day cruise 2-8th December. We would love you to join us and the food will be great. We can fit a single person or 2 sharing. Discount for 2 sharers.
You get really useful tuition and learning. Proper sailing with proper skills cementation.
Let us know if you are the type of person that is keen on this type of experience.
Ring 02380 016450
Email Us Here: info@yachtforce.co.uk
MORE DATES HERE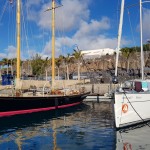 Alternatively – if you fancy a week in the Canaries or Croatia – check this page out