What an action packed weekend this was! We had 2 boats on this particular event. It was just a great, fantastic, full to the brim sailing weekend covering loads of different aspects and with a huge ambiance to boot.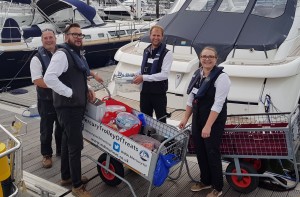 We started off at 6pm meeting the clients at Mercury and no sooner had we settled in and were having a briefing when the very nice Marina Staff at Mercury turned up and offered us all a drink from their 'Pontoon Trolley'! It was 'Meet the Manager' night and they were doing the rounds and keeping everyone very happy – they even allowed the Skipper to put a beer in the fridge for later!
We were going out that evening for a very quick practise before the last race in the Cruiser Class on Saturday and to watch the Cowes Week regatta Friday night fireworks from a distance, once of course, we had done some necessary practice tacks and gybes!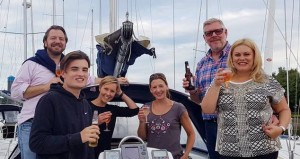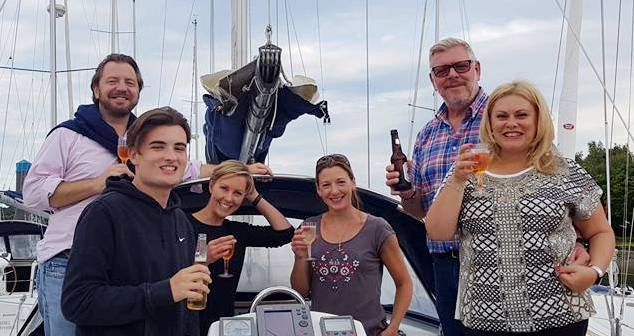 A fantastic, well timed, excellent meal from our super efficient First Mate Vikki and we were off down the river, sails slickly up before the Hamble South Cardinal and then a frenzied necessary practise session of 'tack,  tack, tack',  get those 'Ninga Arms' working ( they are but a mere blur due to the speed of action) and a couple of gybes and easing sheets, practising 'big ease' on the main… all whilst it slowly merged into twilight and the darkness descended. Then, right on cue, the Fireworks burst into life and we put the genoa away and relaxed for a while and enjoyed the show.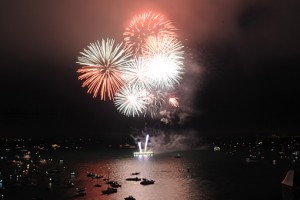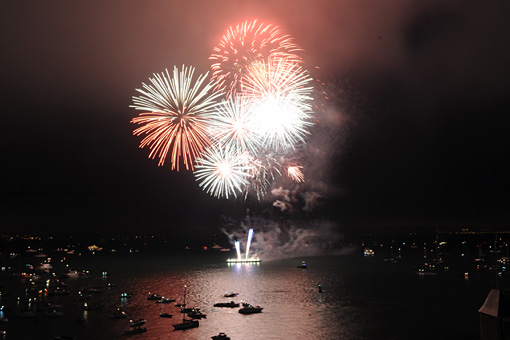 And what a fantastic display it was too. Soon we were back off down the Hamble River staying safe away from the roaring powerboats flying past and ended up tucked up in our berth in Mercury so finally we could have a couple of drinks, relax and enjoy our pudding, our cheese board and a wee dram -and very nice it was too.
With an early start Saturday morning to get across to the correct Cowes Week Regatta Start line (it was Royal Yacht Squadron line this year) we keenly listened out to try and get the course info on the VHF (you only get them 10 mins before the start so you have to do some mad plotting and basic Nav in very quick time – that, or follow the boat in front!) but we managed to tune into Cowes Radio who were confirming all the start times and course 'read outs'.  We dodged the boats on the line and all the traffic coming in / out of Cowes Roads whist our 'nav men' took on the task and we saw that we were in a downwind against the tide start.  Downwind starts always seems like a bit of an anticlimax due to the quiet nature of the  apparent wind and all the tension and build up prior until you have some space but we negotiated our way out the tide as best we could and took it in turns to helm sitting within feet on the backside of one of our competitors literally just meters off our bow whilst we stole his wind. We made it to the leeward mark taking the course over the shallow banks and rounded up – and then we got hard on the wind.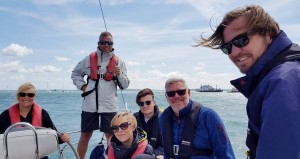 This is what everyone enjoys – the apparent wind comes up, the tide lifts you, you heel over and we were fully powered up with full rig up. We shot up through the Solent back towards the Shrape and looked to see the building 'cu nimbs' (big powerful clouds) further west coming our way. There was a bit of rain in the distance so we donned some jackets (I heard later Paul who was Skippering the other boat put trousers and boots on too!). We had our course and we were hard on the wind when the squall came through…
It was nothing that our crew couldn't deal with, but difficult to hear each other over the noise in the rig and the sails. We had to dump the main and sail as best we could on the genoa to maintain some steerage. Visibility was down to 50 metres and the rain was horizontal and we needed to keep clear of all other boats and shipping as we were approaching the MPZ. The wind was now a full on Gale and it was providing a tad of excitement with a certain degree of heel. All crew were calm and collected and able to respond and worked well as a team as well as hanging on and staying safe. The wash board went in, the boat moved so we could steer and we all got slightly wet but nothing untoward! It seemed that we were in the midst of this squall for a while but I was later told it was just under 9 minutes… all very exciting for the beginners on board but they did very well.
The rain cleared and the wind abated and we could see where we were. Many boats had turned and run in retiring from the race and the Solent was cleared of boats apart from those racing. So, in true British tradition we ploughed on with the race knowing that even if we came last we would get a position – the only problem was that we had overstepped our mark and now had to sail down tide to get back past it. That took a long time to fight the tide… still we got down there, back up around the mark and on our way across the finish still racing the same boat that we had been on the start line! He overstepped his lay line so we satisfyingly nicked in underneath him on the finish.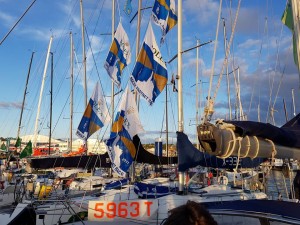 We then headed for the scrum to berth at Shepards Wharf Marina closely following 'Galadriel' our other boat into Cowes to berth in the inner pen which was crowded with all mannaer of super carbon, deluxe, 'go faster model stylie', Fastnet boats of all nationalities. There were French, Belgians, Swiss, Germans and Dutch right behind us. It made for a very cosmopolitan atmosphere!
There were a few drinks to be imbibed, some town exploring to be done, some music to be listened to and a group meal secured at a vary reasonable time of 8pm. Cowes was alive and kicking and the atmosphere was absolutely fantastic and a good night was had with an occasional late night for some of the crew.
The next morning, with some people a tad worse for wear, we luxuriated in the knowledge that we didn't have to leave the marina until quite some time later. However, the rest of the world behind us was chomping at the bit. They had the tide to catch, the Fastnet Race to prepare for and were desperate to get going. So, we moved our boat across, shuffled a few here and there, and got the fleet behind us out and about. It gave time for the lunch to go into the oven so that we could concentrate keeping out of the way in the exclusion zone ready for the Fastnet Race Start.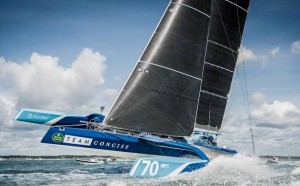 The most amazing, powered up, close encountered, close misses, nerves of steel fleets were right within feet! How they do it just amazes me! Hairs just stand up on the back of your neck at the sight of it! And there are thousands of people on the Green in Cowes spectating from a distance – and we are so privileged to be right at the edge of the exclusion zone literally within a boat length of the fleet! It is simply fantastic!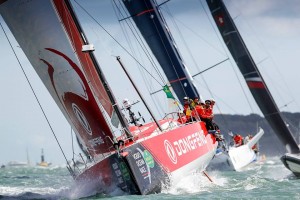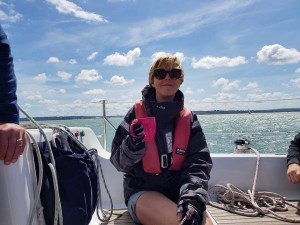 This is how Justinian summed up the weekend and his experiences with Yachtforce (he has sailed with us half a dozen times): 'We've done several weekends with Buster & team over the last few years, but in the last year we've moved things on to try a few more adventurous trips – including a cross channel at Easter and last weekend a first go at Yacht Racing for the culmination of Cowes week. What a fantastic and memory-filled weekend… Difficult to pick highlights as we packed so much into such a small period of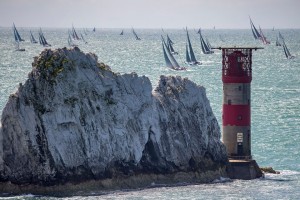 time but seeing the start of the fastnet from the absolute perfect spot will surely go down as one of our great sailing memories! From those who are trying their first experience of sailing to those with a few more miles under their belt Buster has an amazing talent at bringing a group together, getting the best out of people and imparting a huge degree of learning without it ever feeling like a teaching weekend. Another cracker, thanks team Yachtforce!'
The Fastnet Race (Cowes – Fastnet rock off Ireland – Plymouth) 608 Nm was completed by Team Concise (Trimaran above) in just 1 day 18 hrs 55 minutes… the speed they were going at hardly bears thinking about. The French did exceptionally well with some great finishers in the top 5 and the last boat took 6 days to complete. The next Fastnet will be in 2019.
If you want to get involved next year for the Cowes Week Cruiser Class race  – keep a look out on this page. These events are great for individuals, couples, groups (and see the below) – as a team building event.
Sharon Marwick, Linden Homes – Director, had a complete boat as a team building  event for this event and had this to say, 'Just a quick note to say thank you for an incredible weekend. The weekend achieved it's purpose in terms of team building and the team all had a fantastic time. There are tales going around already this morning of how we 'nearly died' and we are proudly telling everyone how we came 2nd in the race without adding any further detail. Don't people just love to embellish a good story! Thank you to both you and Jamie for your patience, tuition, sense of humour and hospitality. You shall certainly be recommended for such events. I've attached as promised a couple of videos from the weekend. If you've got any good photos we would love to see them. Thanks from us all.   Sharon'.

If you'd like more info on any events or how we can be of help – please email us here. Or ring us on 02380 016450