Buster and Alex awake from their bunks rested and chirpy ready to don their kit and take over from the off watch on their way over to France. There is a bit of traffic around on a blustery but blue sky morning with good vis and some big swell coming in from the west. Some ominous towering clouds in the distance give cause for a short explanation on displaced air gust fronts and their effects upon small vessels… I place the ski goggles on the torch holder at the top of the companionway for easy access… James sees these and laughs as he said he was unpacking his ski gear last week after a trip and repacked his thermals… his Russian border guard hat with the fluffy ears plus his trusty ski salopettes to come on this trip… but he didn't see the need for ski goggles!
Due to a slight technical problem we turned tail – once again – and ran towards Blighty. Poole was the favoured arrival destination knowing that the Poole Quay boat haven does very reasonable winter mid week rates… with a bit of friendly persuasion that is. Excellent facilities too with a very convenient mini Tesco just opposite the marina entrance! So, we turned around for the second time knowing that France was not to be … and commenced the fast reach back towards Poole aiming for a daylight arrival – just!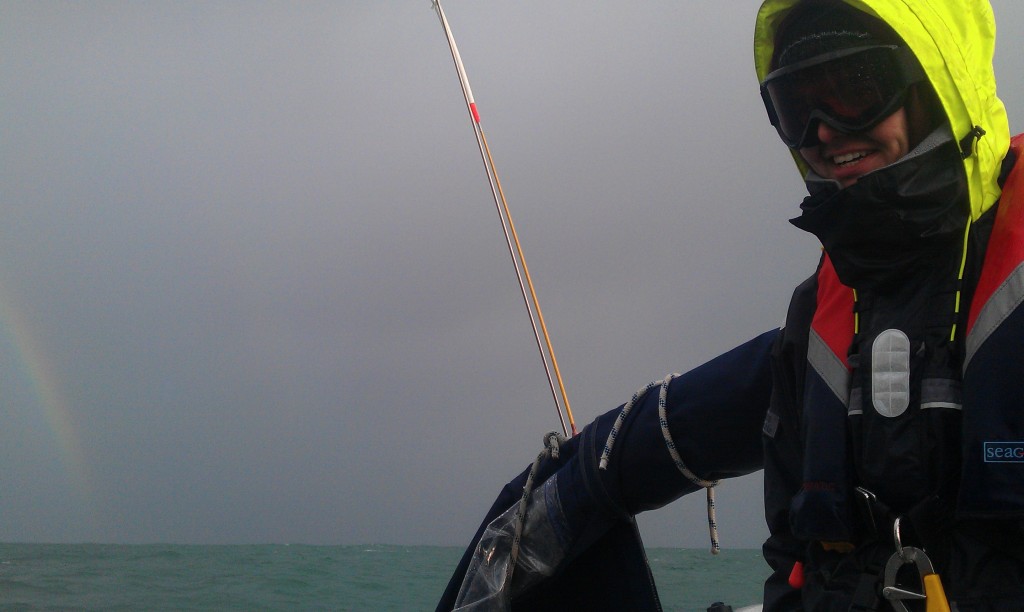 James was on nav… generally meaning, if you're down below, you get to feed us all too – as Rich isn't around that is. And we made do with soup, pies and sandwiches in some breezy conditions just too much for us to fly the asymmetric but allowing full use of the genoa and 2 reefs in the main. We flew along, spurred by the thought of hot showers, a much needed garlic clove… and fresh bread to complete the evenings feast as we were to be denied our authentic French cuisine across the channel.
Along the way – after a few bits of nav, tidal calcs, and pilotage plans – plus negotiating the local shipping which we were keeping a close eye on we decided to shake a reef out leaving one in. We were flying and well powered up with Alex on the helm and a close eye on the mainsheet ready to dump it…
We knew we were in for a couple of squalls… and kept a weather eye out. We had this vivid mix of blue sky, sunshine and occasional rainbows with towering clouds in the distance. Absolutely beautiful. Sure enough we could see the squalls coming with the tell tale rain being dumped under the towering clouds in the distance, the reduced vis coming our way, and then the sea of whitecaps to announce their impending arrival. Having reduced sail we took a few short lived squalls howling through the rigging reducing the vis right down to 50m – so important to know where your local shipping is when this hits – and you can see absolutely nothing.
We all know what happens here… the rain comes horizontal accompanied by gale force winds and completely blinds you … banging painfully into your eyeballs like someone is sticking pins into them… the helms screw their faces up, tuck their chins into their collars, pull the hood tightly around the face and squint painfully into the murk wistfully thinking that they'd rather be somewhere else… whilst the rest of the gallant crew dive below muttering about 'important nav'… the offer of a 'brew'… or some such other feeble excuse – whilst those in the cockpit tuck themselves manfully behind the spray hood out of the weather, leaving the helm to 'man up' by themselves exposed to the elements.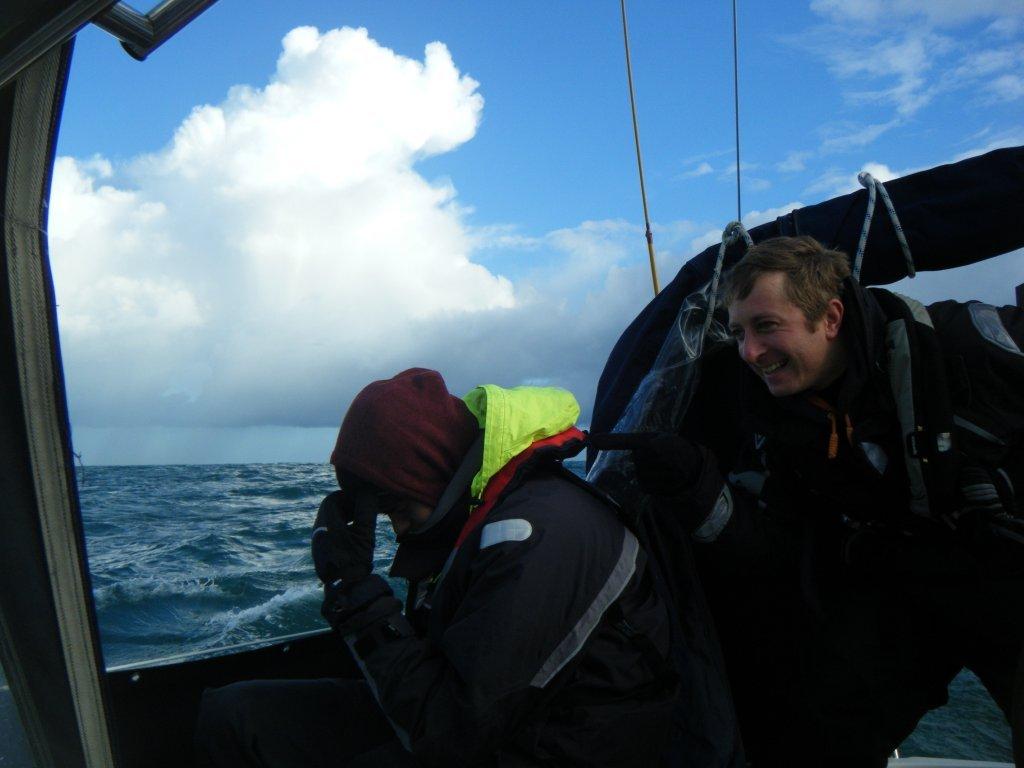 On one particularly viscous occasion, just outside Poole entrance, we were hit by a hum dinger of a squall, with a good 45 knots + across the decks and this time hailstones were whacking onto the deck, hull and flying off the mast and bouncing off the helms head. All highly amusing – well it was for us in the warm and dry that is – but rather painful for the poor helm. Once the hail had stopped the stinging raindrops were flying horizontal once again (and very chilly I might add – must have dropped a few degrees!) – and it is at this time the helm was shouting for the very useful… but laughed at by James… essential piece of winter sailing gear – The Essential Ski Goggles. Yep – they have their place… just make sure that they are the pucker double lensed ones and if you get use the rose coloured (low light contrast specials) they make the world seem such a rosey and warm place to be in too!
Never be without them – for winter sailing or big sea spray they are essential!