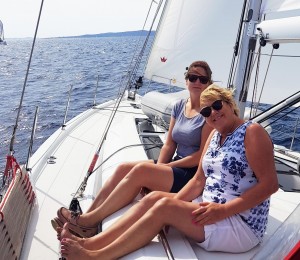 Superb Yacht Sailing Experience Days on the Solent close to Southampton from the historic River Hamble, SO31 4HQ are just great fun. These yacht sailing days are great ways to share new sailing experiences with friends and family in a fantastic surroundings. These are excellent for special day occasions doing something different as a group of up to 7 aboard a modern, well equipped sailing yacht! No experience is required. Beginners, experienced sailors, families and children are all welcome!
You can get involved with as much or as little of the sailing as you want to. You have a professional Skipper (Yacht Captain) in charge to keep you safe and take you through all the sailing elements meaning you can get involved if you wish. You can steer (helm) the yacht, hoist the sails, trim the sails for power and efficiency and have a great, fun time whilst learning these new sailing skills. We will ask you what you want from your day and we will tailor it accordingly.
If you would rather sit back and let our Skipper do the work – then no problem. Enjoy the views, the wind in your hair, the fresh air and picturesque scenery of bays and rivers whilst our skippers sail you around. They will also tell you some of the sailing history of the Solent and surrounds.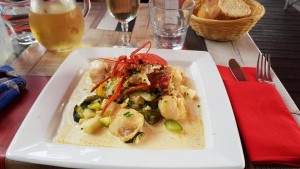 You can stop and swim at lunch-time if you are at anchor in a beautiful bay, have a picnic lunch aboard and then return to Hamble later that afternoon. Alternatively you can go ashore and have lunch on the Isle of Wight at a restaurant or pub of your choosing. It is your choice! The main thing is to wind down and chill out – relax! You will be well cared for having a fantastic day on the water.
After returning to the marina you can grab a drink or excellent meal in the on-site bar / restaurant with viewing terrace overlooking the boats on the river Hamble. The view is spectacular.
SOLENT YACHT SAILING EXPERIENCE DAY – WHAT YOU CAN DO
Learn to sail under guidance of a professional teacher
Steer the boat / hoist sails / trim sails for maximum efficiency
See amazing yachts / ships / ports, all close up
Anchor in fantastic locations
Swim
Eat your picnic lunch on board at anchor
Stop for lunch ashore on the Isle of Wight or at Bucklers Hard on the Beaulieu River
Relax & chill out
SOLENT YACHT SAILING ACTIVITY DAY – WHAT YOU GET
Free on-site car parking within marina
Excellent marina toilet / showers
On site restaurant / bar
Modern 37ft sailing yacht
Life jackets and safety equipment
Professional Skipper
Safety briefing
Professional sail training tuition & guidance
Up to 7 hours aboard
Sail in protected waters of the Solent
Sail to Isle of Wight or New Forest
Bring your own picnic lunch / drinks to eat on board or eat ashore (at own cost)
Anchor / swim (conditions permitting)
Wet weather gear available for hire
Excellent showers in the marina if you need them 'post swim'.
You only need soft soled footwear that will not mark the deck, layers & wind / waterproof depending upon the weather plus swimming costume and towel. We will send you further information on what to expect and what to bring. There is plenty of free parking on site.
Check out what some of our clients say about their time on the water!
Client Testimonials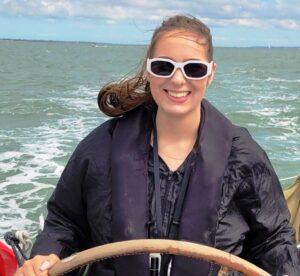 A Beginners Family Sailing Day Experience, 'Having never had any sailing experience We didn't know what to expect. The pre-event communication and information about our family sailing day, from what to expect to what to bring was spot on. Couldn't fault anything. Our skipper Buster and first mate were superb, with on board explanations giving us the confidence to have a go ourselves and reassuring us all the way. Brilliant Instructors. They were so experienced and it showed so we could relax in their safe hands. We had a blast and all six of us loved it Couldn't/wouldn't have done it without them and will definitely do it again with them. Our family can not recommend them highly enough. Sat 2nd was the best family day out in years. Thank you Buster and Yachtforce'. Jules
Where We Go From:
Mercury Yacht Harbour, Satchel Lane, Hamble S)31 4HQ. Just 15 minutes from Southampton airport. See here for more details of how to get to us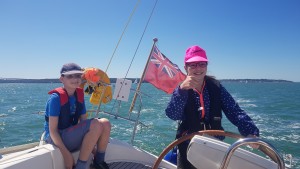 Yacht Experience Day Prices:
Prices depend upon the season but range from early season £475, to £795 high summer for the yacht including the skipper on a mid week day. Prices for a weekend day are more expensive. Fuel cost is £20 per day (2022) and any lunch-time mooring fees are payable by the client. Short stay mooring fee in Cowes approx £19 (2022)
Yacht Sailing Experience Dates:
Available throughout the year – just ask. Special Offer Prices are found here – click
How To Book Your Yacht Sailing Experience Day:
Email us: info@yachtforce.co.uk
Phone us: 02380 016450
Ask us for available dates, let us know your favoured date and numbers on board and we will come back to you with more information and a price specification.