Yachtforce Catered ' Buy a Berth' Events From Hamble
Further Information on Solent Sailing Weekends & Cruise Events
See this page for how to find us and what to bring

Catering: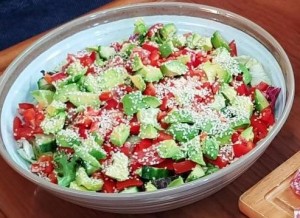 On Solent Sailing Weekends you will normally be offered tea / coffee / cold drink on arrival. If we are going out on the water you will normally be fed a snack (or possibly starter of your meal due later that day) before we go out. There are plenty of snacks / fruit on board to help yourself. You will then be catered for over the course of the event except one evening when you eat out at own cost. You will normally find real and instant coffee, peppermint tea / tea on board. Our water goes through filters to the galley tap.
On Sailing Cruises we provide meals  onboard except for any evening meals taken ashore (minimum 1 ashore) which we take in a local hostelry  / restaurant at own cost. Food on the go for passages are normally pre-prepared sandwiches and soup plus some additional bits to fill you up. If conditions exist people and people are able to function well down below we will be able to cook meals on the go.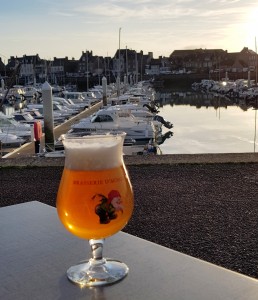 Alcohol: (Supplied on Solent Catered 'Buy a Berth' Weekends).
On Solent Sailing Weekends we supply wine with the main evening meal on this weekend (approx. half a bottle per person / 1 bottle of gin per boat) – you are welcome to have a relaxing drink once we are safely tied up. There will be no alcohol consumed underway or prior to a sea passage – but just to let you know that we do not run a 'dry boat'. Please feel free to bring your own favourite tipple.
On Sailing Cruises we do not supply alcohol and ask people to bring their own.
General Duties Aboard : You are asked to do your fair share and help out with galley duties and general running the boat on top of the actual sailing aspects on deck. If there is a First Mate aboard to help out in all areas and facilitate the catering, they are there because they love to be on the water, and are on board to help teach, mentor, support and facilitate in an unpaid capacity.
Special Dietary Requirements: We do our best to accommodate special dietary requirements where stated with sufficient lead time. Please be specific so that we can cater realistically for your diet and know your needs. If you 'bend' your dietary rules on occasions (if you are likely to decide you do drink / eat something else) please let us know  in advance so that we do not provision or make specialist foodstuffs for you. If you'd prefer to bring something prepared by yourself, do let us know, and we can do our best to accommodate it (fridge and oven space permitting).
Mooring Fees: There is a shared mooring fee kitty between the clients. Budget approximately £10 per night per person but it depends which marinas we visit and if we are on 'high season' rates / how many clients are on board (the more on board the cheaper the cost split among the crew). Mooring fees are cheaper in France (about 40 euro per night) and between £44 – £55 in UK. The Skipper / First Mate do not contribute to mooring fees. It is simpler if repaid in cash.
Itinerary Notes: We generally sit down and have a briefing prior to leaving the dock. We will look at weather / tide / planning and safety elements. We then decide our destination and come up with a cunning plan! Tide goes west in the Solent 1 hr before high water. On Solent Sailing Weekends We will normally moor on the Isle of Wight or other port that works with tidal restrictions on Saturday night but always aim to be against the dock  / shore so that the crew can stretch their legs and use 'shore-side' facilities, showers and toilets.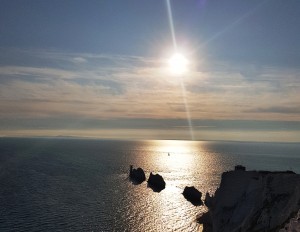 On Solent Sailing Weekends  you will sail in the Solent exploring bays and creeks and your destination will depend upon the tide and the wind taking into account any pre-booked marinas. You will be immersed in all aspects of sailing and life on board. You will be encouraged to steer, understand navigation, rules of the road, knots and pulling the ropes to control the sails. You can opt to do as much or as little as you want. Simply let the skipper know how comfortable you are participating and he / she will allow for it.
On Yachtforce Cruises – See below for further information
Passage / Itinerary Notes:
The Skipper in conjunction with the directors of the company will take into account the prevailing conditions and decide upon the itinerary of the cruise. This may not be finally decided until virtually embarkation.
Tide goes west in the Solent 1 hr before high water. We have certain familiarisation exercises that we need to do before we leave the Solent. We also give tips and advice to hone peoples helming so that we get the best out the boat and also the best and most comfortable ride so that people can work down below without getting thrown around and then possibly feeling unwell.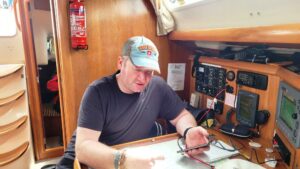 Navigation:
If you want to do passages for the Nav please let us know in advance and links to some reference material that may help are below. We would normally be able to 'finalise' a plan approximately 4 days in advance after the forecast but everything is 'fluid' whilst sailing. If you have a requirement to do a qualifying 'Skippered Passage' please let us know in advance and we'll do our best to accommodate this. We will then look at the overview of the nav. And everyone will be involved in how we plan a crossing and check / confirm anything Pre-planned. It will be explained how we take part in a 'watch system' and all the crew will be part of that system and run the yacht accordingly.
Navionics. https://www.navionics.com/gbr/  Free Chart viewer – (not the tides) https://webapp.navionics.com/?lang=en#boating@6&key=gh_rHbrrG  If you buy navionics you get tidal info for 7 days prior heights and streams and can put on phone / laptop etc.
Visitmyharbour.com – Reference material for tide times for the whole year for UK secondary ports, tidal flow,  tidal streams, pilotage notes and charts.
See here tidal flow off Channel Islands http://www.visitmyharbour.com/articles/3186/hourly-tidal-streams-the-channel-islands-and-nearby-french-coasts There are tidal stream atlases for UK and channel. These guys also sell re-conned 'tough books' with charts and GPS pre-loaded.
Blog with links to some of the nearer ports:
There may be some useful info on them and you can research your info on the links within the first one about the ports we may visit.
http://www.yachtforce.co.uk/cross-channel-yacht-cruise-france-channel-islands/ – links
http://www.yachtforce.co.uk/cross-channel-yacht-sailing-trip/
http://www.yachtforce.co.uk/cross-channel-cruise-french-experience/
Tides                     http://www.visitmyharbour.com/tides/
Tidal Flows:
Solent West        http://www.visitmyharbour.com/articles/3188/hourly-tidal-streams-west-solent-area-np337
Channel East        http://www.visitmyharbour.com/articles/3173/hourly-tidal-streams-english-channel-east
Channel Isles     http://www.visitmyharbour.com/articles/3186/hourly-tidal-streams-the-channel-islands-and-nearby-french-coasts There are tidal stream atlases for UK and channel. Tide
'GO WEST' CRUISE
Poole, A Dorset town with one of the largest natural harbours in UK which also has several islands within including Brownsea Island housing the rare red squirrel population and much other wild life. Mooring available in several marinas including the Town Quay right in the centre of town. Fantastic sandy beaches of Studland Bay provide a popular anchorage spot and if you dinghy ashore some great walks over the chalk hills and around the spectacular cliffs coastline.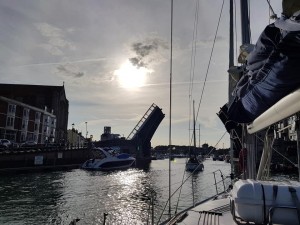 Weymouth / Portland Bill. The spectacular Dorset Jurassic Coastline with its undulating white chalk cliffs stretches from Poole to Portland with anchorages at Chapmans cove, Lulworth and Worbarrow Bay. Weymouth town is a real working fishing port / seaside town with mooring either at the town quay or in the marina beyond the lifting bridge. Portland Harbour, once a bustling Naval Base, offers berthing for large cruise ships and sail training opportunities for dinghy sailors and foiling specialists. There is a huge modern Dean & Reddyhoff marina (Olympic host location 2012) and some good nearby pubs overlooking Chesil Beach
Lyme Bay Lyme Bay is the large expanse of water between Portland Bill and Devon with spectacular red coloured sandstone making up the fossil rich Jurassic Coastline. If there is a good amount of North in the wind then it makes it a lot easier and quicker to cross as a westerly is on the nose.  Southerly is okay but with larger wave height. Weymouth – Salcombe 60Nm
Brixham is a stunningly beautiful harbourside town on South Devon's beautiful English Riviera. Life here has always centred around the harbour, where heritage trawlers jostle for space with day boats heading out to sea for the day's catch, bringing it home daily to Brixham's famous Fish Market. Here, in the heart of England's Seafood Coast, the freshest fish and most delicious seafood can be enjoyed. Good shelter from SW winds in the MDL marina
Salcombe On the mouth of the Kingsbridge Estuary in Devon. Swinging moorings are available for this picturesque location but very limited walk-ashore possibilities. Either dinghy ashore or make sure the harbour taxi is running!
Dartmouth situated on the mouth of the River Dart has a long history with the Royal Navy and The Britannia Royal Naval College located on the hill overlooking the town has been training Officers since 1863. Stunning coastline and scenery with good history and a range of coastal walks. A variety of berthing options with some walk-ashore available. Darthaven Marina is on the Eastern bank.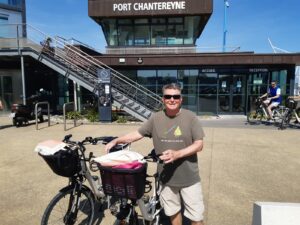 FRANCE
Cherbourg 60nm from the Needles and a large port with large outer harbour and the Port Chantereyne marina with excellent facilities tucked up by the town. Walkashore finger berths with toilest on the pontoons or up at the main block. Very pleasant as towns go with outdoor eating / drinking with an abundance of excellent cafes and coffee houses overlooking the harbours or the town square where you can soak up the French atmosphere. Hire electric bikes from the marina for 20 euros for the day and explore the delightful Normandy countryside. A 10 minute walk takes you to Normandy Wines where you can taste / purchase and then have them deliver to the boat! Watch out for the fast flowing tides past this headland. PAF offices 19 minute walk from the boat so allow 1 hr for passport stamp check out. PAF work 24/7 and may come to the boat on arrival.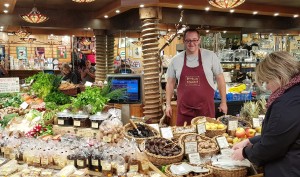 St Vaast a delightful small 'lock in / lock out' fishing port to the east of the Normandy peninsular just south of the Pointe de Barfleur. Local port info here. Tidal heights affected by pressure so expect delayed gate opening if it is high pressure! Visitor pontoons with 'walkashore' and marina office with showers / laudry. Lovely village with good seafood. Fantastic walks locally and some really special shops with delightful chocolatier. Visit Monsieur Gosselin cavernous shop and be prepared to be amazed! Wines / spirits / cheeses / presents / conserves / soups / soaps / cold meats / vegetables where you can purchase and then have them deliver to the boat!  Hire electric bikes from the marina and explore the delightful Normandy countryside perhaps riding up and having lunch at Barfleur overlooking a different harbour! We have ridden up to the lighthouse and climbed to the top for spectacular views. St Vaast 2022 Lock Gate Times (in French time)
CHANNEL ISLANDS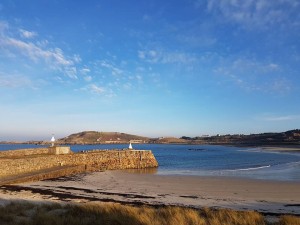 Alderney Small Channel Islands port mooring swinging on buoys behind a long breakwater. Can be uncomfortable with wrap around swell and wind from NNW – NE. East also gives a small fetch. Either water taxi or pump up the dinghy to get ashore but can be a long row in a tender. Showers ashore with the hotel and a café for a coffee overlooking the water and the chippy close by. Walk up the hill into St Annes  ½ a mile for more pubs and restaurants. Lovely walks around the coast and inland.
Guernsey St Peter Port is the main port with 'walkashore' pontoons for visitors in the inner harbour over a tidal sill and waiting pontoons on the outside. Bustling capital with great shops and welcoming Yacht Club. Great for a walking tour to learn about the history. Good shopping and you can buy excellent local lamb from Sark if you are doing a slow roast on your journey.
Approx. Distances:
Needles – Studland Bay 14
Needles – Poole Town Quay 20
Needles – Weymouth 33
Needles – Portland 33
Weymouth – Torquay 49
Weymouth – Salcombe 60
Needles – Alderney 62
Needles to Cherbourg 60
Needles to St Vaast 68
Needles to Guernsey 80
Hamble to Needles 15
Alderney to Cherbourg 25
Alderney to Guernsey 21
St Vaast to Cherbourg 23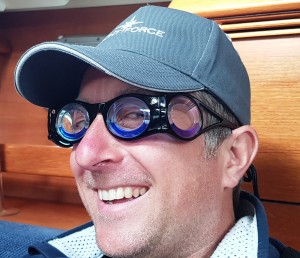 Sea Sickness:
We want you to enjoy your trip. Remember that a channel crossing  of 14-17 hrs is tiring and if there is any sea sickness aboard it is absolutely exhausting and can put additional pressure upon the crew left operational. Make sure that crew take their medication to prevent sea sickness – and in good time.  Check the prescribed doses but a tablet the night before helps get the drug into the system and then 2 more – at least 2 hrs before you cast off is a good tip. It can be controlled – so use the drugs, patches, pressure points or the goggles if you are likely to get ill.
Sea sickness is controllable. Apparently the stats show that only 1 in 10 people do not get sick. The rest of us control it as best they can.
It is important that everybody should be able to go below and make tea and knock up a sandwich, fill the log,  do some nav, go to the loo! It isn't just the Skippers job to go below all the time –  it is a shared responsibility. 'I don't get sick' we hear people say – however, they then do not feel well enough to go below.  If that is the case… try taking the meds! Our advise to Skippers? Make sure the crew take effective anti-sea sickness remedies in good time. One tablet the night before gets the drug into the blood stream then as per packet doses. If you cannot take the tablets try the patches behind the ear linked in the article – Scopoderm TSS. Others try pressure bands, those watch things and try the goggles… whatever works…
There is also the problem that someone becoming ill  puts additional strain on the rest of the crew because they cannot fulfill their responsibilities.  Stay warm, well fed and watered and get rest. If safe 'heave to' when people need to go to the loo and even on watch changes giving people the opportunity to get dressed quickly etc, keep the boat on a straight course and do not be hung-over before a passage! Then you can function to the best of your abilities. That it would seem, is only fair to all on the boat. Do your best.
If you need more information, please visit our website at: www.yachtforce.co.uk or e-mail us at: info@yachtforce.co.uk   If you have any questions in advance of your event please call us on 02380 016450.