UK 'Skippered Charter' Sailing Family Holiday
Our UK based family yacht sailing holiday with skipper for the family from Hamble, UK beautiful South Coast are now available. This makes for a fantastic opportunity to have a holiday afloat and explore a variety of destinations on your own exclusive yacht for the family / household with your own Skipper. It would seem to us to be a much safer environment than mixing with other people on land! Read on to find out what you might achieve / explore if you take a week  / weekend / 5 days or more afloat! Sail, swim, fish, explore – no need for any previous experience.

UK Family Yacht Sailing Holidays: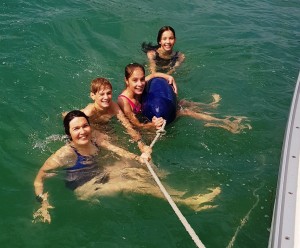 You do not need previous experience. It works out at less than £450 a day for up to 5 on board a 37ft sailboat with skipper if you take a 7 day trip! We still have some spaces for Summer 2021 see this page
Overview: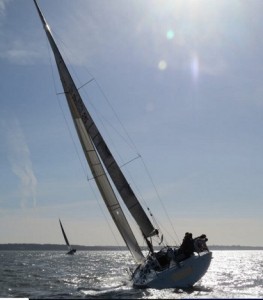 These UK based sailing holidays are aimed at family and social sailing taking advantage of the protected sailing waters of the Solent (for shorter trips) and longer coastal trips normally going west past the Jurassic coastline  right down to the West Country and possibly the Scilly Isles if you have time.
These UK based yacht sailing holidays are great fun and provide great learning development for sailing experience without the pressures of a 'syllabus' RYA course with you doing as much or as little 'hands on' as you want.  The boats that we use are normally about 37 feet long, comfortable modern cruisers with heating, with 3 double cabins and 3 berths in the saloon. For longer charter periods it is great for 4 of you using 2 cabins leaving one for the Skipper / First mate use. For skippered charter you decide how many are aboard.
No previous experience is required. We will tailor the holiday cruise to your abilities and families capabilities.
UK Yacht Including Skipper Sailing Holiday Prices Below: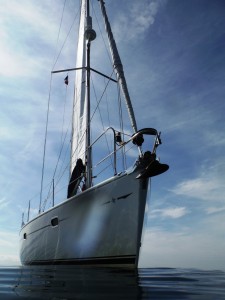 Includes: Yacht 37ft, Skipper, Max 5 Clients.
Or you can opt for 'All In' pricing to include – Provisioning for weekend or longer charters, Adult Wet Weather Gear, Solent Use Fuel, Outboard Engine, Covid 19 Sanitisation, 1 Bottle Gas, Fishing lines.
Neither pricing structure include mooring fees which are payable direct to the individual harbours – or any shore-side accommodation required for Skipper / First Mate (if you want sole occupancy at night): 9 Berth / 3 Cabin 37 feet yacht – Look at the Jeanneau 37 here
Individual Element Pricing:  ('All In' prices at bottom of page)

Skipper (in non- race / regatta periods) would be:
Own Provisioning / Own Catering
Days
Low Season
Nov – Mar
   Mid Season
Apr / May
Sept 6 – Oct
High
Season
June / July / Aug – 6 Sept
Day (midweek)
   1
  £595
     £695
 £795
Day (weekend)
   1
 £948
     £1110
 £1225
Weekend
   2
 £1185
      £1455
 £1650
Mon – Fri
   5
 £1,770
      £2,075
 £2590
Week
   7
  £2450
      £3,100
 £3640
2 Week
   14
 £4995
      £995
 £6995
 Extras: Wet weather gear / fuel / mooring fees / outboard / spinnaker / clean down fee / Covid 19 sanitiser fee / any shore-side accommodation required for Skipper / First Mate (if you want sole occupancy)
Additional Cost:

Compulsory Covid Sanitisation fee (£75)
Cleaning Fee (£95)
Provisioning (unless provisioned / catered)
Mooring Fees – Apply to ALL charters  (home port fees are included )
Fuel (Min £15 charge per day / £4.50 per engine hr / or you fill tanks)
Wet Weather Gear (£7.50 per day / per adult set. Gill breathable bib pants and jacket)
Outboard (£60 per week or 5 days)
Spinnaker (£30 per day)
First Mate (£110 per day – Unless catered)
Paddle Boards. Paddle board. 1 Day £40 / 2 Day £60 / 3 Day £75 / 4 Day £85 / 5 Day £95
Meeting:
Our UK yacht family sailing holidays generally meet at the base at the Hamble, from MDL Mercury Yacht Harbour, Satchell Lane, SO31 4HQ that has excellent facilities with 24 hr staffing, restaurant / bar, chandlery and ample free onsite parking. If you require a different meeting point / drop off point, we can arrange that. See here how to get to Mercury Yacht Harbour, Hamble SO31 4HQ from airports by train.
Where We Go:
Yachtforce UK yacht family sailing holidays can go wherever you want. At present trips to France and Channel Islands are restricted due to Covid19 but when restrictions are lifted, we will add these destinations back onto our list of ports.
We visit various ports depending upon the time of year, the weather, people's previous experience, who is on board, how much time we have and what type of 'sailing trip' that you would like. Do you want a holiday? You can visit places of interest, anchor off and use the dinghy to explore ashore landing on beaches / swim / go for walks or even use the boat as a holiday base and hire bikes locally or visit historic landmarks.
We look at the weather, tides and wind to decide upon our destination and along the way we will visit places of interest, explore rivers and creeks and moor up or drop anchor for lunch.  At the end of your trip we sail returning to the Hamble for late afternoon leaving the boat at about 1600 hrs on the final day after cleaning down.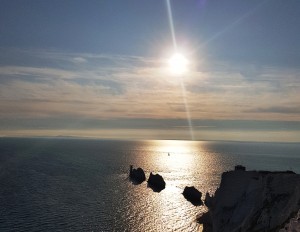 On your UK yacht family sailing holiday you can expect to visit places such as Yarmouth or Lymington, Cowes, Beaulieu River, Newtown Creek and Southampton in the Central Solent, Portsmouth, Chichester Harbour or Bembridge in the Eastern Solent.
Trips of 5 days may take in the Jurassic Coast and if the tides are right you can get to Poole and Weymouth visiting a variety of beaches such as Studland Bay with fantastic walks and places to explore ashore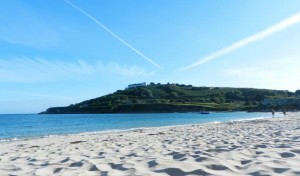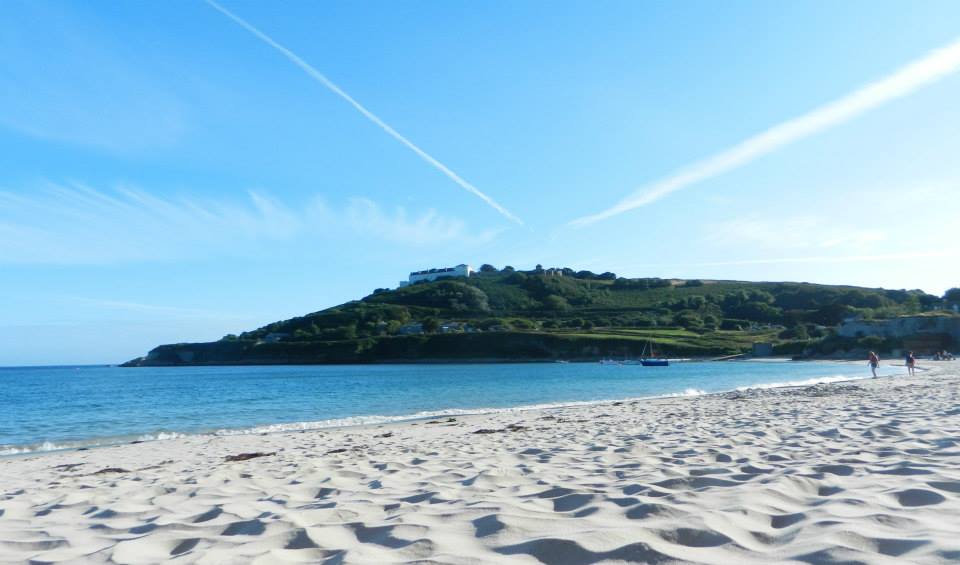 Trips of 7 days or more can allow for a West Country Cruise and 10 days plus may allow for a trip to the Scilly Isles.
At night we will normally moor alongside a pontoon giving access to the shore-side marina facilities, but we can anchor off when conditions allow.
UK Sailing Skills – or Relaxation Holiday – Whatever You Want:
The UK sailing holiday is suitable for novices and first timers as well as those with more sailing experience.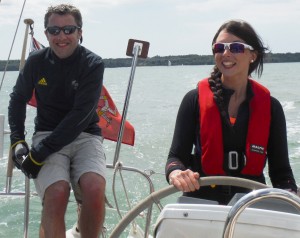 We regularly get absolute beginners on board where we teach people to take part as an active member of the crew, we get people just wanting time afloat to relax or some wanting to 'refresh' their skills having done a Day Skipper course with further aims and aspirations.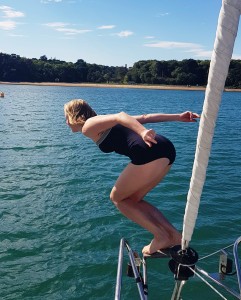 Regularly we get those wanting to gain experience and practice for their flotilla holiday right through to Yachtmaster standard coming on board – everyone takes something away with them.
Those that want to kick back and relax can do just that!
The bear minimum we require from you is that the Skipper just needs one person to step ashore with a rope when mooring up and the occasional hand steering but generally people take a more active role than that!
You do not have to be involved in teaching if you do not want and we will fit in with your requirements. If you want the Skipper to simply sail you around visiting places of interest for a holiday afloat, we can do that!
However, if there are particular sailing skills that you would like to practice, we will do our best to accommodate you.
Teaching Example: Everyone gets 'hands on' experience during the weekend in the running of the boat and a chance to helm. Simply do as much or as little as you like. Build up some experience…ask questions and learn… and we can teach you elements that you may be weak in, coach and inform you. Couple the above with good company, good food and a convivial atmosphere on board and life is good!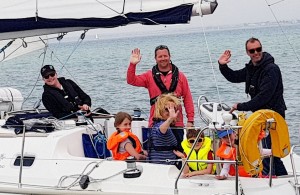 Beginners could be taught specific rope work skills and useful tips for when 'short-handed' if a couple were to be going on Flotilla where advanced sailors may be asked to moor or leave a mooring under sail, practice using an asymmetric spinnaker, focus upon sail trim.
As well as the physical sailing aspects we usually include reefing whilst sailing, heave to, MOB etc, you may do some pilotage and we work on buoyage and light recognition for port entries, mooring and anchoring techniques – and then the 'easy methods' that our Skippers utilise in everyday sailing.
For longer passages you will be required to spend time on the helm and possibly 'stand a watch' depending upon your level of competency.
Provisioning:
You have a choice where we provision for you – or you provision for yourself. Everybody on board has to help with galley and boat duties. It is part of learning how to run your boat. If you specifically wish to have a First Mate aboard to help run the boat and cook we will assess Government guidelines in force at the time and attempt to allocate someone at additional cost. Please ask.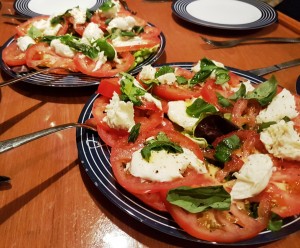 You Do It: You can do your own provisioning / catering and therefore budget according to your groups numbers / needs. We can give advice on catering if you are new to yachting and the 'click and collect' at Tesco is 5 minutes from the marina means you can order beforehand and collect if your travel plans are a bit 'fluid' or order for delivery if you know that you will be at the marina on time. Remember to add ice for your G&T's!
Please include catering for the Skipper.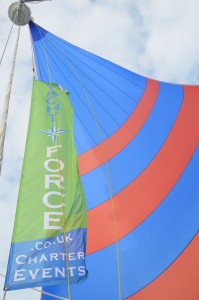 We Do It:
We will provision the boat for the duration of the charter but a minimum of 1 evening meal is to be taken ashore / bought in at a local hostelry at own cost during the charter period. All food left over at the end of the charter stays on the boat and is returned to our stores.
Your Skipper / Crew: The Skipper is an integral part of your sailing trip and our Crew are chosen for their easy manner, seamanship skills, love of teaching and sharing their passion of sailing with others.
If required the skipper / crew can sleep off the boat, he would have an aft cabin for sole occupancy when sleeping aboard. The B&B cost for the skipper accommodation is paid for in addition to the charter fee. Estimate a min £95 per night when away from home port.
Please also provision for the skipper whilst aboard. You do not have to have the Skipper / Crew accompany you for a night out but please allow £25 for him to eat an evening meal and have a beer off the boat. For charters of more than 7 days a Skipper must be allowed 1 day off from sailing so the boat will be moored in port so that you can explore locally and make your own arrangements for catering.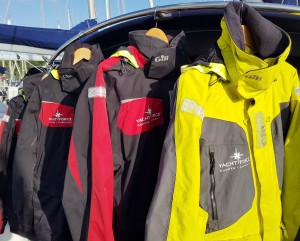 What to Bring: Please – everything in a soft squash' able bag. No wheels or cases!
Waterproofs / non marking soft soled shoes – deck shoes / boots (Waterproofs available to hire)
Layered clothing, shorts, tee shirt, sweatshirt etc
Hat / cap / sailing gloves – to protect your hands from rope Sunglasses /sun cream (sunglass retainers)
Reading glasses (spares)
Seasickness remedy – if you suffer – Stugeron tablets are good
Towel / small wash kit / pillow / sleeping bag
Child lifejackets (we supply adult – we do have a couple of youngster ones that you may borrow)
Child Waterproofs (suggest light weight walking waterproofs)
Personal medication / favourite tipple
A few quid out for trips ashore
Sense of humour
Passport (where appropriate)
Any latest Government personal required paperwork to do with Covid19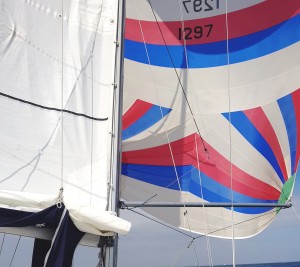 Covid 19 Restrictions:
We have to comply with the govt latest advice and requirements. We will make sure that every boat is thoroughly cleaned and disinfected between charters. With regard what can be achieved with 'Skippered Charter' and when will depend upon what policy the Government decides to impose whether this be a 'bubble network' or 'self isolation' after any different parties come into contact. At the present time we do know that any number from 2 households can come together.
Please bear in mind that we will do our best to keep you and your family / group safe but we can only go with the advice / directives that we are given and our resulting risk assessment and operating policies that we will then enforce. To that end we have come up with a flexible booking policy and we are taking bookings for events from July 4th on wards.
Catered With Skipper & Mate
An example price  of a 9 berth, 37 foot yacht with Skipper / First Mate with catering for a max of 5  persons (1 evening meal taken ashore at own cost for 2 or more day events) in non- race / regatta periods would be:
 Skippered / Catered Charter

Includes First Mate (catering for 5)

Days
Low Season
Nov – Mar
Mid Season
Apr / May
Sept 6 – Oct
High
Season
June / July / Aug – 6 Sept
Day (Midweek)

1
 £740
 £875
£935
Day (Weekend)
1
£1140
£1350
£1465
Weekend
2
£1575
 £1885
£2085
Mon – Fri (Midweek)

5
 £2650
 £2950
£3465
Mon – Sun (Week)

7
£3495
£4325
£4865
Extras: Wet weather gear / fuel / mooring fees / outboard / spinnaker /  any shore-side accommodation required for Skipper / First Mate (if you want sole occupancy) – please see extras at bottom of bare boat charter page. Optional Extras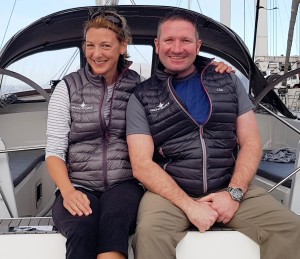 Vikki / Chris – First Mates that can cook!
 If requested we will attempt to put a First Mate aboard charters to help with the galley duties and running of the boat but we must abide by Government restrictions at all times. We only have a limited number of First Mates and we must be aware of health & safety plus family circumstances during restrictions so we cannot guarantee this additional member of crew. See more about the Yachtforce Team Here
Booking:
See latest Covid Booking Flexibility HERE

To Book: Check availability exists. Pay funds to secure booking. Fill in and return booking form.
Receive receipt to notify you that we have received your funds / booking.
Deposit: 50% (if paid well in advance of your event – Please Note: The balance is payable 45 days prior to event) Paying in full helps reduce our admin time.
Payment: Preferred by transfer. (It is easiest for us administratively). We can do debit cards over the phone.  Please ask if you need to pay by credit card.
Bank Details:
Please reference any payments with your name and date of course/event and email when payment has been made. Please ensure that no costs are attributed to our bank with international transfers. If you decide to transfer funds please let us have sight of the transfer slip so that we can book this berth / boat / event to you pending clearance of funds.
Bank details and booking forms sent once we have agreed your dates:
Contact us Here: info@yachtforce.co.uk
Tel: 02380 016450