A Cross Channel Yacht Sailing Trip  to France and the Channel Islands from Hamble, Solent UK is one to look forward to.  This December trip is always eventful , a mix of learning and fun. We have a load of guys on board loosely described as 'staff' on board undertaking 'personal development' and occasionally over the years have had a couple of select clients that have joined us and just 'mucked in' to gain more in depth knowledge – and also of course, to join in the 'gentle ribbing' that staff members suffer when undergoing 'training'. We wanted to get to Guernsey and back in a 5 day trip – read on to see what we got up to…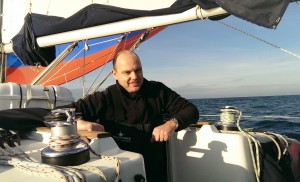 December last year had a pretty full complement aboard with Stu Brew (our amazing non-stop Kiwi navigator whose accent makes it near impossible to understand) joining us from the Isle of Man. Tasked with planning the initial passage, he actually went on and planned what seemed forever more, gaining more and more experience on a daily basis – he actually nav'd the whole 5 day trip! Pretty much a sleep depriving exercise!
Buster had been doing one of our excellent Solent 'Social Sailing' Weekends finishing on the Sunday afternoon before the trip, and no sooner had he said good bye to those clients at 4pm, than the cheerful, keen crew arrived… there were Charlie & Rosie, Paul, AJ (Alex) Christian and Stu… that in addition to Buster made 7 of us in total.
Everyone set to and the boat was loaded with 'foodstuffs' – all in exactly the same cupboards that we stow our food every time we are aboard – for those that have been afloat with us before , it never really changes! Bit boring and some may say anal but it does mean that we know where stuff is!
Preparations for Cross Channel Cruise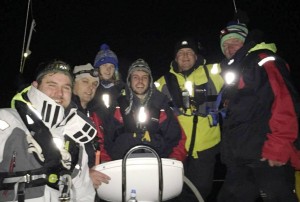 Tea was made whilst we discussed watches, rotas, passage planning, tides, wind grab bag and safety. In fact Buster just let Paul get on with organising the troops for the night crossing and the aim was to get to Guernsey at some point (and back) over the next 5 days. Now this is something that we have tried to achieve for many years as a late December trip as it is Paul's home island and his Mum is desperate to see us all – but something has always conspired against us – wind, weather, sea sickness, power failure – yep it has all been thrown into the mix. However, this year we were positive it was going to happen and the forecast looked good throughout with SE'lies!
Fantastic beef stroganoff consumed, Buster was then tasked with overseeing the guys getting us out via the needles and aiming roughly in the right direction towards Alderney, whilst the off watch got their heads down. Once that had been achieved he was told he could go to bed! So the guys were off pushing a small amount of foul tide west in the Solent towards Hurst Point and round the needles at the tide change. Stu was on the Nav / Charlie was on the helm. Off round the Needles and Buster off to bed… en route to Alderney.
Watches & Rest on  a Sailing Distance Cruise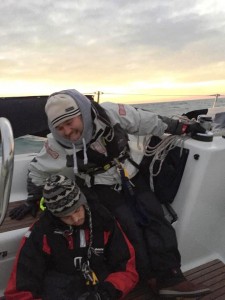 Now this is the thing with a night passage – people need to get rest. They need to be able to sleep. Quite often people just get over tired and it really impacts upon peoples performance – and their enjoyment. Sometimes you just need someone who has had a bit of kip to pass a fresh set of eyes over any situation as it arises. The standalone Skipper very rarely sleeps fully and his rest depends upon the ability of the crew and his confidence in them. The Skipper is always aware of the motion of the boat, the noise in the rigging and also the whispers of the crew on watch when deciding what is going on and what to do…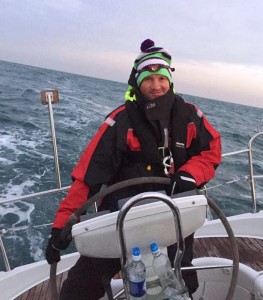 On crossings we focus on good helmsmanship because it makes for a much more comfortable ride when down below. Try to keep the boat well helmed, steady on a true course and people can more effectively operate down below and not end up feeling ill.  They can cook, prep, do nav, plot etc etc with a lot less problem. Difficult I know when in the wee hours of the morning but you do need to swap helms regularly to stay fresh… that is why people do a watch system.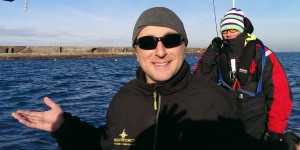 Buster however was very grateful for Paul the experienced professional Skipper on board and the effective, knowledgeable and chirpy crew who took turns on the wheel, adjusted the sails and negotiated the shipping whilst he was down below… zzzz thank you… only having to rise when the sun was coming up having had a good 8 hrs rest (bliss) and landfall was due on the horizon shortly! Stu was doing a good job navigating us towards the land of the Channel Islands with Charlie and Rosie (on watch again) helming – but what land was it?
Tiredness and a murky smudge on the horizon during the early hours of daylight makes it difficult to work out exactly where you are. No lights to give us a clue,  just 'smudgeland'.  Soon however, we realised our location as details on the land emerged from the gloom, only a few miles northwest of the Alderney breakwater and we decided to pop into Alderney to stretch our legs, have a bite and let the crew recover from their tiredness.
Cross Channel Arrival At Alderney.

The long arm of the breakwater reaches out affording shelter apart from the N areas but we wanted to get well tucked up as close into the inner harbour as possible to minimise any wave movement for the more comfortable night – and a closer dinghy ride. Stu gave direction to Rosie to follow the transits and AJ was on the helm for the efficient 'park'. Being late December there was only the Pilot boat and lifeboat on the water (not a  visitor boat in sight) so we decided to moor up next to them tucked right up near the inner harbour, (only having to get AJ and Stu to move the boat when enquiring with the harbourmaster- oh well it was worth trying – about the state of the shower block and being told that we had to take the closest visitor mooring… and 'by the way, sorry no showers' – anything to get the least amount of roll – it gave Buster the chance to shower on board though when the boys moved the boat – all that sleeping – he needs his beauty sleep at his age.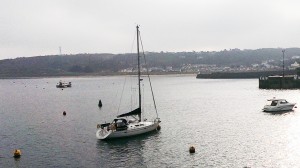 Anyhow. we picked up the mooring, pumped up the trusty 'wave eco 2.6' fueled and popped on the air-cooled Honda outboard, and one of the six powerboat instructors aboard, (yes I know – six!) – started ferrying people ashore! Everyone was keen to have a cup of 'tea' and relax admiring the quaint surroundings of Alderney and their working port. We visited the extremely well presented Braye Beach Hotel with fantastic views over – funnily enough – Braye Beach. This is where Paul's Mum had not so long ago had some party or other… and  whilst Buster drank tea with mince pie some partook in local ale in comfortable chairs…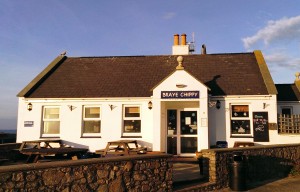 We then wandered further afield, up the hill to the metropolis of St Anne, to one of the only open establishments at that time and we sat down expectantly looking forward to some nourishment.  What we needed was a good feed. It was here then that we had a slight problem.  Several of our party started to remonstrate with the poor confused bar staff about timings of being able to order food – food was very much on the mind. We were confused why they wouldn't give us menus and let us make a choice – yes it was early but we were starving and wanted to be able to order 'on the dot' of kitchen opening…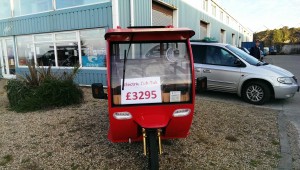 However it was only after Paul (classed as a native, so he speaks that Channel Islands local dialect) started to have words with the confused bar staff about the timings of the food that they realised we had come by boat and that everyone's phones had automatically adjusted to French time when we got French signal… therefore we were literally chomping at the bit 1 hr too early! Oh how embarrassing! Those who were wearing old fashioned analogue watches also couldn't trust the time either as they believed in some sort of conspiracy that others may have changed their time on their time pieces to add to confusion! It was that sort of trip!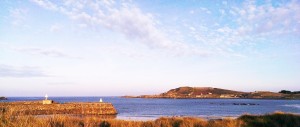 Anyhow, after more ale and a slight wait we were then able to order away to our hearts content. We had a meal and suitably refreshed and with full bellies we wandered the streets of Alderneys capital, then rolled our way down the hill for the short walk in the dark to the harbour looking forward to our trusty, incredibly 'economically priced wave eco 260' dinghy ride and well earned bed – (hoping of course that it was still there and one of the 6 powerboat instructors on board had allowed for the rise and fall of the 8m of tide).
Next morning AJ and Charlie ferried everyone back and forth to the Yacht Club (as with Paul's local contacts some extremely helpful local chap had obligingly taken the time to come down and opened the yacht club so that we could shower) and we had a mooch around before our proposed afternoon jaunt down to Guernsey… where we were due to make the wet fish shop on the quay before it shut at 5.30 pm.  Many thanks to Alderney sailing Club (good shower) we were all fresh as daises – except Paul who refused to shower as he was too busy gassing with locals!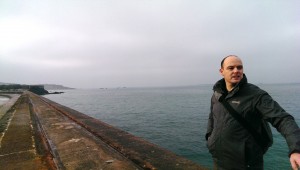 Stu and Buster took the opportunity to look over the breakwater wall and look south so that Stu could acquaint himself with the murky topography on the prospective sail, before grabbing the dinghy back to the boat and decamping upon our journey. A useful south going tide whipped us down that way  and we were unhappy with anything less than 8.5 knots over the ground as we were worried that the fishmonger would close  and we had promised Paul's mum a fish supper delight to be cooked in her own home…
Channel Island Cruise – Guernsey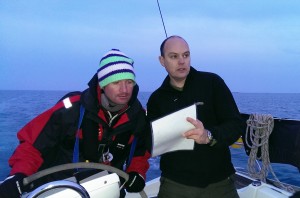 Eventually we galvanised ourselves into action and we legged it (meaning we left Alderney at some pace / haste – everything being relative on a yacht) for the all important 22 mile trip and made the approaches of Guernsey, Herm and Sark in the twilight with Chris on the helm – but had one of those 'which bit of land is which' moments. The crew were restless if the boat was slowed (we had a good SE F4/5) so deft planning was required to make sure we got to the right place at the right time and we couldn't afford to lose a second due to the closing time of the fish shop. We hooned it down through the Little Russell past all the rocks and beacons conscious of the time ticking away and the thoughts of scallops and crab claws that we could miss out on by any delay… it was going to be down to the wire.  We did not want ordinary fish and chips – we wanted a fresh fish feast! Time was against us.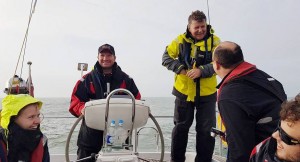 We prepped the 'fish purchasing crew' giving false instructions that they should make sure they got a good exchange rate with their English pounds and ensured they had running trainers on their feet and the all important 'fish purchasing wish list'! But it was okay as we sent Chris – a somewhat culinary genius with fish, a 'chef extraordinaire' with fish a specialty. He was given carte blanche on the fish buying stakes and orders to grab a couple of bottles of premium white wine – French and chilled of course…
Conscious of the time we made ready to enter St Peter Port harbour and make good our landing on pier 17  (as the castle pier was going to be too shallow) – however it was not to be! Noticing fishing boats milling about in the darkness at the entrance local lad 'Paul our local Pilot' realised that we would now be really tight on time as Condor the fast craft ferry was coming out and all inbound harbour traffic  was halted! No entrance! Oh my! Condor departs at 1720! We had failed to factor this into the already tight schedule! This could cause a catastrophe! By now word of our proposed incredible fish supper party with crab claws, seared scallops, fresh fish, prawns all served with crisp Sancerre and Chablis to be held at Paul's mum Anne house in St Peter Port had spread among the local community and we were expected to perform! So quickly negotiating behind the departing Condor we jostled our way in among the commercial fishing boats in the darkness and we charged down on pier 17  – within the allotted speed limit of course – and Paul parked efficiently alongside with Rosie, Stu and AJ doing a fine job on lines and Charlie and Chris, of the 'fish purchasing team', legging it to the fish shop doing a veritable impression of Usain Bolt out of the blocks… knowing our reputation and stomachs depended upon it … Our hearts were in our mouths and we could hardly dare to enquire if they had made it before closing…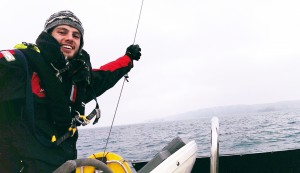 We tied up, tidied up and sorted the kit out… wondering whether it was to be local battered fish and chips and a pint at the Guernsey Yacht Club when we got the call… All, was well.  Anne (Paul's Mum and local Guern) ever efficient as always, had popped in to let him ('Freddie the Fishmonger' – I don't think that's actually his name) know that we were on the way, might be a bit late and he said he'd stay open and wait for us! Good job too. Top man.
And what a feast it was too. After transportation to 'Outram Towers' up in the heights of Guernsey we feasted on local lobster, scallops, crab, prawns, and fish all washed down with excellent crisp white wine. We took over Anne's kitchen and  the two Sous Chefs AJ and Buster supported 'Chef Christian' who prepared a fish supper fit for kings. A real team effort with the rest of the guys being tasked with drinks, serving, and of course keeping Anne entertained in the other room, as she is always desperate to 'oversee' anything produced in her kitchen…
…after all that wonderful food and crisp white wine we decided to consume a few different whiskies and the guys talked drivel until the wee hours  eventually one by one people dropping by the wayside with Buster getting preferential treatment (help the aged springs to mind) shotgunning the spare room and he even got his own bed ashore retiring at a reasonable hour whilst the others had the choice of the walk back to the boat and the die hards made good use of the couches and floor!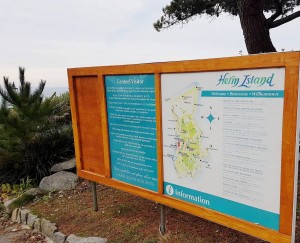 I think it was safe to say it was a well deserved 'late start' the next day – but we had finally after 5 years of trying made it to Guernsey for the 'Christmas Trip'! We had missed the morning tide north – so 'Paul the local' commandeered a powerful Rib from compatriot Adam Reed at the local sailing club, with about 200 hp on the back, and after the water came up sufficiently over the sill took the troops on a high speed sight seeing tour of Herm for the afternoon.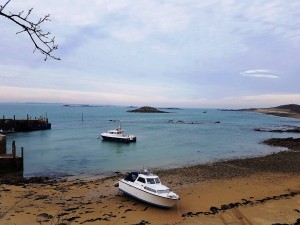 Needless to say Buster as the old man of the group declined the offer as his back would kill him for days after a joyride out in a rib! The team however enjoyed themselves immensely on their 'jolly boys (and girl) hi speed RIB ride outing' and we prepped for an early'ish start for the tide on the Thursday morning going North with the mission of 'lunch in Cherbourg' the plan. The team were keen to spend some euros and it seemed criminal not to pop into France since we were so close. There had been previous talk of Dielette but what with the diversion day to Herm that put that idea safely to bed. The main concern was if we could find anywhere still open for lunch in Cherbourg at the planned 2.15 pm arrival! Oh the planning!
We took off to a busy pub on the west coast of the Island for a guided tour of Guernsey and enjoyed luxurious squishy sofas, a pint and a relaxed bar meal and reckon we had sorted the passage plan on navionics... Not really that early a start – only about sunrise – so all good there.
Cross Channel Cruise – Guernsey to Cherbourg
An uneventful morning, not too cold, not too murky and the sun rising as we left the entrance of St Peter Port enroute for Cherbourg,  a distance of approx 43 miles – 28 miles to Cap De La Hague and a further 15 along the peninsular. Gradually everyone appeared on deck and we had a good breeze from the SSE and were fully powered up, we rocketed along on the tide aiming out via the Little Russel to leave Alderney to our port side and not hit the 'race' too early.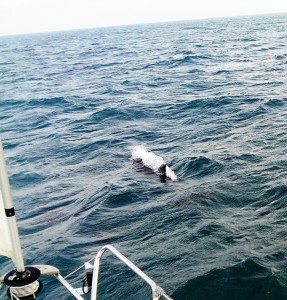 We were joined by a morning pod of playful dolphins and that certainly lifted the spirits… Always feel blessed when they join us. What magnificent creatures!
After that we spent a while wasting time which wasn't a bad thing tide wise and had fun launching the cruising chute… there seemed to be various 'learning scenarios on the foredeck' but once finally up we then commenced playing the game of 'fly the asymmetric and see if you can steer a straight course' for a full 60 seconds' as the wind came up, and up.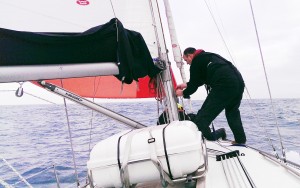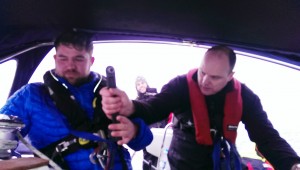 Finally we dropped the cruising chute and got things back under control, popped a reef in prior to the Alderney race with Rosie at the mast, AJ on the winches, Christian in rope support, Charlie on the helm and Stu giving those odd sounding commands in 'kiwi language' that the crew seemed to amazingly, interpret correctly, whilst Buster and Paul relaxed letting the troops get on with it.
The Alderney race safely negotiated with no dramas, and apart from a rather confused sea state no-one would have known where it was,  and the tide now in our favour we turned East with Charlie especially  enjoying the flat sheltered water from the SE breeze when protected by Cap De La Hague.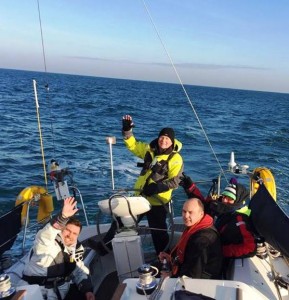 This bit didn't take long at all –  with Rosie and Charlie on the helm we literally flew down the coast with the crew musing over their choice of French culinary delight urging the boat on as we knew we had limited time to sample the delights of France before the night passage home.  However, once you get the tide in your favour in this area you fly –  make sure you are always up-tide of your destination – just don't try pushing a foul stream here!
Distance Cruise to Cherbourg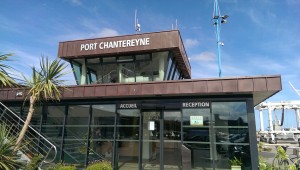 We entered the west entrance of Cherbourg and onwards past the military area to Chantereyne Marina without incident and the crew pre-dressed ready for an immediate disembarkation upon arrival – to get to the nearest available restaurant that would be serving a late lunch…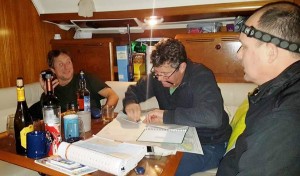 Now here is where you need to have done a bit of pre-planning on choice and more importantly stick to the plan as there will be few 'resto's' open for food / late lunch after 2pm and it was 2.30pm French time when we set off in search for a nearby hostelry. The crew, hungry seem to say 'Look! There's one!' – however those in the know will understand that it will be the brasseries that remain open all day and the local Patron of the really good looking appealing restaurant will just look at you as though you are mad asking to eat at that time – all self respecting citizens in France eat between 12-1pm! Not the choice of restaurants that we had wished for but we finally settled upon a brasserie a 10 minute walk from the marina and tucked into French fare conscious that we were to depart for a night passage to gain the flood tide the next afternoon through the Needles on our return.
After a wander around town we ambled back to the boat, discussed watches and got our heads down. Buster, Stu, Chris and Paul were up for the departure and there was a slight concern for the forecast visibility but all was in fact good.
We sorted the preventers out whilst in the harbour (as the wind was still from the S) and made good our exit from the East entrance. We knew the motion was going to be 'not nice' and had briefed crew accordingly and Charlie was now on Rosie's Scopoderm anti sea sickness patches – and these, thankfully, worked to good effect as he had been not feeling his best when through the Alderney race.
Buster went to bed 'zzzz' – as he was trying to keep his body clock adjusted 'normal' due to working immediately once we got back, and once again he got up when it got light… the rest of the crew did their best on watches to keep the motion comfortable whilst making reasonable progress in the breeze that was dropping. It wasn't easy and once daylight again we 'goose winged' the fairly light southerly breeze bringing us to the Needles bang on the tide change with only an hour of motor.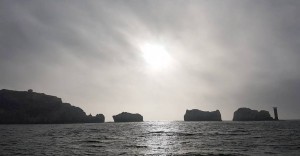 A welcome turn NE once past the Needles gave us a better angle for the breeze with more draw and the water was bolt flat. We took the tide up and nipped into a completely empty Newtown River for some brief local pilotage for Stu's fried brain benefit, and had welcome soup and lunch.
A brief, pleasant  return trip into Hamble parking up in our home berth at Mercury and a fast mammoth  clean down effort by the crew leaving the boat spic and span with full tanks ready for Buster to welcome the next charterer aboard in just an hours time ready for an immediate night sail…  such are the joys of sailing.
Top marks go to 'Stu the Kiwi' for the literally non stop passage planning and bang on for the crews efforts and everyone chipping in as a team for the trip. Real learning experience with loads of night hours clocked, loads of nav going on, great sail trim and boat handling. Essentially a lot learned… and some great food…  not a single person actually sick… and fun times.  Thank you.
A brief note about Sea Sickness
Sea sickness is controllable. apparently the stats show that only 1 in 10 people do not get sick. The rest of us control it as best they can…
It is important that everybody should be able to go below and make tea and knock up a sandwich, fill the log,  do some nav, go to the loo! It isn't just the Skippers job to go below all the time –  it is a shared responsibility. 'I don't get sick' people say – however, they then do not feel well enough to go below…  If that is the case… try taking the meds! Our advise to Skippers? Make sure the crew take effective anti-sea sickness remedies in good time. One tablet the night before gets the drug into the blood stream then as per packet doses. If you cannot take the tablets try the patches behind the ear linked in the article – Scopoderm TSS. Others try pressure bands, those watch things and try the goggles… whatever works…
There is also the problem that someone becoming ill  puts additional strain on the rest of the crew because they cannot fulfill their responsibilities.  Stay warm, well fed and watered and get rest. If safe 'heave to' when people need to go to the loo and even on watch changes giving people the opportunity to get dressed quickly etc, keep the boat on a straight course and do not be hungover before a passage! Then you can function to the best of your abilities… that it would seem, is only fair to all on the boat. Do your best.
Want to know more about Yachtforce Distance Cruises and Cross Channel Trips for individuals?
See this page here – for more info and dates.
Or why not organise your own trip with friends or family and make it a learning experience or holiday… see here our Skippered Charter page – where we organise an itinerary to suit you…
Contact us: by email here: info@yachtforce.co.uk
Or feel free to give us a bell and discuss your requirements
Tel: 02380 016450