A Solent Sailing Teaching Weekend is a great way to learn or consolidate your sailing skills. Join us for an evening sail on the Friday night (normally just under 2 hrs but gives you a great idea of night sailing and the lights!) followed by a  scrummy 4 – course meal with wine. It is a late evening on the Friday by the time we finish but you will have had a great sail and good time and met all your crew.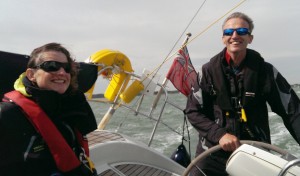 On Saturday you learn loads and sail all day with loads of tuition ending up in a local port such as picturesque traditional Yarmouth on the Isle of Wight, Cowes the yacht racing capital of the UK or perhaps into the New Forest and moor at the pretty town of Lymington.  In the evening we can have cockpit nibbles and a cheeky G&T before we head out in good company and grab a bite in a local pub at own cost!
On Sunday we have a return sail to Hamble  via Newtown Creek, Cowes or Osborne Bay  with more instruction on both sailing and navigation. On these weekends you do it all from the passage planning to the sailing of the boat – beginners and experts. We can put you through your paces – or you can sit back and relax – your choice! Read on for more detailed info on these weekends…
Solent 'Teach In' Sailing Weekends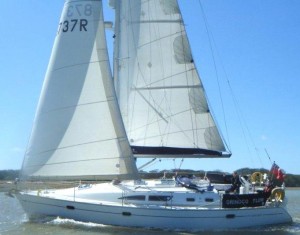 These weekends are aimed at a sailing weekend  in a social environment taking advantage of the protected sailing waters of the Solent. They are great fun and provide great development for sailing experience without the pressures of a RYA course.  We meet on the Friday evening at our base at the Hamble. The boats that we use are normally about 37 feet long, comfortable modern cruisers with heating, with 3 double cabins and 3 berths in the saloon.
When & Where:  From MDL Mercury Yacht Harbour, Hamble that has excellent facilities with 24 hr staffing, restaurant / bar, chandlery and ample free on site parking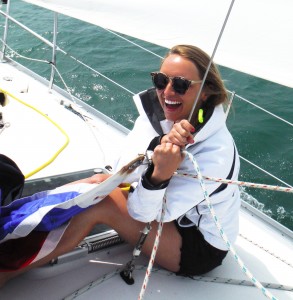 We visit various ports in the area and depending upon the time of year, the weather and people's previous experience we may head out of the Friday evening, leaving for a short sail / trip to a nearby destination. We look at the weather, tides and wind to decide upon our destination for the Saturday evening and along the way we will visit places of interest, explore rivers and creeks and moor up or drop anchor for lunch.  On Sunday we sail returning to the Hamble for late afternoon leaving the boat at about 1600 hrs. You can expect to visit places such as Yarmouth or Lymington, Cowes, Beaulieu River, Newtown Creek and Southampton in the Central Solent, Portsmouth, Chichester Harbour or Bembridge in the Eastern Solent. At night we will normally moor alongside a pontoon giving access to the shore-side marina facilities.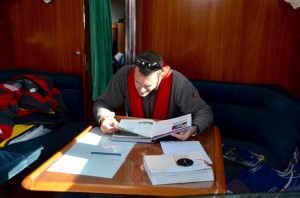 Sailing Skills: The sailing is suitable for novices and first timers as well as those with more sailing experience. We get absolute beginners where we teach people to take part as an active member of the crew, people wanting to 'refresh' their skills having done a Day Skipper course, those wanting to gain experience for their flotilla holiday right through to Yachtmaster standard coming on board – everyone takes something away with them.
If there are particular skills that you would like to practice we will do our best to accommodate you. As well as the physical sailing aspects we usually include reefing whilst sailing, heave to, MOB etc, you may do some pilotage and we work on buoyage and light recognition for port entries, mooring and anchoring techniques – and then the 'easy methods' that our Skippers utilise in everyday sailing.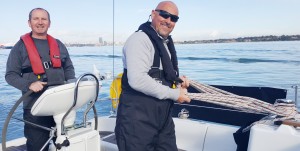 As an Example: – Beginners could be taught specific rope work skills and useful tips for when 'short-handed' if a couple were to be going on Flotilla where advanced sailors may be asked to moor or leave a mooring under sail, practice using an asymmetric spinnaker, focus upon sail trim. Everyone gets 'hands on' experience during the weekend in the running of the boat and a chance to helm. Simply do as much or as little as you like. Build up some experience…ask questions and learn… and we can teach you elements that you may be weak in, coach and inform you. Couple the above with good company, good food and a convivial atmosphere on board and life is good!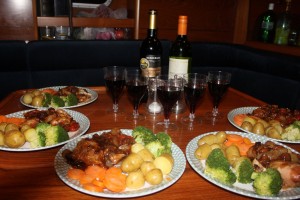 Catering: We have been complemented that our food is excellent and not the 'normal boat food'. We generally serve a 3-course evening meal with wine plus cheese board and real coffee. We do, where possible, put a First Mate / Hostess aboard to help with on board duties and assist tuition ratios. Once we are safely tied up along side, we can have a drink or two. We have G&T sun-downers in the cockpit  and people are encouraged to bring their favourite tipple to go with the nibbles for this if they're not a G&T fan… it all makes for good fun.  On one evening during the weekend we eat out at own cost.
 What to Bring:
Please – everything in a soft squash' able bag. No wheels!
We can supply the waterproof & breathable Gill  bib pants and jacket – just let us know your size (or height / build)
Non marking soft soled shoes – deck shoes / boots
Layered clothing, shorts, tee shirt, sweatshirt etc
Hat / sailing gloves – to protect your hands from rope burn
Sunglasses /sun cream
Seasickness remedy – if you suffer – Stugeron tablets are good
Towel / small wash kit / pillow / sleeping bag
Personal medication / favourite tipple
A few quid out for trips ashore / sense of humour
Solent Sailing Weekend – Example Itinerary:
Friday
1800 hrs Meet Friday – Hamble – MDL Mercury Yacht Harbour
Free Parking Within Marina Gates ( Marina 24 hr Staffed)
Boat Safety Brief + Appetiser (to keep hunger at bay)
Slip Moorings for 2 hr Evening Sail (weather & crew experience dependent)
4 Course Meal On-board (prepared by your First Mate / Skipper)
Late Finish (please note that due to the vagaries of the evening sail this can be a late night)
 Saturday
0930 hrs Sat Briefing
Sail Training
Lunch on Board
Sail Training
1800 hrs (approx timing) Moor at Destination
Sundowners
Enjoy On Shore Ambiance / Eat Out
Accommodation on Board (own sleeping bag/pillow / towel / wash kit required)
 Sunday
0900 Sunday Brief
1000 Slip Moorings
Sail Training
1300 Brunch on Board
Afternoon Sail
1600 Return Hamble MDL Mercury Yacht Harbour
What is Included on a Solent Sailing Weekend:
Professional Skipper / First Mate (where possible)
Accommodation on Board
Meals on Board
Fruit & Snacks (help yourself throughout the event)
'Sundowners G&T & Pre-Dinner Snacks
Mooring Fees
Fuel
Safety Equipment
Wet Weather Gear
To Book: Bookings can be done by card over the phone. Debit cards are free / credit cards attract 2.75% surcharge. Please contact us to check availability and confirm that you wish to proceed. We can fill in or send you an event booking form.  The bank details for transfers are on the booking form. Transfer the monies and email us confirmation of the payment. Scan and send the completed booking form / photograph it / post it to us etc. We will send you a confirmation letter with equipment list.
 The Boats We Use: – https://yachtforce.co.uk/yacht_charter/the-boats/jeanneau37.html
Testimonials – https://yachtforce.co.uk/about_us/testimonials.html
 "Excellent weekend, something in it for everybody in a crew of all levels. The skipper pushed me out of my comfort zone in a safe and controlled manner, buzzing for a week afterwards. Fabulous food, good company."  Richard – Yachtmaster
Price: Low season £299 / High Season £319
See this page for dates:
Any questions – give us a ring on 02380 016450 and speak to Paul / Buster or email info@yachtforce.co.uk   Come and join us!