It could not have been hotter for this years Round the Island Yacht Race!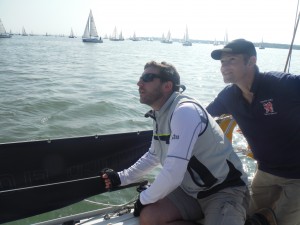 Unbelievable weather this year for RTI – but unfortunately not a great deal of wind. All boats started with a very useful practise day on the Friday to get 'to know the ropes' ready for the early start on the Saturday race day and berthed in Cowes for some shore side shennanigans on Friday night…
All Skippers and First Mates stay shore-side to free up space aboard the yachts and allow people to spread out a little. It is a real mission finding space but it really helps for the comfort aboard.
We had a few boats out there this year but only one of our boats actually finished the race itself due to the light winds… an amazing time and place by Steve our Skipper on our Beneteau 36.7 – the racy boat – light, well spec'd with all the trimmings on it – spinnakers and race sails. They kept plugging away and didn't give up and were rewarded with a good breeze in the finishing hours from Bembridge to the finish. Well done to Charlotte, Izzey, Jeremy, Thibaut, Georgie, Rosie, Mike and Beverley.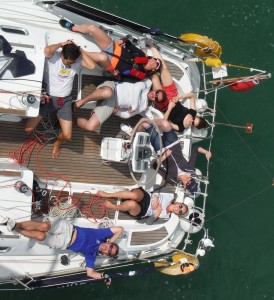 Buster aboard with Adam and a fun loving crowd aboard decided to throw in the towel at St Catherine's – 24 miles from the finish as they were becalmed and didn't believe that they would make the 10pm cut off time for the finish – and to be truthful – the shore side entertainment beckoned! Managing to grab a cheeky berth in Shepherds Marina for the Saturday night was a bonus too!
One of our larger boats – the 46 foot Bavaria – after swimming around their stationary boat and among others in search of lemons for the G&T's to pass the time finally caved and motored home.
Out of the fleet over 700 retired and motored home leaving about 750 finishers. It is the first time in years that this many yachts had to retire. The last few years it has been mega windy!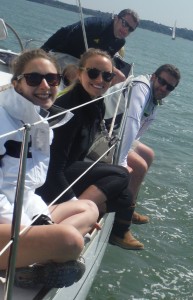 However, on the Sunday, things picked up and a good sail was had by all with an abundance of spinnakers flying and some great sailing. Our various boats absolutely loved the experience. Many have been with us for several years and it is just an awesome experience being in one of the biggest yacht sailing events in the world!
If you would like to enquire about a yacht for Round the Island Yacht Race or an individual berth or crew place – do so as soon as possible as we already have 3  yachts booked for 2015 – and availability is like hens teeth.
Just give us a bell on :
02380 016450
Or email us on: info@yachtforce.co.uk